About ESTUARIO
ESTUARIO is a 501(c)3 non-profit organization responsible for restoring and conserving the quality of the natural waters of the San Juan Bay Estuary and its watershed as a sustainable axis of social and economic development. Established in 1994, we are the only tropical and non-continental location within the National Estuary Program (NEP) under Section 320 of the Clean Water Act. In the mid to late 90s, ESTUARIO's Management Conference oversaw one of the largest public engagement initiatives ever undertaken in Puerto Rico to develop our Comprehensive Conservation and Management Plan (CCMP), required as part of the NEP. In 2000, the Environmental Protection Agency (EPA) approved ESTUARIO's CCMP, and in 2016, its first update.
ESTUARIO'S success can be largely attributed to our integrated, multisectoral and community-led approach to restoring water quality. ESTUARIO recognizes that water quality restoration requires making significant investments and coordinated collaboration between stakeholders at all levels and across all sectors for a sustained amount of time, sometimes decades. In order to ensure the effectiveness, longevity, and sustainability of our efforts to restore and conserve water quality, we put communities at the center of our work. Our projects rely heavily on local partnerships.
About the Project
The Regional Resources and Waste Management Integration Analysis and Recommendations Report will analyze the current waste management practices of each of the eight watershed municipalities and propose a strategy for their integration into a single regional system. The goal is to produce a robust document that will serve as the basis for developing a Regional Resources and Waste Management Plan, which will coordinate waste management activities across all eight watershed municipalities to significantly reduce the amount of aquatic debris that reaches all estuarine waters.
The project's study area is the watershed or drainage basin of the San Juan Bay Estuary, which extends above a broad, flat coastal plain and consists of 83 square miles (215 km2) of land and 14 square miles (36 km2) of water. The San Juan Bay Estuary ecosystem comprises the San Juan Bay and a number of smaller channels and lagoons. Some of these bodies of water include the San Antonio Canal, Condado Lagoon, San José Lagoon, Los Corozos Lagoon, Suárez Canal, Torrecilla Lagoon, and the Piñones Lagoon as well as the interconnecting Martín Peña and San Antonio Channels and the Suárez Canal. Fresh water flows into the system from the creeks and rivers in the watershed, including the Puerto Nuevo River, Juan Méndez Creek, San Antón Creek, Blasina Creek, and the Malaria Canal.  During extreme flood events, fresh water is also received from the Río Grande de Loíza. Ocean water enters the system through three openings: Boca del Morro, El Boquerón at the Condado Lagoon, and Boca de Cangrejos.
Parts of eight municipalities join to form the estuary's watershed: Toa Baja, Cataño, Bayamón, San Juan, Guaynabo, Carolina, Loíza, and Trujillo Alto. Land uses and activities in these areas are closely linked to water quality impacts and the degradation of habitat in the estuary.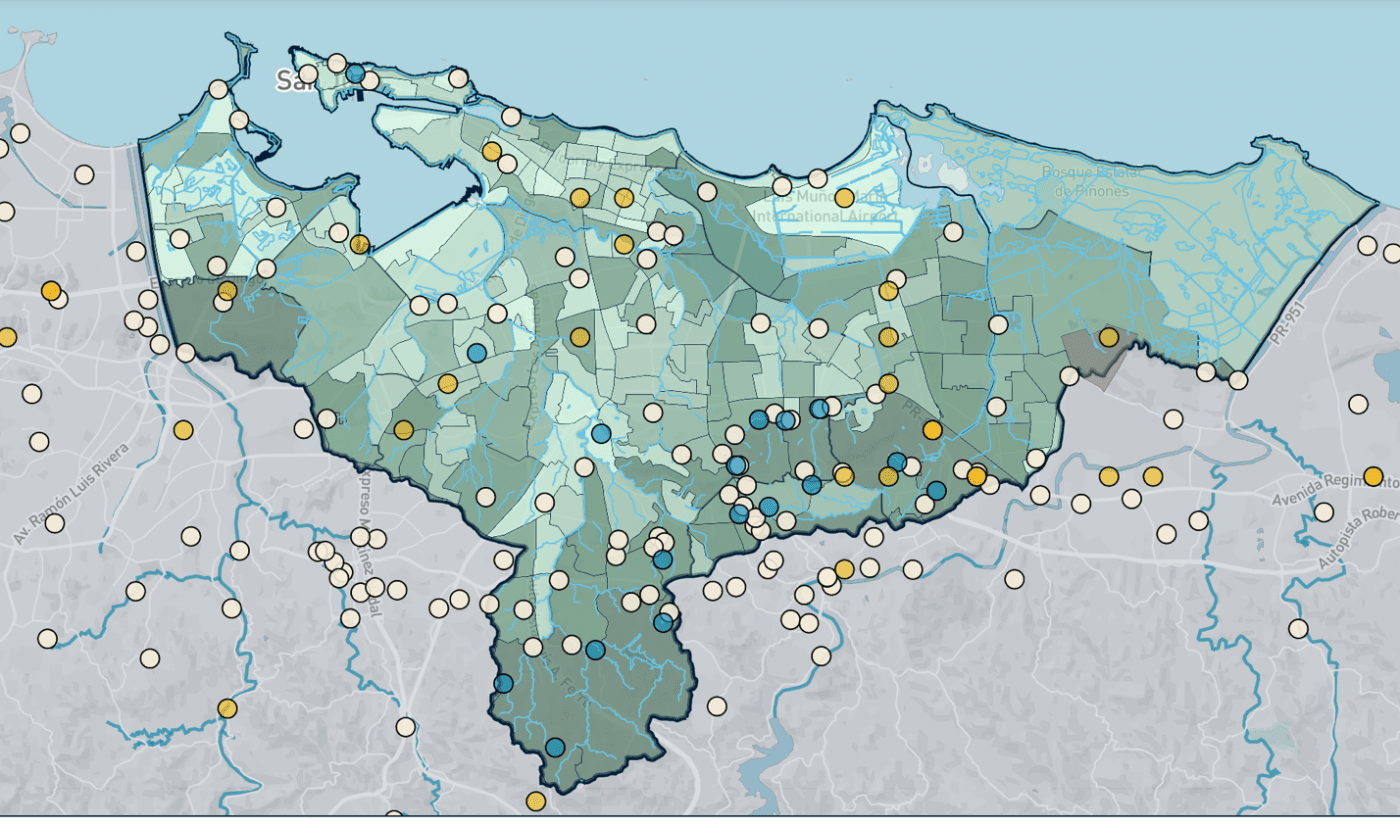 Scope of Work
The project has two main components: an analysis of the current system and its context, and recommendations for integrating the waste management practices of the eight watershed municipalities. The final Regional Resources and Waste Management Integration Analysis and Recommendations will include a report with an executive summary that outlines the following information:
An introduction detailing the document's purpose, goals and objectives, and definitions
A regional profile that details the social, ecological, and technological aspects of the watershed, data from all eight municipalities and relevant state and federal agencies
An analysis of the current management practices, including issues, challenges, and opportunities
A policy framework summarizing the federal, state, and municipal policy and legislation that informs waste management activities throughout the region
A proposed integration and implementation plan that identifies strategic objectives and targets, specific actions, timeline, current and needed infrastructure, roles and responsibilities for the integrated system, existing and necessary funding, enforcement and regulations, and monitoring and reporting recommendations
A list of references and appendices
The Consultant will be required to attend any and all necessary meetings with ESTUARIO staff to approve the final document. The Contractor is expected to coordinate any and all meetings with stakeholders as necessary, and to comply with the following deadlines and deliverables:
Project kick-off meeting — Wednesday, June 1, 2022, 10:00 a.m.
Document outline due — Wednesday, June 8, 2022
First draft — Wednesday, July 6, 2022
Second draft — Wednesday, August 3, 2022
Final draft — Friday, September 16, 2022
Deliverables
Outline for the report
Waste Generation Hotspot Map
First draft
Second draft
Final draft of the report ready for publication
Integrated database of all information used for the development of the report
The proposal must address the following items in a complete and concise manner:
Applicant Overview

Methodology/philosophy used to implement the project
Qualifications and relevant experience/CV

Proposal

Overview
Detailed methodology identifying all tasks to be completed by the Contractor
Timeline with tasks, meetings, milestones, deliverables, and deadlines to comply with the deliverables and deadlines stated in the scope of work
Team structure, bios, resumes, and time allocation
Detailed budget that identifies all expenses including materials/supplies/equipment specifications, quantities,, and any other items
Three references, including a summary of the scope of work performed (Ideally similar organizations/similar scopes)

Attachments

Copy of the Department of State certification to do business in Puerto Rico
Certification of compliance with all federal and state laws to conduct business in Puerto Rico
Late proposals or proposals from entities that did not attend the mandatory informative meeting will not be accepted. For specific dates please see timeline below:
Timeline
Issue RFP: May 12, 2022
Required Informational Meeting: May 19, 2022 (Must register in advance at this link: https://us06web.zoom.us/meeting/register/tZEucu6przIsGtFBXnucsJagYe5R6achtMAH)
Submission Deadline: May 26, 2022
Interviews: May 31, 2022
Selection Announcement: June 1, 2022
Project Start Date: June 4, 2022
Project Deadline: September 16, 2022
Selection Process
Qualified applicants will be short-listed and the final selection will be made by an advisory committee. The criteria that will be used to evaluate the Proposals will be:
Comprehensiveness, conciseness, clarity, thoroughness, and professional quality of presentation.
The individual or firm's experience and history of performance on similar projects, regarding such factors as quality of work, cost control, and ability to meet schedule.
Adequacy of technical staff, as demonstrated by experience, education, and potential project role.
Proposed costs.
The organization and scheduling of the project requirements and Project Manager accessibility.
Ability to complete project by September 16, 2022
The Consultant will be selected based on responses to this RFP and the required informational meeting. ESTUARIO provides equal employment opportunities (EEO) to all employees and applicants for employment without regard to race, color, religion, sex, sexual orientation, gender identity, national origin, age, disability, or genetics.MBE/WBE and other certified minorities and small businesses are encouraged to apply.
Special Conditions
Reservations
This RFP does not commit the Program to award a contract, to defray any costs incurred in the preparation of a Proposal pursuant to this RFP, or to procure or contract for work, and request additional information and/or clarifications.
Public Records
All Proposals submitted in response to this RFP become the property of the Program and public records, and as such may be subject to public review.
Right to Cancel
The Program, at its sole discretion, reserves the right to cancel this RFP for any or no reason, in part or in its entirety, including but not limited to: selection schedule, submittal date, and submittal requirements. If the Program cancels or revises the RFP, all potential Contractors will be notified in writing by the Program.
Public Information
Selection announcements, contract awards, and all data provided by the Program shall be protected from public disclosure. Consultants desiring to release information to the public must receive prior written approval from the Program. The Program, at its sole discretion, shall determine the release and disclosure of information related to this RFP and any final work products as a result of this.