The San Juan Bay Estuary Program wishes you a happy 2023!
As we prepare to bid farewell to 2022, we proudly share with you a summary of our actions carried out over the past twelve months to restore and protect the quality of the waters and ecosystems that are part of the San Juan Bay Estuary system.
This year was a momentous one for our organization, Estuario. Its Board of Directors and Management Conference came together to develop timely strategies to achieve our effective goals and objectives for the next 5 years. Our operational and fiscal sustainability is on the right track.
This responsible exercise by our leaders was joined by citizen scientists, which have allowed us to collect data and document the progress of our management, and support the formulation of public policies that protect the valuable estuarine resources and surrounding communities.
Gamaliel Pagán Hernández Christmas Bird Counts
To ensure public welfare, the integrity of ecosystems and the fulfillment of our actions, throughout 2022, we analyzed 612 samples to measure water quality in the 12 stations distributed in the northern shore of the estuarine basin. Only 28% of the total samples reflected conditions not suitable for bathers. These results show the good water quality in the monitored areas of the ecosystem. A sector that remained most of the year with high levels of coliforms was the calle Cervantes station in Condado. As part of our monitoring program, since January 2015, we have analyzed 3,490 samples to measure estuarine water quality. See more data from Water Quality Monitoring.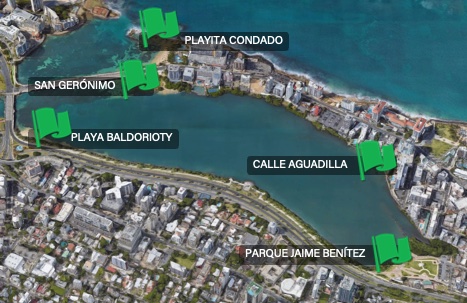 Water Quality Monitoring Day of Puerto Rico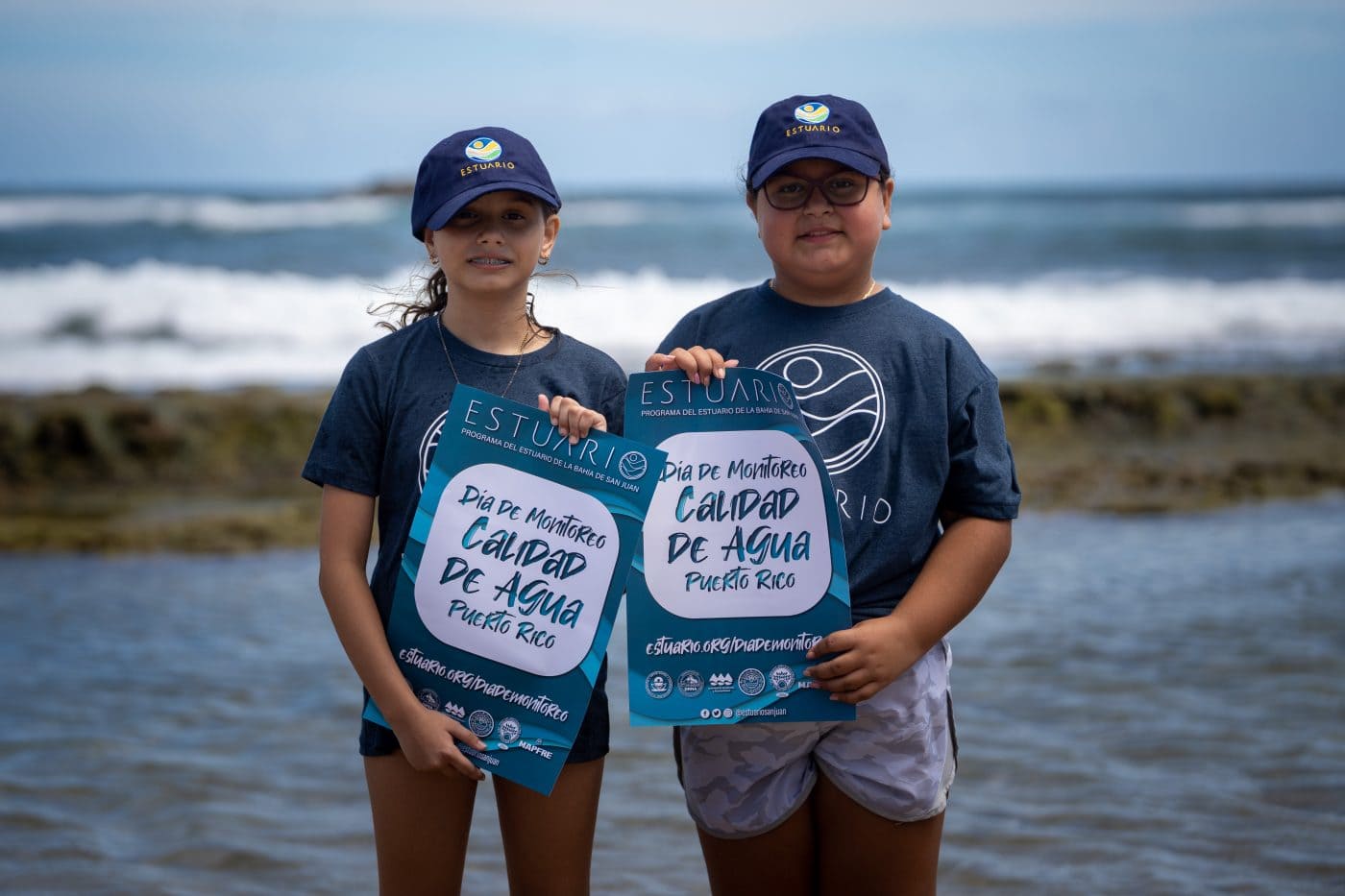 Regarding water quality monitoring, the summit event of this effort was held on August 27, with the participation of 1,800 volunteers who took samples in over 200 points in Puerto Rico.  Again, thank you to all the participants and attentive to the  workshops to be part of the event in 2023.  Visit the Water Quality Monitoring Day 2022 gallery.
This year was key to launching a necessary effort to achieve resilience in the San Juan Bay Estuary system.  We have certified 139 citizens for the assessment of coastal ecosystems.  We will be able to obtain information about the current condition, verify changes due to impacts due to atmospheric events and support in the process of obtaining funds for restoration.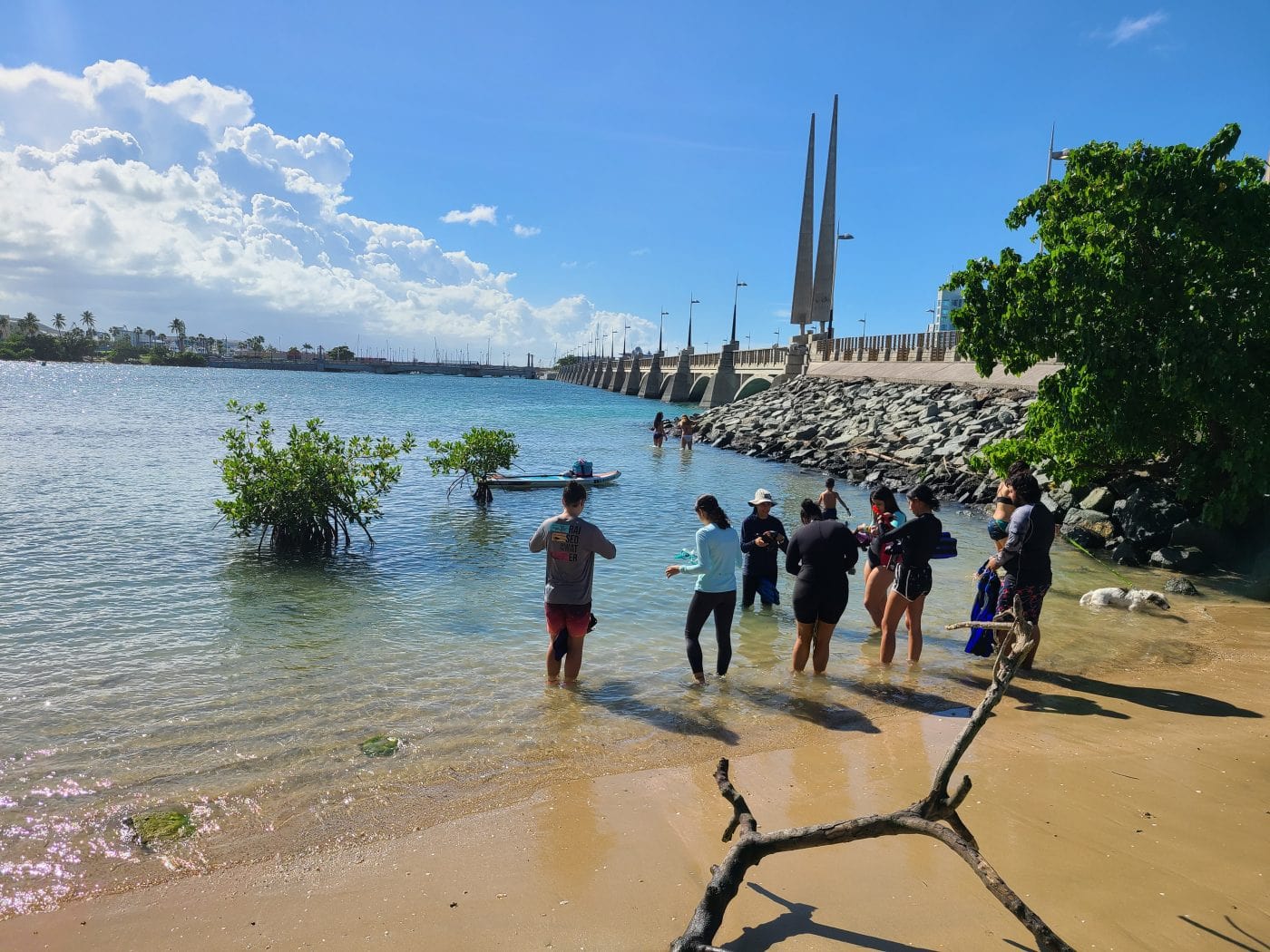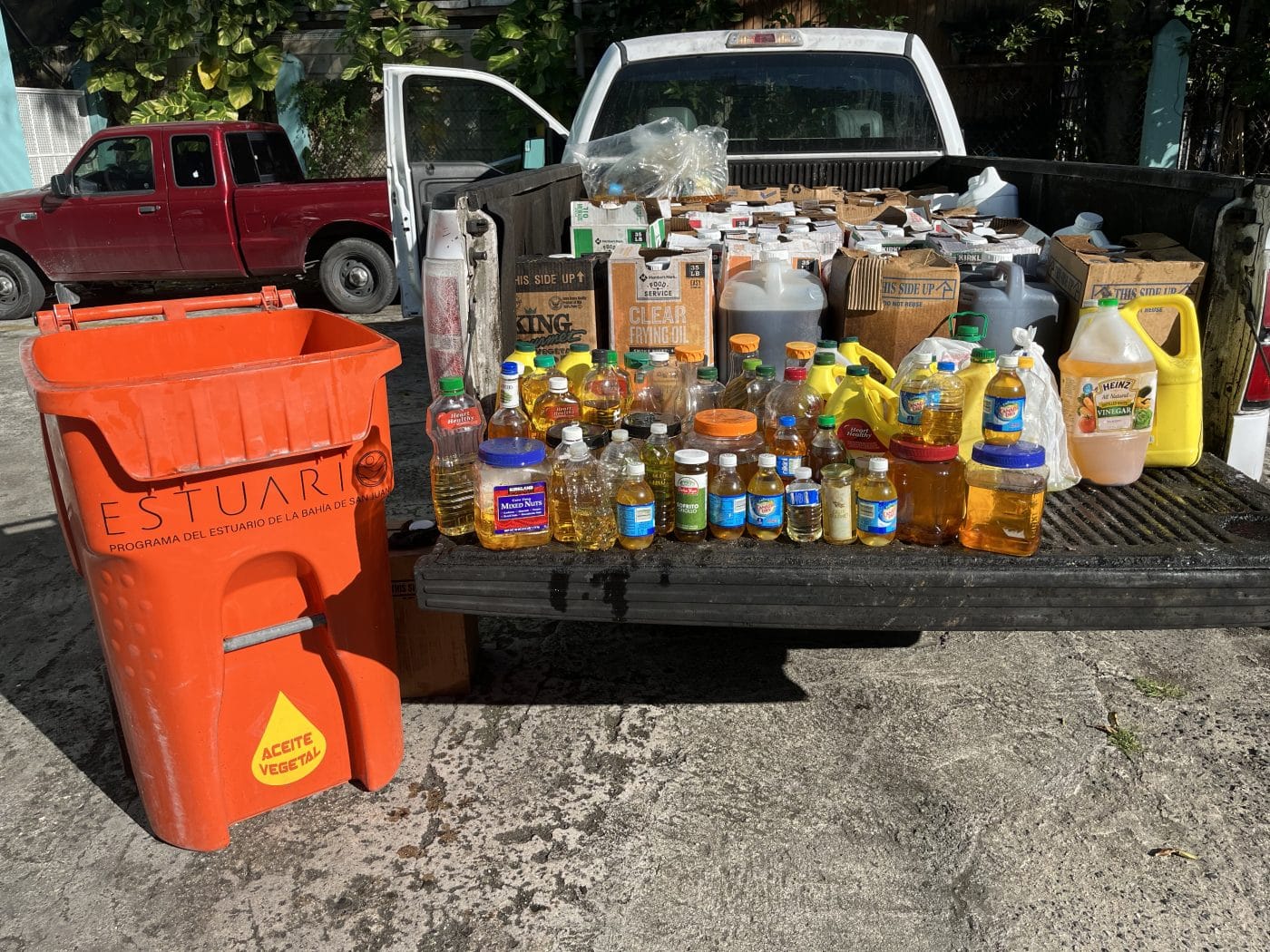 Also, as part of our Aquatic Debris Program, on December 19, an oil collection activity was carried out at Taller Comunidad La Goyco, where with the support of the JA Oil Recycling Company, 180 gallons of used cooking oil were diverted from the water infrastructure of Calle Loíza.
Productive year with BIOHUTS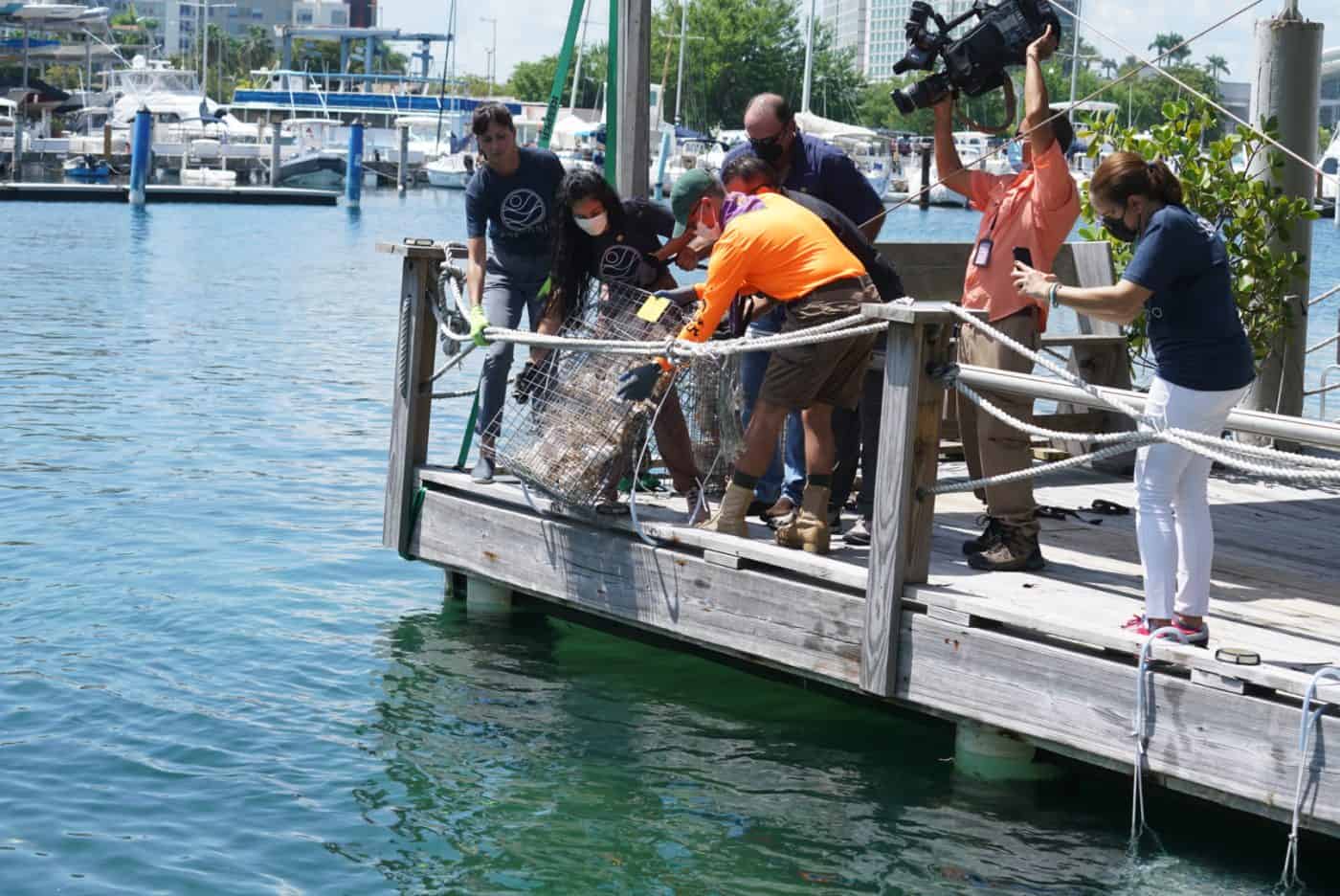 Also, as part of our Aquatic Debris Program, on December 19, an oil collection activity was carried out at the Taller Comunidad La Goyco where,  with the support of the JA Oil Recycling Company, 180 gallons of used cooking oil were diverted from the water infrastructure of calle Loíza.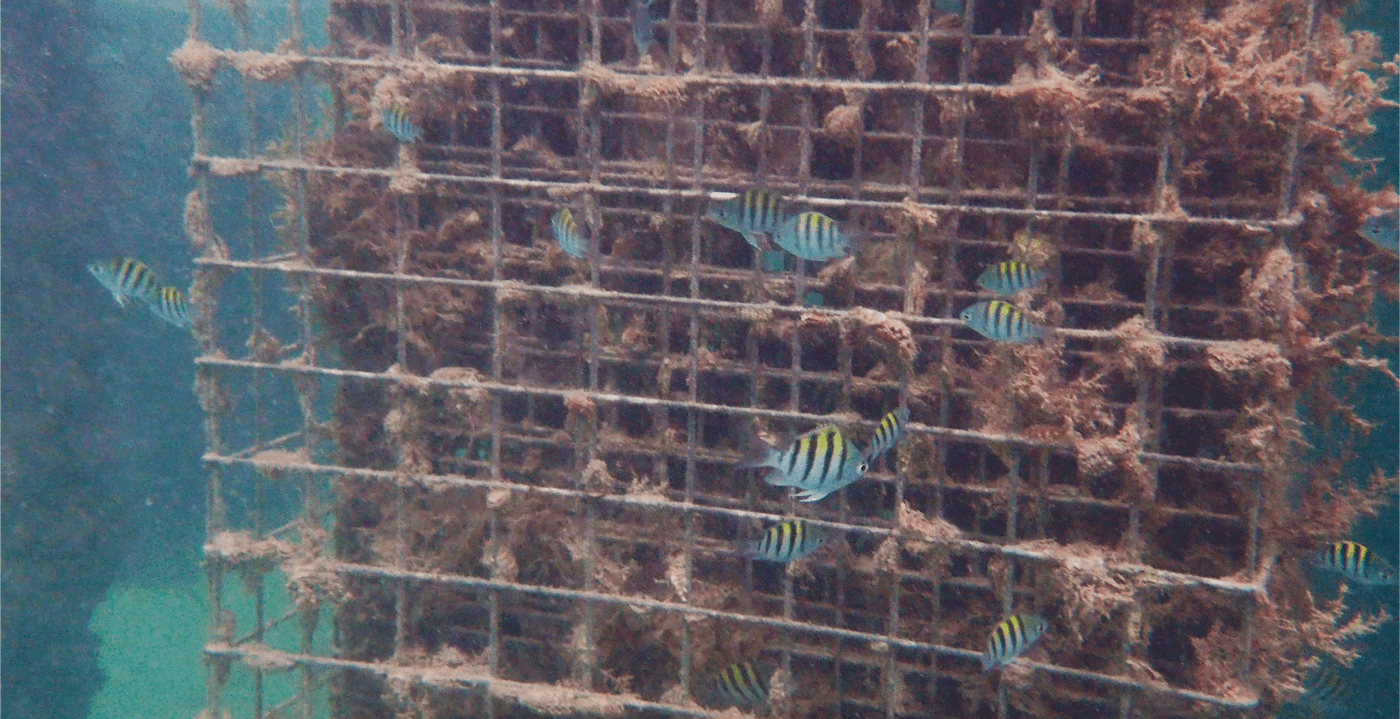 Since the installation of the units in September 2021, we conducted fish censuses every two months. The results were amazing! There was an increase in the variety and abundance of fish species within 0.25 meters of each unit. We documented 21 species of fish and six species of oysters associated with the installed BIOHUTS. This project represents an opportunity for education and environmental stewardship of aquatic habitats. It can also be a source for economic development and food security.
In June, the Estuario was visited by Environmental Protection Agency (EPA) officials as part of its five-year programmatic evaluation process. Thus, the EPA confirmed our compliance with the actions contained in the Comprehensive Management and Conservation Plan of the San Juan Bay Estuary. The officials validated the results of our efforts, during three days of visits to the ecosystems and communities which we work with.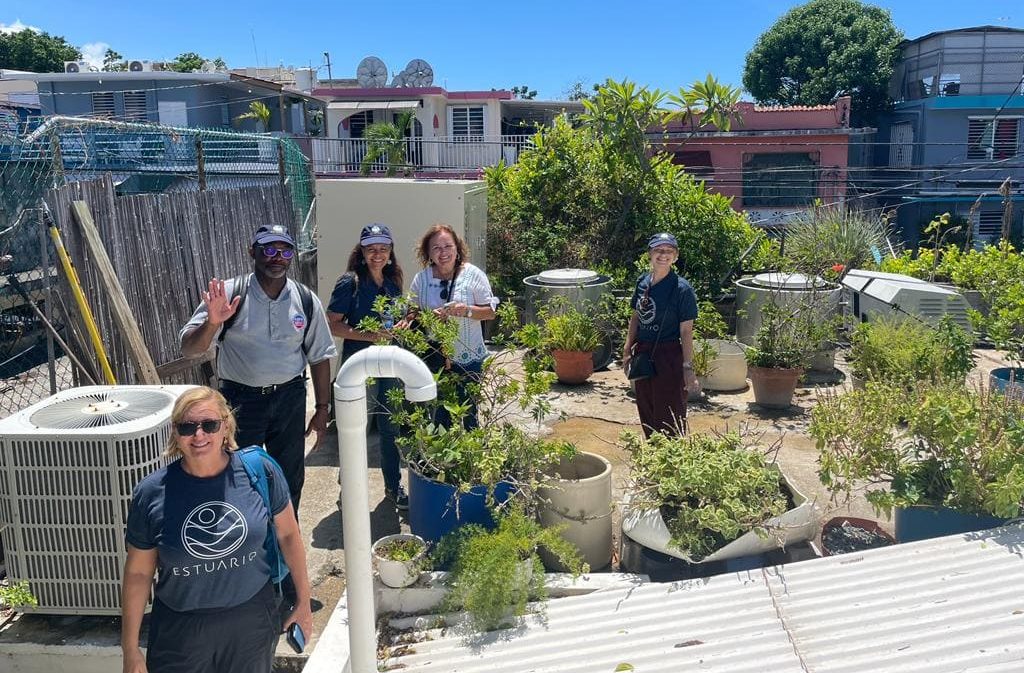 In July, our Executive Director, Brenda Torres Barreto, accompanied EPA Administrator Michael Regan on a tour of several parts of the San Juan Bay Estuary watershed. The official met with community leaders from San Juan, Cataño and Loíza, among other municipalities. During a visit to Caño Martín Peña, the administrator announced an investment of $132 million, from the Bipartisan Infrastructure Act, for the protection and restoration of estuaries in 28 states and Puerto Rico.
Meanwhile, on November 11, our team guided U.S. Senator Kirsten Gillibrand on a tour of the Caño Martín Peña and other San Juan Bay Estuary ecosystems, where she verified the progress of restoration projects. The legislator has been an ardent advocate of the dredging of the Caño Martín Peña, of providing environmental justice to neighboring communities and of solutions based on science and nature that increase resilience and sustainability.
On the other hand, our Scientific and Technical Advisory Committee (STAC) successfully held the 2022 Estuario Summit in November. The event was part of STAC's plans to develop a conceptual model of the San Juan Bay Estuary's social-ecological-technological system as a guide for creating conservation, research, water quality monitoring and education programs. Look at the review.
As part of our Artists in Residence program, artist Faviana Silva facilitated the Arte para todos workshop in  our Visitor Center, in Old San Juan, where about twenty children and young people expressed their environmental awareness through drawing and painting. Likewise, the resident artist Joudy Santaliz developed the sound project Cococomunidad, in which he applies blue economy strategies for the benefit of the residents of the Alto del Cabro community.
We thank all the collaborators, scientists and volunteers who were present in our activities throughout the year. We invite you to continue with us this 2023, and bring new people interested in lea and helping to conserve our ecosystems. Also, we thank our entire team at Estuario, our donors and sponsors. We are confident that this new year, environmental and sustainability awareness will grow throughout Puerto Rico.
Happy 2023!
Weekly water quality monitoring
Evaluation conducted on Wednesday, December 28, 2022.  We have a GREEN flag for the Condado Lagoon Natural Estuarine Reserve and the monitored beaches, except for El Escambrón. We recommend avoiding direct contact with water bodies during rainfall events and at least 48 hours after.
The actions for the restoration and management of bodies of water within the San Juan Bay Estuary Watershed are possible thanks to the public. Donations to the San Juan Bay Estuary Program are deductible from Puerto Rico and US tax returns.
For more info, go to https://estuario.org/donate/.
Follow us on social media, where we share information on activities which will contribute to your knowledge and personal and professional development. If you have any doubts or questions, please contact us through [email protected].
Register as a volunteer, HERE.