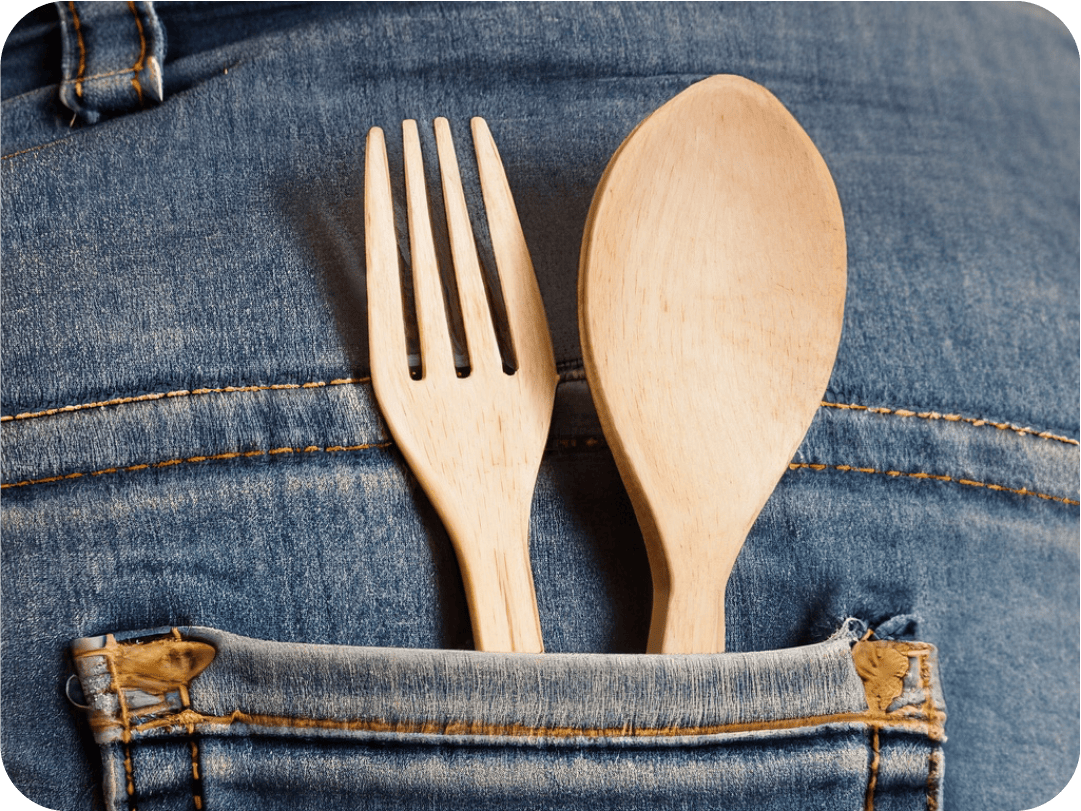 We are celebrating a plastic-free July! Estuario's solid waste management initiatives, Que no toque el piso ni llegue al agua, and Deja una huella limpia en Piñones, advise you on actions you can take to reduce your plastic use. This week: take reusable cutlery with you!
El Estuario invites you to participate in an informative virtual workshop, where we will inform you about  Act 51-2022, Law for the prohibition of single-use plastics; next Saturday, July 22, 2023, from 7:00 p.m. to 8:00 p.m. by Zoom. Although everyone is invited, this workshop is of particular interest to business owners. Register here.
Certification for citizen scientists
Water quality module:
July 13 – Field trip: bacteriological monitoring in Laguna del Condado and nearby coast; from 9:00 a.m. to 12:00 p.m.
Coastal resilience module:
July 20 – Field trip: coral reef ecological assessment; 8:00 a.m. to 12:00 p.m., Isla Verde Reserve, Carolina
July 22 – Field trip: coral reef ecological assessment; from 8:00 a.m. to 12:00 p.m., in Balneario del Escambrón, San Juan
July 22 – Field trip: coastal vegetation planting and beach cleanup; 8:00 a.m. to 11:00 a.m., at Crashboat Beach, Aguadilla
Estuario certifies students in grades 9-12 as part of its coastal resilience module. Through certification, it is possible to get your Green Contact or community service hours (public or private school). If you are a high school student, you can participate in one of the following events:
July 15 – Field trip: mangrove monitoring [for high school students]; 8:00 a.m. to 12:00 p.m. at Laguna del Condado
July 20 – Thematic workshop: mangrove propagation and maintenance; 7:00 p.m. to 8:00 p.m. through Zoom
July 26 – Thematic workshop: introduction to coastal resilience; 7:00 p.m. to 8:00 p.m. through Zoom
Summer workshop for educators
The San Juan Bay Estuary and the BirdsCaribbean chiriría group invite you to the educator's workshop: La chiriría y la conservación de los humedales, on  Thursday, July 13, 2023, from 9:00 a.m. to 12:00 p.m. at the Community Center of Península de Cantera.
In addition to the theoretical part, where we'll discuss activities from the teacher's manual: The wonderful wetlands of the insular Caribbean, the workshop will include a field trip. The field trip will be a kayak tour, which is required, and will be offered in two sessions (Saturday, July 15 or Sunday, July 16). Further details will be shared with registered participants.
Professional training events for environmental interpreters
Estuario invites all environmental interpreters to the workshop: From the walkpath: activities, techniques and technologies to enrich our interpretive tours through nature; on Tuesday, July 18, from 7:00 p.m. to 8:00 p.m.through Zoom.
We will discuss the principles of environmental interpretation, covering activities and techniques that can help create memorable experiences in interpretive tours, within the context of the different ecosystems of the Estuary. This workshop counts as contact hours for NAI CIG recertification.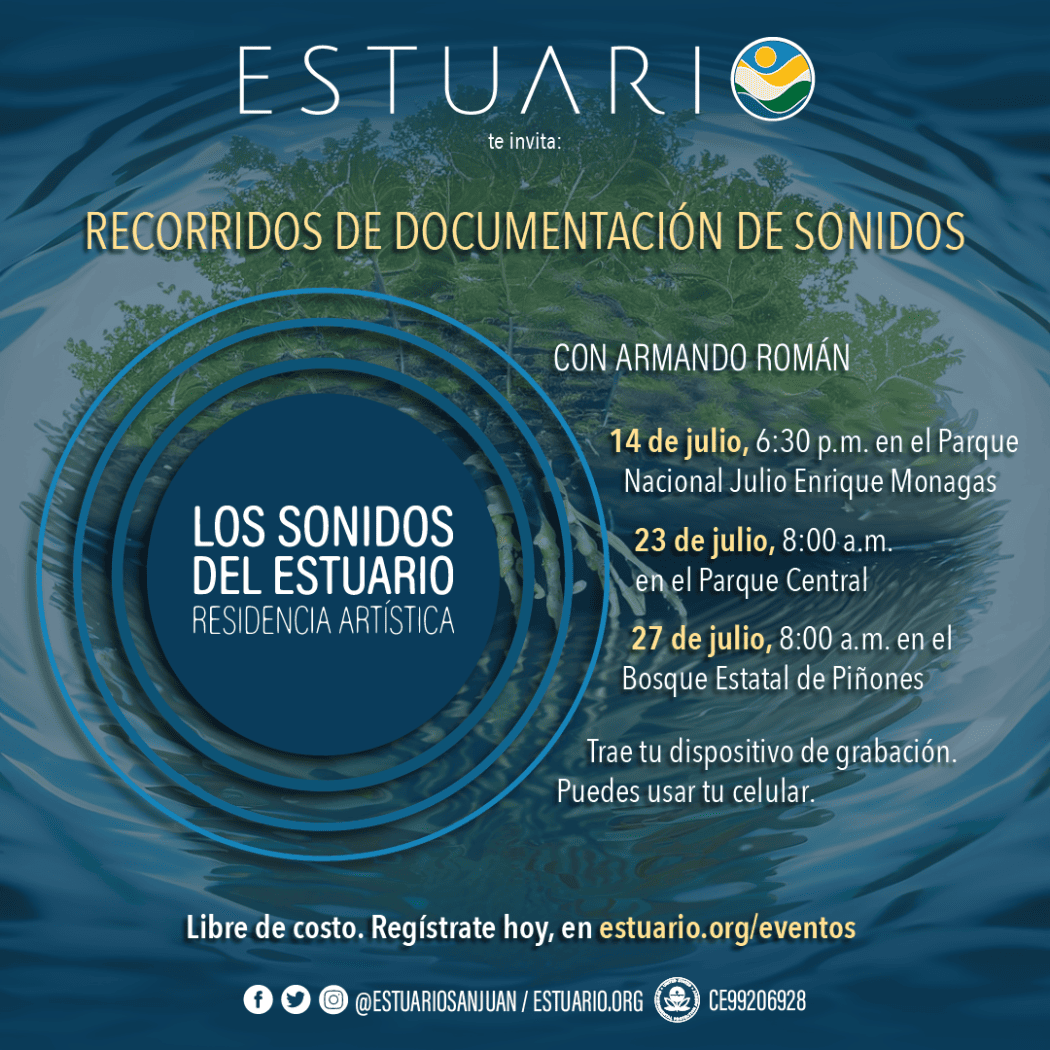 The sounds of the estuary, with resident artist Armando Román, is a project of memory and sound documentation. Part of the creative process will consist of three tours, where the everyday sounds of various localities located within the estuary and its watershed will be recorded. These recordings, and the experiences embodied in them, will be the basis of a sound map that will be part of Estuario's atlas. The tours will take place on July 14, 23 and 27.
Mangroves planted in Laguna del Condado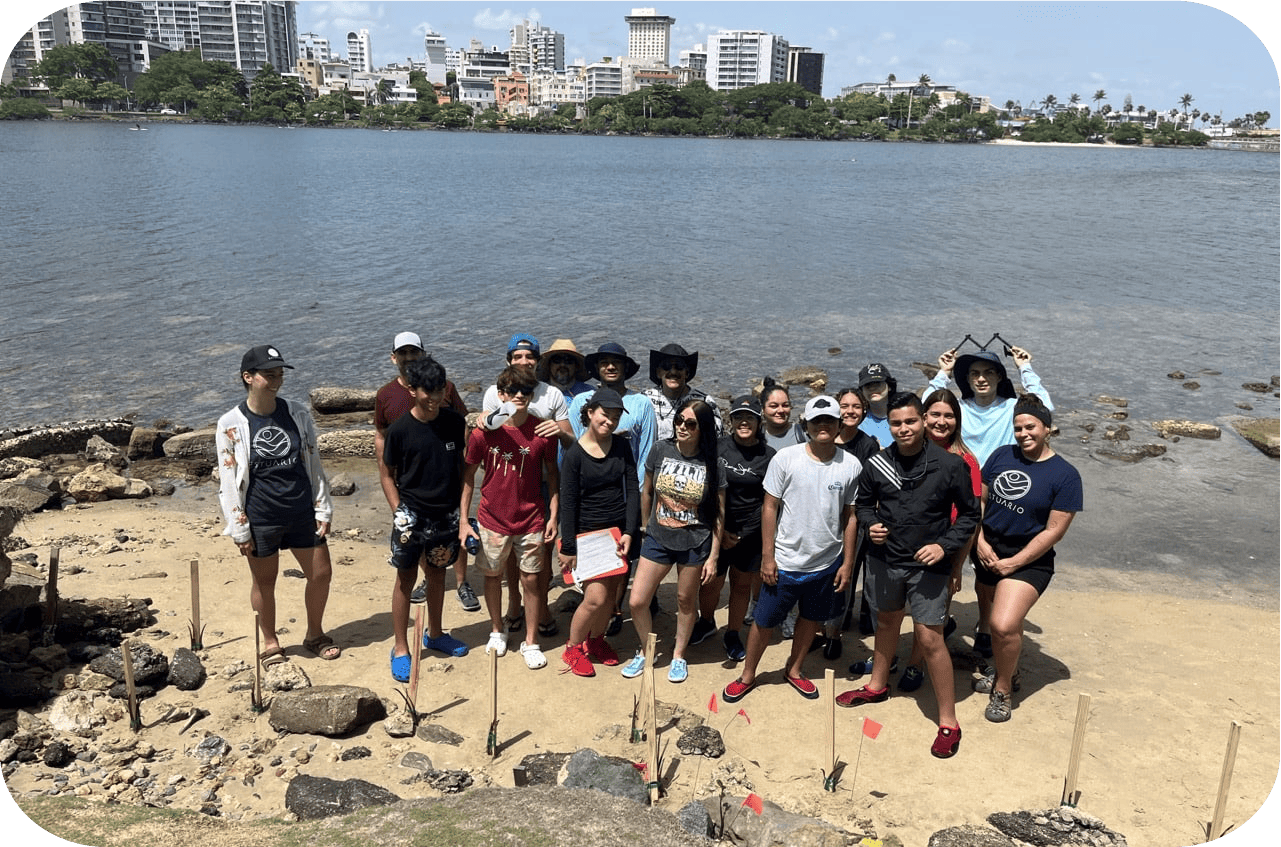 Last Saturday, July 1, high school students planted mangroves in the Condado Lagoon Natural Estuarine Reserve as part of the coastal resilience module of Estuario's certification for citizen scientists. Congratulations!
Weekly water quality monitoring
Evaluation conducted on Thursday, July 6, 2023. We have a GREEN flag for the Condado Lagoon Natural Estuarine Reserve. We recommend avoiding the area that surpassed the water quality parameter for enterococci (70 CFU/100mL). remember to avoid the water during rain events.