Weekly Water Quality Monitoring
Here are this week's results, performed Thursday, July 8, 2021. Published each Friday through our Facebook Page.
Water Quality Monitoring Day of Puerto Rico 2021
Registration process has begun for our annual Water Quality Monitoring Day of Puerto Rico, which will be celebrated this Saturday, August 28, 2021. See our launch publication, HERE.
Risk identification Workshop Series for Hazard Mitigation Plan Ends
This week Estuario finished the second series of workshops geared towards public involvement in the development of the San Juan Bay Estuary Watershed Hazard Mitigation Plan. A video version of the workshops has been posted in Estuario's Hazard Mitigation Plan Portal. See it HERE.
Estuario Summer Workshop Series
Throughout the month of July, Estuario offered and completed its Summer Workshop Series for children of the watershed. A total of 18 children took advantage of the virtual workshops, from the municipalites of Bayamón, San Juan, Toa Baja and Guaynabo.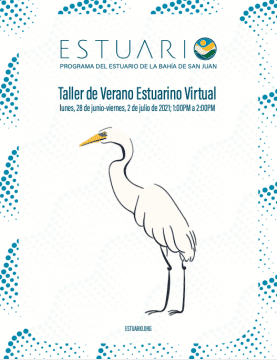 Resistance & Resilience: ​Responses to the Climate Crisis from Cuba and Puerto Rico
The Caribbean Agroecology Institute finalized its series of sessions about community-led responses to the effects of climate change, Resistance & Resilience: Responses to the Climate Crisis from Cuba and Puerto Rico, with its fifth session: Coastal Socioecological Resilience, on July 30, 2021. Estuario's Executive Director joined colleagues from Puerto Rico and Cuba in a conversation about the challenges, plans and innovative actions taken to guarantee the health and wellbeing of communities and ecosystems. Watch a recording of the session HERE.
Preparing for the Hurricane Season
We're in the midst of the Atlantic hurricane season. As part of hazard mitigation efforts, Estuario is enacting a season-wide informative campaign, centered in the promotion of Estuario's Virtual Resilent Community Hub. The hub continues to be updated with essential information to the public regarding preparation and hazard mitigation management.
Follow us on social media for information on activities and capacity building opportunities. If you have any questions, feel free to write to [email protected].

The San Juan Bay Estuary Watershed's water quality management and restoration actions are possible thanks to our public. Donations to the San Juan Bay Estuary Program are deductible in Federal and Local tax returns. 
For more information and to make a donation, click here: https://estuario.org/donate/