Through our weekly update we share opportunities for collaboration, volunteering, and work; through initiatives and actions programmed for the benefit of the ecosystems and communities of the San Juan Bay Estuary. These activities, tips and information are for everyone's benefit.
Amigos de la Laguna meeting
Be part of the management process of the Condado Lagoon Natural Estuarine Reserve (RNELC). Join us at the next Amigos de la Laguna meeting, next Wednesday, November 2, 2022, at 5:30pm in Jaime Benítez Park.
We'll cover the following topics:
Status of the RNELC Collaborative Agreement
Posición de "Project Coordinator—Public Engagement"
Weekly water quality monitoring
Other matters (Special Paddle Board Event, Cine del Estuario – Friends of Fortín San Jerónimo function, activities during the year, new initiatives)
The meeting will also have a virtual space: if you want to attend virtually, request the access link in https://estuario.org/amigosdelalaguna/. See you there!
Certification for citizen scientists
A new round of elective workshops begins for certification in the thematic modules of water quality monitoring, characterization and reduction of microplastics, participatory bird censuses and coastal resilience.
The workshops will be held virtually, via Zoom, from 6:30PM-8PM on the following dates:
November 9: Introduction to water quality monitoring
November 16: Introduction to participatory bird censuses
November 30: Introduction to microplastics and other aquatic debris
December 7: Coastal resilience workshop
Register today: https://estuario.org/ccc/
Banco Popular volunteers get certified as citizen scientists with Estuario
As part of the certification process, these volunteers planted red mangroves in the Condado Lagoon Natural Estuarine Reserve. We thank Banco Popular for sponsoring the coastal resilience thematic module of our Citizen Science Certification Program. See the photo gallery, here.
Leading the management of solid waste in the Island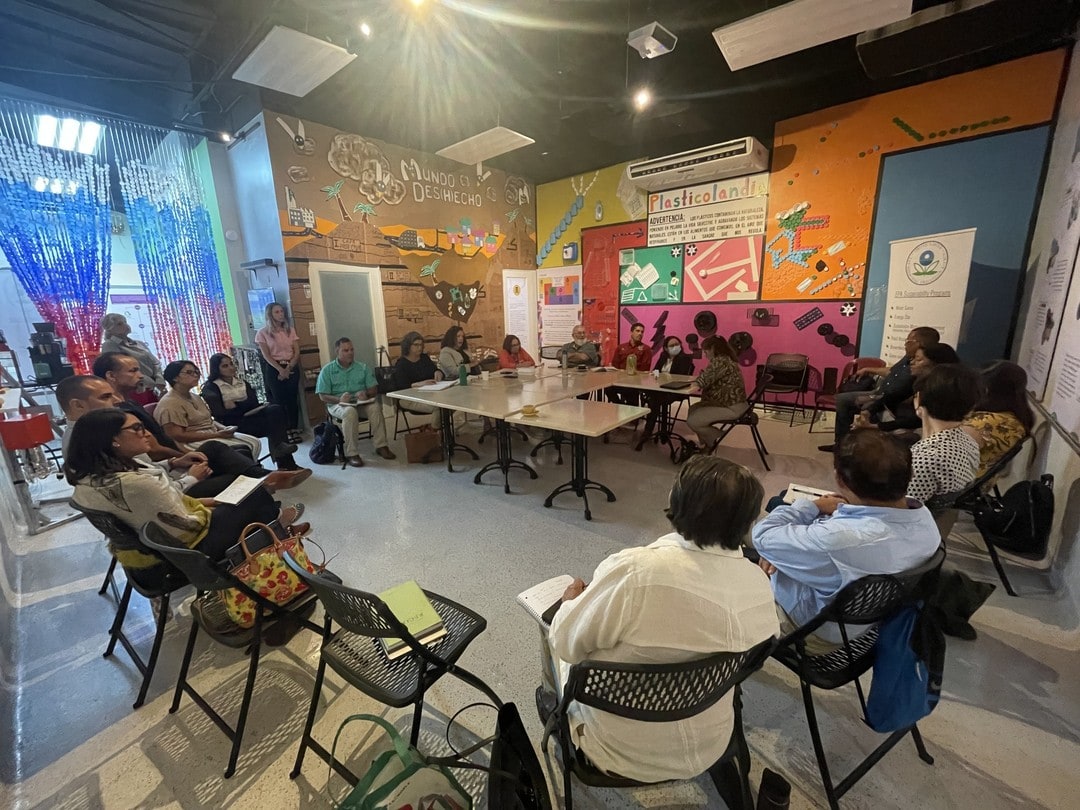 October 25, 2022—Estuario and other organizations and entities working on solid waste management, landfills, recycling, and circular economy across Puerto Rico were invited by the Federal Environmental Protection Agency (EPA) in the Caribbean and the Department of Natural and Environmental Resources (DNER) to a dialogue with EPA's Region 2 Administrator, Lisa García, and representatives of the DNER. It was held at the Puerto Rico Recycling Museum in the Municipality of Hatillo. We thank the EPA, DRNA, the Recycling Museum and   present organizations for their part in the managing integrated solid waste management efforts in the country and the funds for the Comprehensive Waste Plan at the Island level.
Weekly water quality monitoring
Evaluation conducted Thursday, October 27, 2022.  We have a RED flag in the Condado Lagoon Natural Estuarine Reserve. Pine Grove Beach was the only beach on the shoreline that failed to meet the water quality standard this week. Finally, we remind you to avoid direct contact with water bodies during precipitation events and at least 48 hours after intense precipitation events.
Message from your Virtual Community Hub
This 2022 hurricane season, Estuario encourages you to download the Community Hurricane Preparedness Guide and apply its recommendations. The strength and resilience of your community starts at home. We continue to urge communities to recognize natural risks and stay informed.
Take advantage of our informative platform, the Virtual Community Hub, where you will find vital information to prepare your family and community. 
We remind you that to learn about our Hazard Mitigation Program and identify the risks, conditions and community assets available in your community:  https://estuario.org/hazard-mitigation/
The actions for the restoration and management of bodies of water within the San Juan Bay Estuary Watershed are possible thanks to the public. Donations to the San Juan Bay Estuary Program are deductible from Puerto Rico and US tax returns.
For more info, go to https://estuario.org/donate/.
Follow us on social media, where we share information on activities which will contribute to your knowledge and personal and professional development. If you have any doubts or questions, please contact us through [email protected].
Register as a volunteer, HERE.