Certification for citizen scientists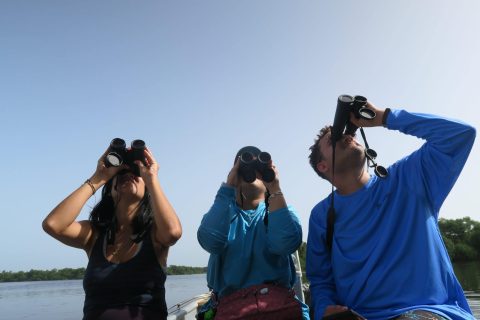 October 14 – Field trip: participatory bird census; with Eliezer Nieves and Coral Avilés, from 7:00 a.m. to 10:00 a.m. in Piñones State Forest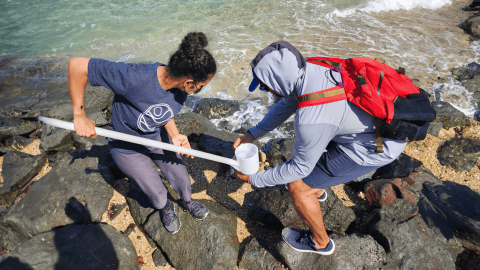 October 19 – Field trip: water quality monitoring; with Rebecca Rivera, from 9:00 a.m. to 12:00 p.m. at Condado Lagoon Natural Estuarine Reserve and nearby beaches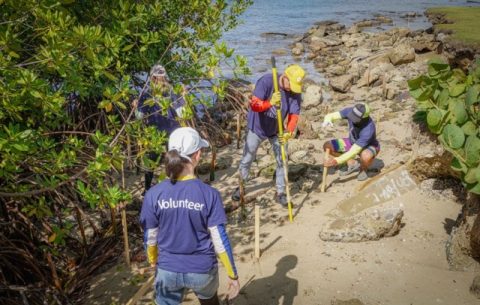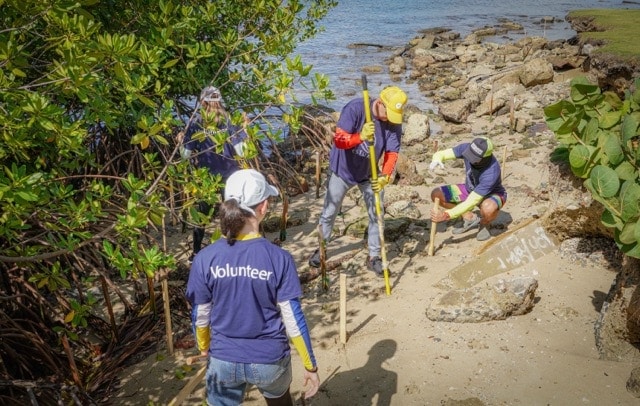 October 19 – Field trip: mangrove planting monitoring; with Andreína Alexatos, from 8:30 a.m. to 11:30 a.m. at Laguna del Condado Estuarine Nature Reserve
October 21 – Field Trip: Ecological Assessment of Seagrasses; with Daritzel Cintrón, 8:00 a.m. to 11:00 a.m. at Playita del Condado
October 21 – Field Trip: Ecological Assessment of Seagrasses [STUDENTS 9-12]; with Daritzel Cintrón, 8:00 a.m. to 11:00 a.m. at Playita del Condado
October 24 – Introductory workshop: coastal resilience; with Andreína Alexatos, from 7:00 p.m. to 8:00 p.m. by Zoom
October 26 – Field trip: seed collection; with Andreína Alexatos, from 8:30 a.m. to 11:30 a.m. at Laguna del Condado Estuarine Nature Reserve
October 26 – Elective workshop: ecological restoration of mangroves; with Andreína Alexatos, from 7:00 p.m. to 8:00 p.m. by Zoom
October 29 – Field Trip: Seagrass Ecological Assessment [STUDENTS 9-12]; with Daritzel Cintrón, 8:00 a.m. to 11:00 a.m. at Playita del Condado
November 4 – Field trip: planting of coastal vegetation; with Andreína Alexatos, from 8:30 a.m. to 11:30 a.m. in the Northeast Ecological Corridor – San Miguel
November 11 – Field trip: planting of coastal vegetation; with Andreína Alexatos, from 8:30 a.m. to 11:30 a.m. in the Northeast Ecological Corridor – San Miguel
Music from the Sonic Art Seminar of Los sonidos del Estuario
Listen to the pieces created during the Sonic Art Seminar, organized by Armando Román, held in July 2023, as part of his project as resident artist, Los sonidos del estuario.
These incorporate musical arrangements on the sounds of the surroundings of several locations connected to the San Juan Bay Estuary.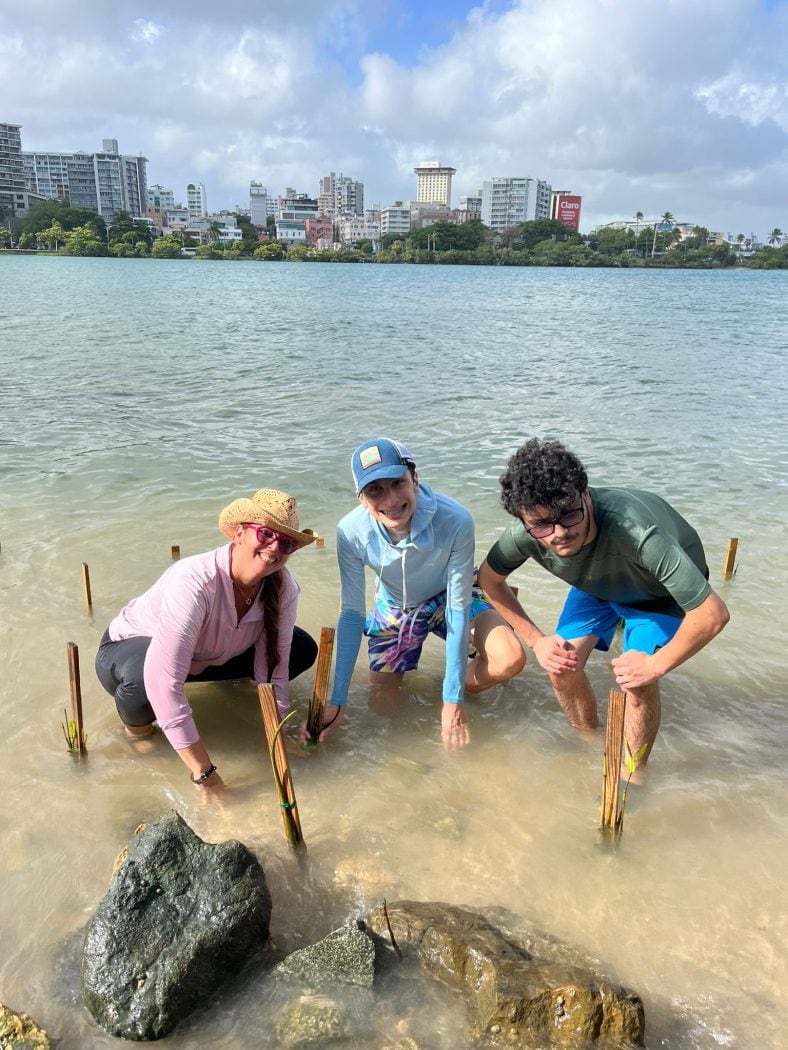 On Saturday, September 30, 2023, a group of young people committed to nature conservation and their families, carried out a planting activity in the San Gerónimo beach of the Condado Lagoon Natural Estuarine Reserve. These environmental enthusiasts planted a total of 575 mangroves, contributing to the restoration and preservation of this coastal ecosystem. With the assistance of our coastal resilience activities coordinator, Andreína Alexatos, participants learned about the importance of mangroves and how their direct action could have a positive impact on local biodiversity.
See photos of the event, here.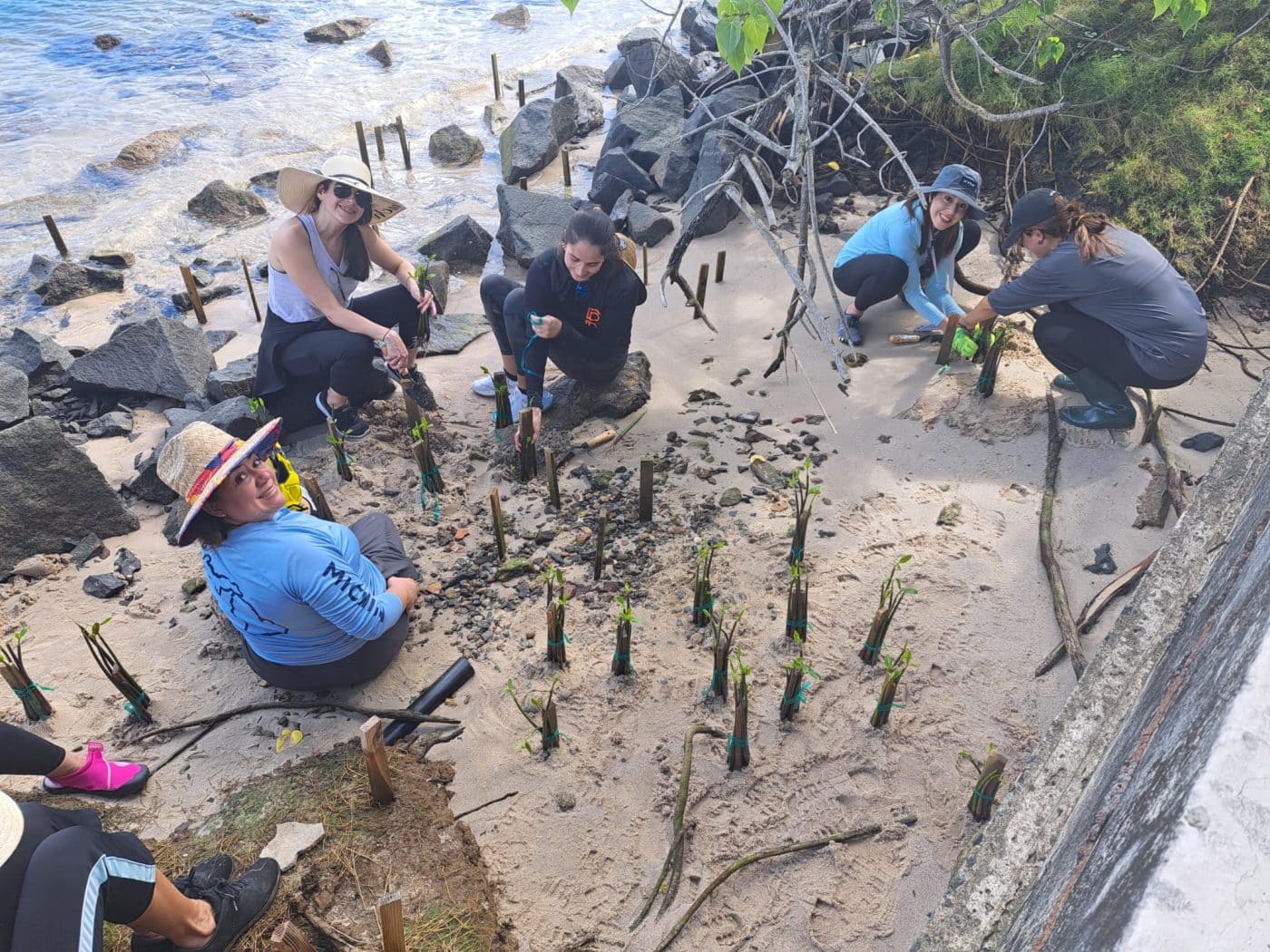 On October 6, 2023, the Condado Lagoon Natural Estuarine Reserve was the scene of another mangrove planting day. On this occasion, the group of volunteers was formed by employees of the Banco Popular de Puerto Rico, who dedicated their time and effort to the restoration of the coastal environment. They planted a total of 500 mangroves, showing their commitment to sustainability and the conservation of this ecological treasure. These actions demonstrate how the community and local organizations can come together to protect Puerto Rico's natural resources.
Message from your Virtual Community Hub
Take advantage of our information platform, the Estuario Virtual Community Hub, where you will find vital information to prepare with your family and community.
To learn about risk mitigation strategies at Estuario and identify the risks, conditions and assets in your community, go to: https://estuario.org/mitigacion/
Weekly water quality monitoring
Evaluation carried out on Thursday, October 12, 2023. We have a GREEN flag for the Condado Lagoon Natural Estuarine Reserve. The Escambrón station (132 CFU/100ML) exceeded the Beach Action Value standard of 70 CFU/100 ML. We recommend avoiding that area. Have a good weekend!