Estuarine hugs! This past Tuesday, March 8, we celebrated International Women's Day. Once again, we dedicate it to all community leaders, collaborators, citizen scientists, and volunteers dedicated to the health of our estuarine ecosystems and the environmental justice of their communities. Congratulations!
Strategies for Collaboration with Communities
In line with our Work Plan, we are holding collaborative meetings with the citizens of the San Juan Bay estuary watershed. These meetings will be held in our Resilient Hubs. Their purpose is to create collaborative strategies that benefit the environmental justice and ecosystems health of estuarine communities. All citizens are welcome to participate. There will be virtual spaces available. See the dates, addresses to the Hubs, registration, and more information at https://estuario.org/resilient-hubs/.
Save the Date—Amigos de la Laguna
Community group Amigos de la Laguna (Friends of the Lagoon) will meet to discuss conservation actions in the Condado Lagoon Estuarine Reserve, on Wednesday, March 23, 2022 at 6PM. Tune in to our social media for more information.
Weekly Water Quality Monitoring
Support Us with Your Refund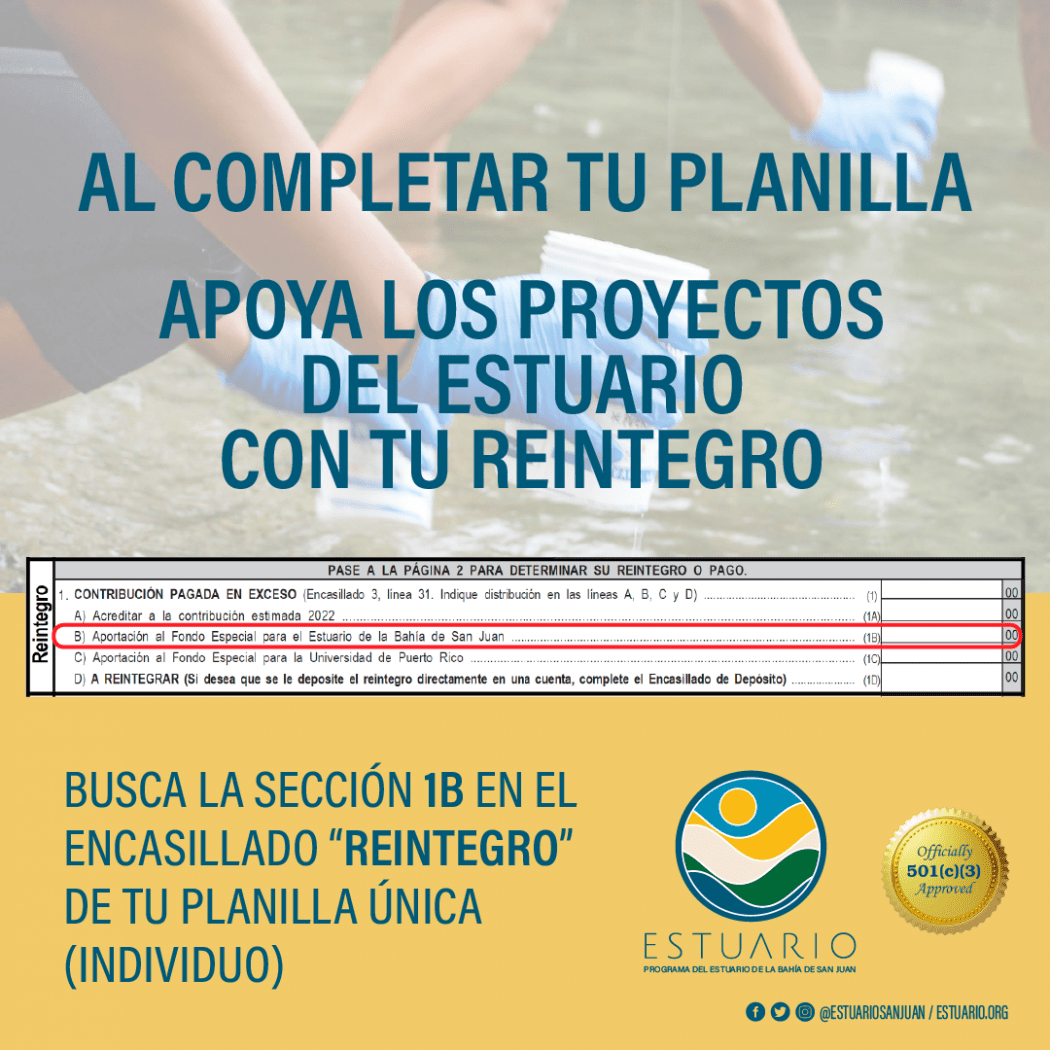 Contribute to our watershed restoration and management activities with your Individual Income Tax Return refund. Look for the option "Contribution to the San Juan Bay Estuary Special Fund," located in line 1B of the "Refund" box of your form. Read more here.
The actions for the restoration and management of bodies of water within the San Juan Bay Estuary Watershed are possible thanks to the public. Donations to the San Juan Bay Estuary Program are deductible from Puerto Rico and US tax returns.
For more info, go to https://estuario.org/donate/.
Follow us on social media, where we share information on activities which will contribute to your knowledge and personal and professional development. If you have any doubts or questions, please contact us through [email protected].
Register as a volunteer, HERE.