An estuarine greeting! Through our weekly update, we inform residents and friends of San Juan Bay Estuary watershed communities about events, projects, activities, and training opportunities. This April, we celebrate Earth Month. We'll be sharing events and activities to celebrate through our social media.
On April 1, we celebrated the fifteenth edition of Water Quality Day.  With this event, we open the Month of Planet Earth.  A Press Conference was held at the Jaime Benitez Park of Condado Lagoon, together with the Secretary of the Department of Natural and Environmental Resources, Anaí Rodríguez Vega, the director of the Environmental Protection Agency Caribbean Region, Carmen Guerrero, UPR professor, Gustavo Martínez, and the executive director at Estuario, Brenda Torres Barreto.
In the afternoon we enjoyed a Family Day in the Jaime Benitez Park of the Condado Lagoon. We celebrated a day full of family fun and education, both for adults and children.  Soon, we will share the results.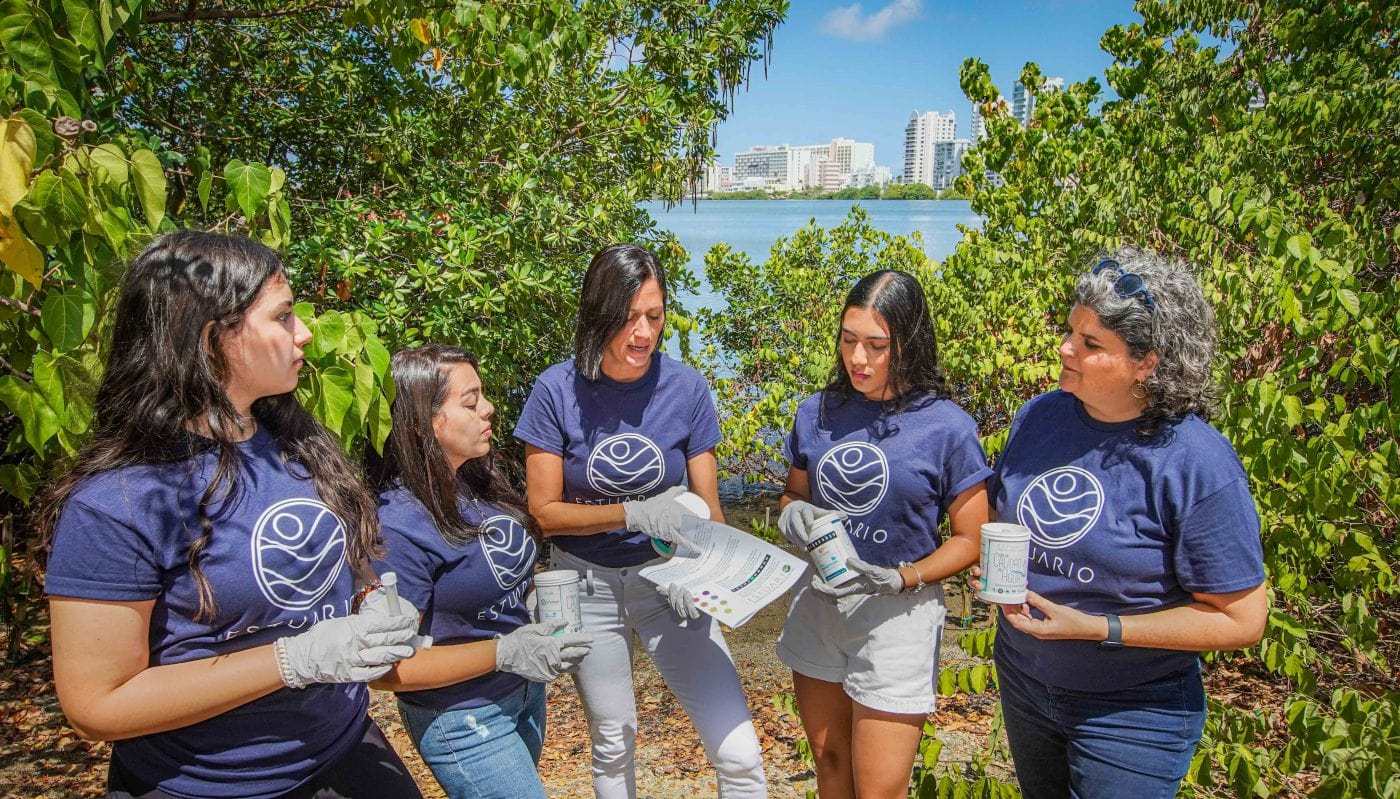 We want to thank our sponsors: Ford-Environmental Donations, Mapfre, Earth Eco Water Challenge, Department of Natural and Environmental Resources, Aqueduct and Sewer Authority, Federal Environmental Protection Agency, Autonomous Municipality of San Juan, La Goyco Community Workshop, Sea Grant Puerto Rico, Las Salinas Interpretive Center, Cabo Rojo, Surfrider Foundation Rincón, Interamerican University of Puerto Rico, Ponce Health Sciences,  and the Institute of Environmental Engineers of the College of Engineers and Surveyors of Puerto Rico.
We also want to thank the organizations that said present with their information tables, the Community Water Network, Arrecifes pro-ciudad, Inc., Bat Conservation Program, Pro-Sustainable Environment Organization (OPAS), Scuba Dogs Society, Gostosos, and all the artisans who gathered.  
To date, more than 800 people have already reported their participation data in over 160 stations throughout the island. If you participated and haven't uploaded your results yet, do it today! You can access the form here.
Learn about the resources available in the spaces of the Urban Forest Network of the San Juan Bay Estuary watershed. Join us for the collection of mangrove seeds, in the Piñones State Forest, this coming Saturday, April 15, from 8:00 a.m. to 12:00 p.m. Sign up today: https://estuario.org/eventos/.
Certification for citizen scientists
We have scheduled the following activities as part of the participatory bird census and coastal resilience modules of the Estuary Citizen Science Certification Program:
Participatory bird census module:
Field Trip: Participatory Bird Census – Wednesday, April 12, 2023, 7:00 a.m. – 10:00 a.m., at the Botanical Garden of Río Piedras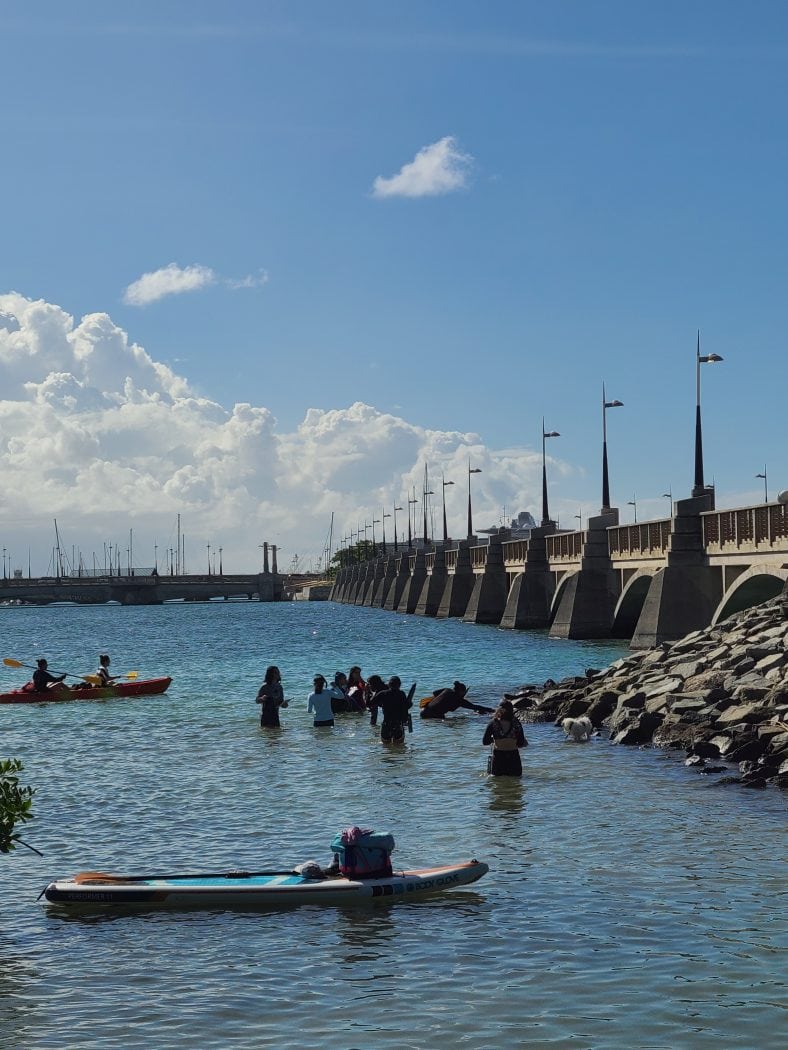 Coastal resilience module:
Thematic Workshop: Coral Reef Restoration – Tuesday, April 11, 2023, 7:00 p.m. – 8:00 p.m. by Zoom
Field Trip: Coral Reef Monitoring – Saturday, April 15, 2023, 8:00 p.m. – 12:00 p.m., Laguna del Condado
Thematic Workshop: Seagrass Restoration – Tuesday, April 18, 2023, 7:00 p.m. – 8:00 p.m. by Zoom
Field trip: seagrass monitoring – Sunday, April 23, 2023, 8:00 p.m. – 12:00 p.m., Laguna del Condado
Weekly water quality monitoring
Evaluation carried out on Tuesday, April 4, 2023. We have a GREEN flag for the Condado Lagoon Natural Estuarine Reserve. The map identifies the stations that exceeded the water quality parameter for enterococci (70 CFU/100mL). We recommend avoiding direct contact with these bodies of water during rain events.
The actions for the restoration and management of bodies of water within the San Juan Bay Estuary Watershed are possible thanks to the public. Donations to the San Juan Bay Estuary Program are deductible from Puerto Rico and US tax returns.
For more info, go to https://estuario.org/donate/.
Follow us on social media, where we share information on activities which will contribute to your knowledge and personal and professional development. If you have any doubts or questions, please contact us through [email protected].
Register as a volunteer, HERE.