An estuarine greeting! Through our weekly update, we inform residents and friends of San Juan Bay estuary watershed communities about events, projects, activities and training opportunities.
This week is volunteer week.  We dedicate this celebration to all the leaders and collaboratorswho today and always contribute,  with theirskills and time, to the activities of  restoration and management of  our watershed.
You make our mission possible!
International Mother Earth Day
Tomorrow, Saturday, April 22, will be International Mother Earth Day! Celebrate with us on an interpretive tour  of the Pinion State Forest, from 9:00 a.m.  to 11:00 a.m. During this activity we will learn about the importance of urban forests and their biodiversity. This activity counts for Green Contact hours. Already signed up?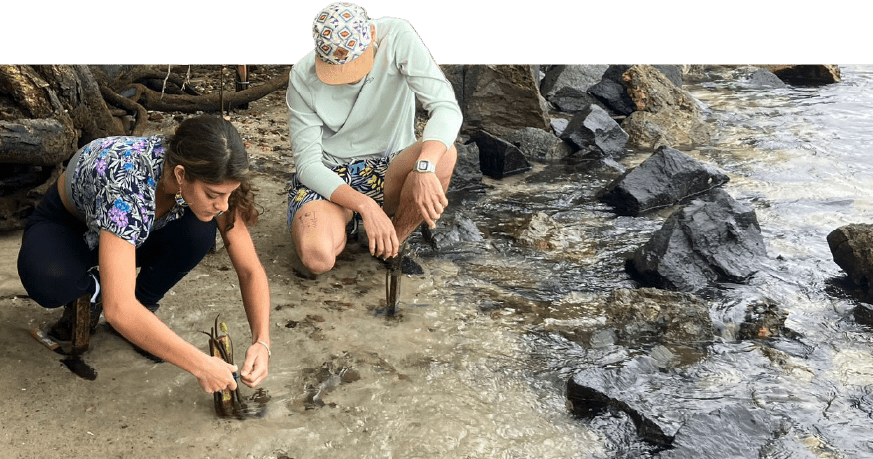 We will also have a mangrove planting with Surfrider Foundation Puerto Rico, from 8:00 a.m. to 12:00 p.m. in Playa Jobos, Isabela, as part of the coastal resilience thematic module of our Citizen Science Certification Program.
Workshop for teachers and non-formal educators
The San Juan Bay Estuary Partnership, in collaboration with Birds Caribbean, will be offering a workshop for non-formal teachers and educators from the Estuary Basin (Bayamón, Carolina, Cataño, Guaynabo, Loíza, San Juan, Toa Baja and Trujillo Alto).
This will be offered on Sunday, April 23, 2023, from 9:00 a.m. to 1:00 p.m.  at the Pinion State Forest Visitor Center. The workshop will present the importance of urban forests for landbirds, techniques for identifying and documenting birds, and various activities for bird education. 
Water quality monitoring thematic module:
April 25: Field trip—San Juan Bay Water Quality Monitoring; 9:00 a.m. – 12:00 p.m.
April 26: Field trip—Water quality monitoring in Laguna San José; 9:00 a.m. – 12:00 p.m.
April 27: Field trip—Water quality monitoring in Laguna del Condado and coastline; 9:00 a.m. – 12:00 p.m.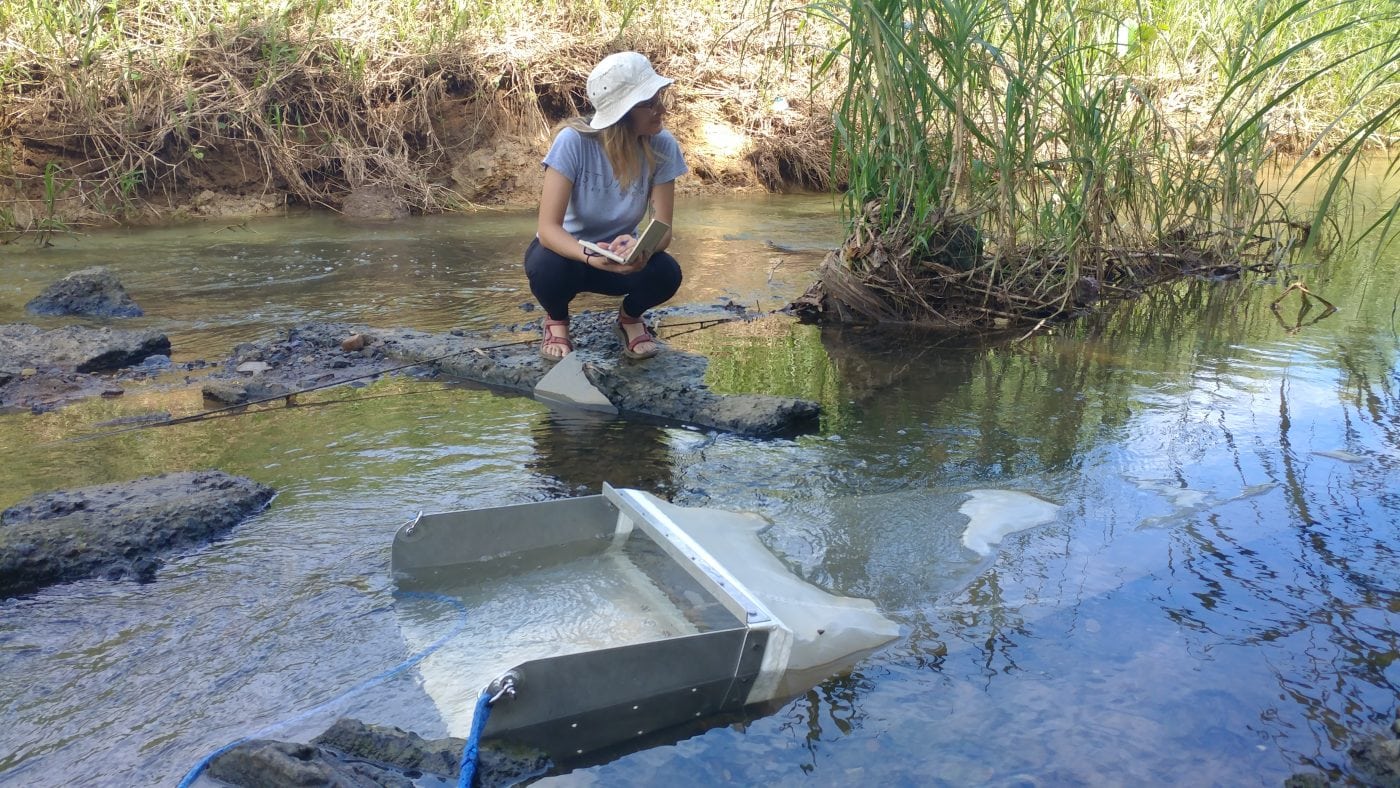 Characterization and reduction of microplastics: 
April 28: Field trip—Microplastics monitoring at Cataño; 9:00 a.m. – 11:00 a.m.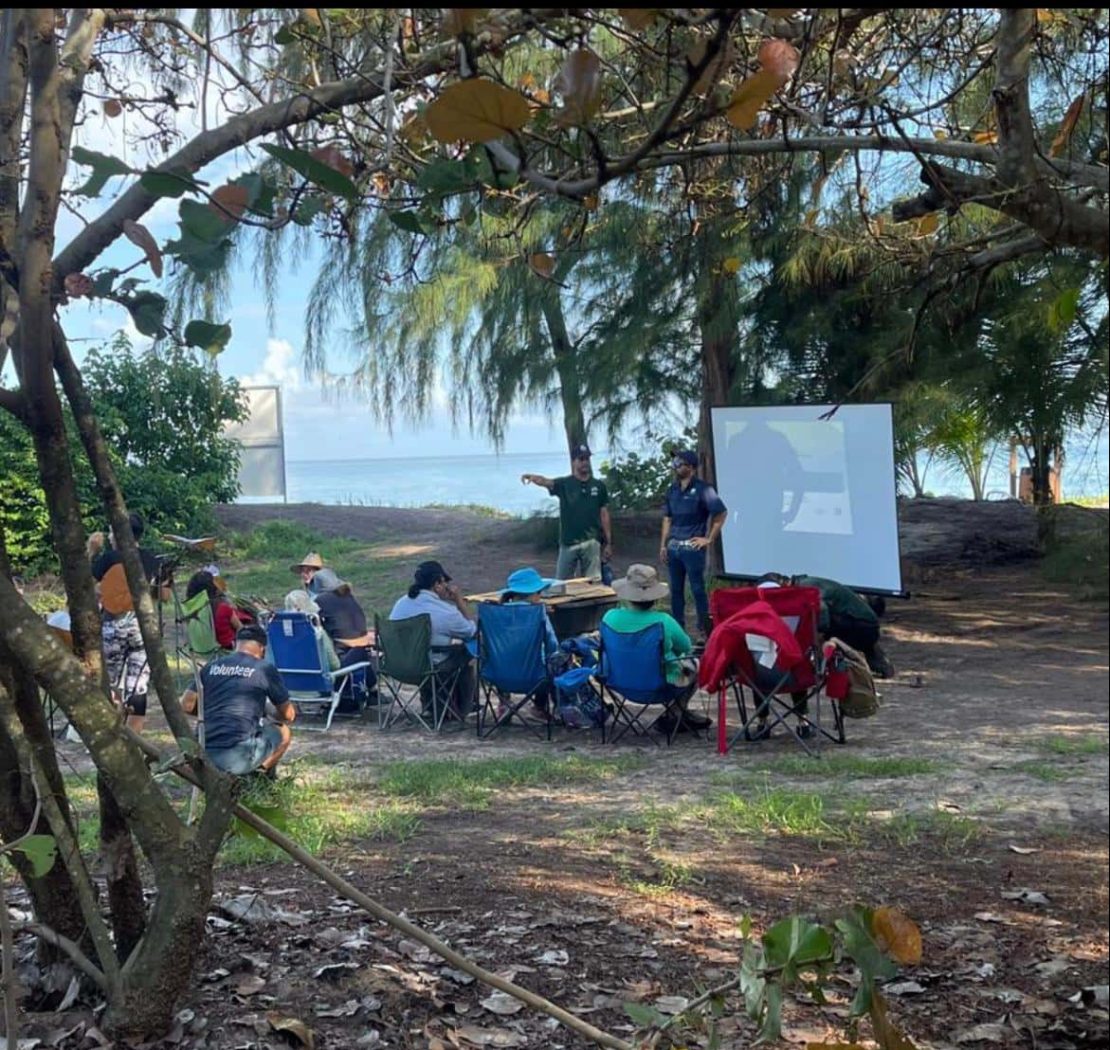 Introductory workshops:
During the month of May we will be conducting a new round of introductory workshops to the thematic modules of water quality, participatory bird censuses, characterization and reduction of microplastics, and coastal resilience.
May 3: Introduction to Water Quality Monitoring – with Eliezer Nieves Rodríguez
May 10: Introduction to participatory bird censuses – with Eliezer Nieves Rodríguez
May 17: Introduction to microplastics and other aquatic debris – with Eliezer Nieves Rodríguez
May 24: Introduction to coastal resilience – with Patria Aponte Marcano
Thematic module on coastal resilience:
In addition to the introductory workshop for the thematic module of coastal resilience, we have the following workshops and field trips:
May 2: Thematic Workshop—Coral Reef Ecological Assessment; 7:00 p.m. – 8:00 p.m.  by Zoom
May 6: Field trip—Monitoring of coral communities; 8:00 a.m. – 12:00 p.m., monitoring point will be shared with registrants
May 13: Field trip—Red mangrove planting: 8:00 a.m.  – 12:00 p.m., in Isabela
May 30: Thematic Workshop—Ecological Restoration with Red Mangrove Planting; 7:00 p.m. – 8:00 p.m. by Zoom
Sign up today! View all events and additional information about the certification process and thematic modules, in https://estuario.org/ccc/.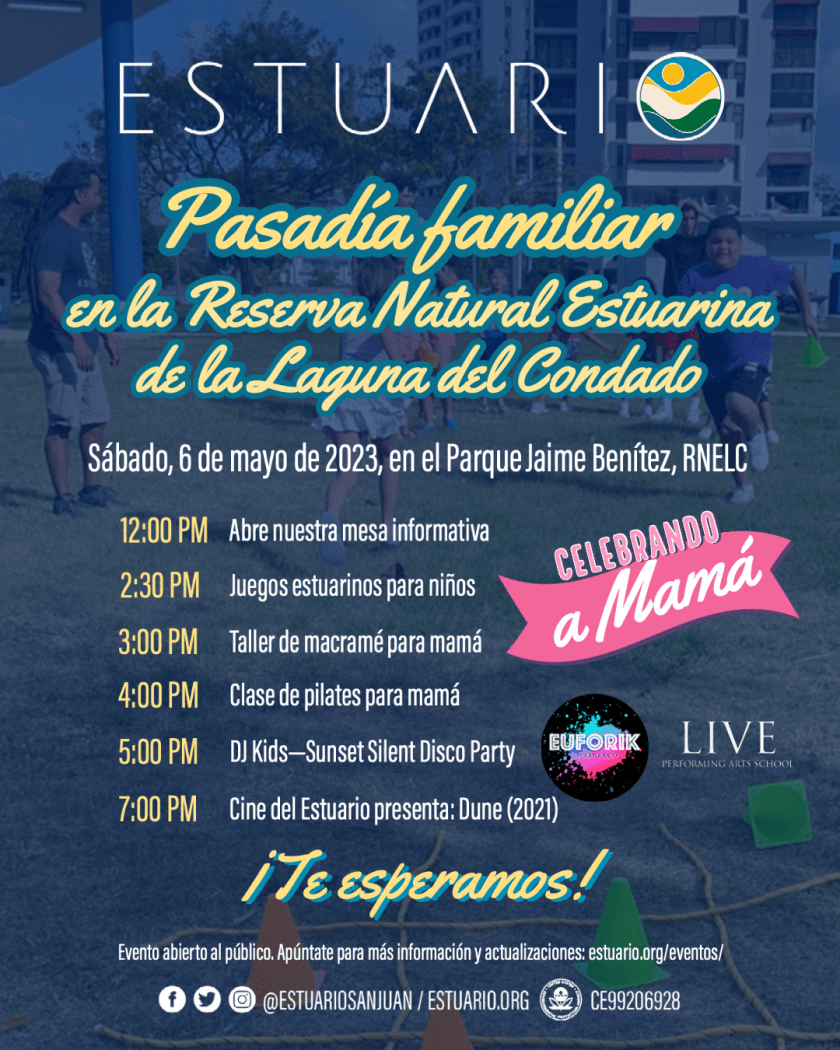 12:00 p.m. – Our information table opens
2:30 p.m. – Estuarine games for kids: Learn through low-impact games for kids, while mom enjoys the macramé workshop.
3:00 p.m. – Macramé workshop for mom: Come and learn to make crafts in macramé, we will make key chains and bookmarks.
4:00 p.m. – Pilates class for mom: Enjoy these mind-and-body controlled exercises, aimed especially at mom. Don'tforget to bring your mat.
5:00 p.m. – DJ Kids—Sunset Silent Disco Party: Ecological and conscious event, which teaches us different ways to enjoy out natural areas. Enjoy the talent of these young DJs. You will need to register to get  your headphones,  it will require an ID. Bring a reusable bottle.
7:00 p.m. – Estuary Cinema Presents: Dune (2021)
The activities are opento the public and are free of charge.  You can RSVP  to the family day pass to receive updates and additional information, in https://estuario.org/eventos/. See you there!
Weekly water quality monitoring
The actions for the restoration and management of bodies of water within the San Juan Bay Estuary Watershed are possible thanks to the public. Donations to the San Juan Bay Estuary Program are deductible from Puerto Rico and US tax returns.
For more info, go to https://estuario.org/donate/.
Follow us on social media, where we share information on activities which will contribute to your knowledge and personal and professional development. If you have any doubts or questions, please contact us through [email protected].
Register as a volunteer, HERE.