Through our weekly update we share opportunities for collaboration, volunteering and work; through initiatives and actions programmed for the benefit of the ecosystems and communities of the San Juan Bay estuary. These activities, tips and information are for the benefit of all.
Earth Day is coming! On Friday, April 22, 2022, join us in raising awareness about the importance of protecting our planet and join several activities in which we will be collaborating.
Workshop: Microplastics in the San Juan Bay Estuary Basin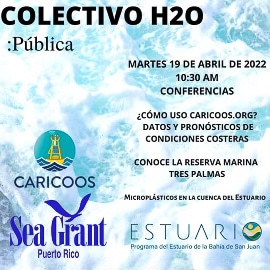 Join us on Tuesday, April 19, 2022, an educational talk at Pública Espacio Cultural, in Santurce, from 9AM-12PM.  Estuario, CARICOOS, Sea Grant and the artist Manuel "gOnzo" González, among others, will be present, covering topics about the ecological and economic value of the natural resources and safety of our coasts. The talk by Estuario will be: Microplastics; characterization, reduction, and educational efforts in the Estuary basin.  This activity is part of the celebration of Planet Earth Month in Pública by Colectivo H2O.
Introduction to Tropical Coastal Ecosystems
Become certified as a citizen scientist. Learn about Estuario's new Coastal Resilience module with the workshop: Introduction to Coastal Tropical Ecosystems; on Thursday, April 21, 2022, at 3PM through Zoom. Learn more and register today in our portal.
This coming Friday, April 22, 2022, in commemoration of Earth Day, join us for a special Cine del Estuario: presenting Frozen 2, at 7PM in Jaime Benítez Park at the Laguna del Condado Estuarine Reserve. Bring a blanket or chair! This event is free of charge. See you there.
Participatory Bird Census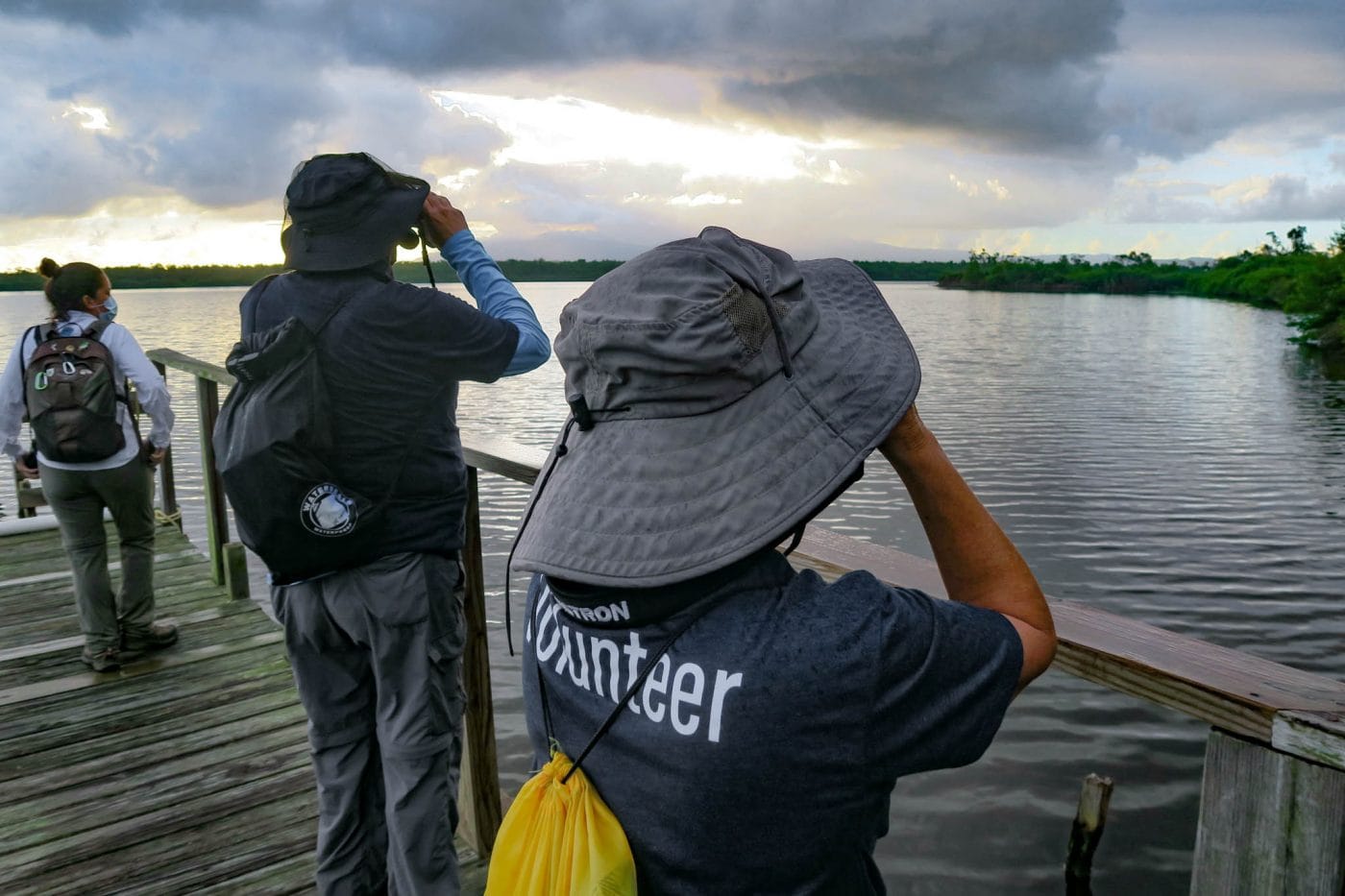 Learn about the importance of birds and their role as environmental indicators of the health of the San Juan Bay Estuary's ecosystems. Sign up for the next participatory bird censuses, to be held on Sunday, April 24, 2022, at the Botanical Garden of Río Piedras, and on Saturday, May 14 at the Piñones State Forest. Available space for 20 people per census. Register today, in our events portal.
Beyond Plastics: Problem and Solutions in Puerto Rico
Environmental justice and the changes needed to achieve it start from our communities. Therefore, we invite you to a training that covers the current state of the plastic waste crisis on the Island, what you need to know to act, the measures that have been taken from the point of view of public policy, and the platform created by already-established actors. This workshop has been organized as a result of the collaboration between Beyond Plastics, Syracuse University Center for Sustainable Materials, CAMBIO, Generación Circular and Estuario. Two dates available, Friday, May 13 and Saturday, May 14, 2022, from 10AM-12PM.  Both dates will feature the same workshop.
Estuario will be present at the Municipality of San Juan's celebration for Earth Day: Actívate con el planeta; on Friday, April 22, 2022, at Balneario El Escambrón, starting 8AM.

Join the Water Quality Monitoring and Certification of Citizen Scientists Coordinator at Estuario, Ivangs Rivera, who will be present at the EcoExploratorio exhibition: Resilience through natural threats, in the central Atrium of Plaza Las Américas, on Friday, April 22, 2022, at 3PM.
Weekly Water Quality Monitoring
Support us with your refund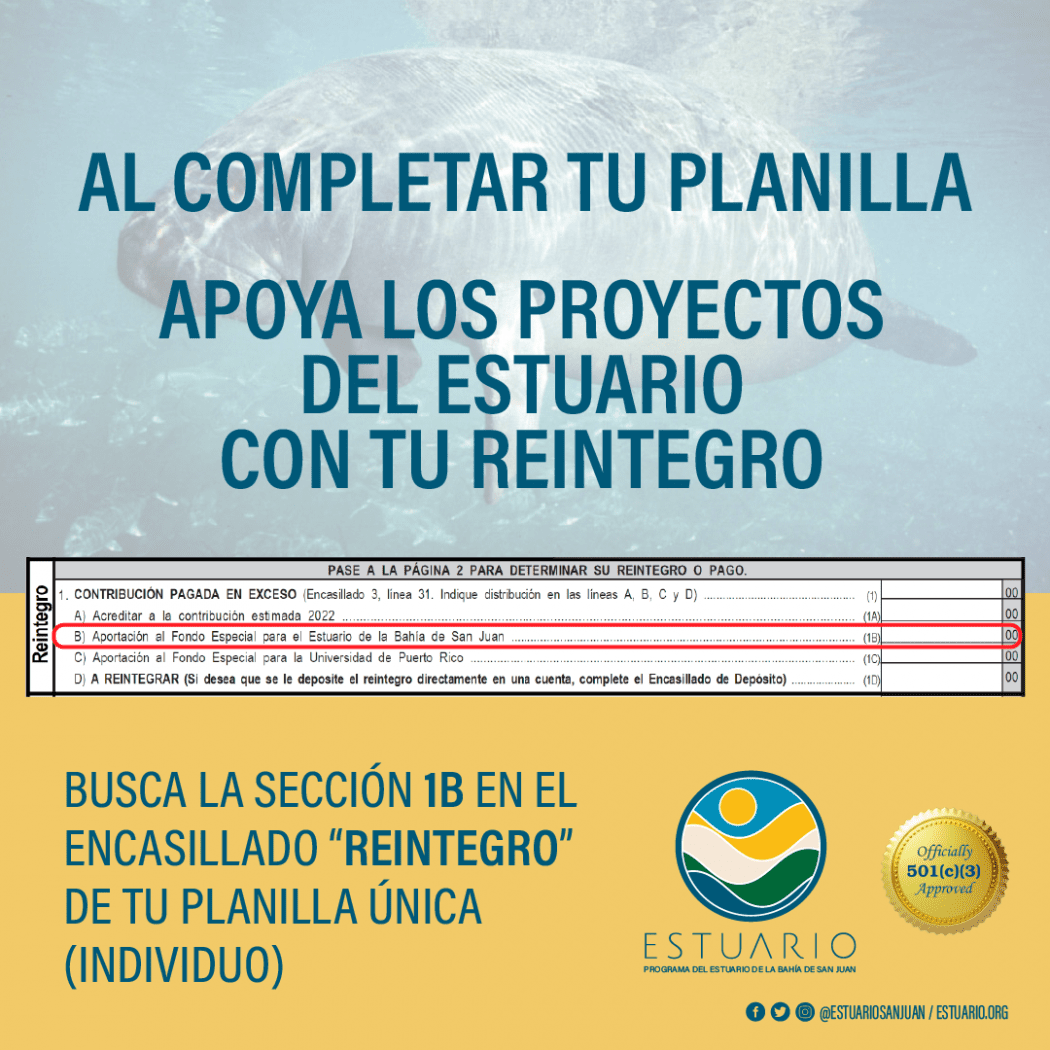 Contribute to our watershed restoration and management activities with your Individual Income Tax Return refund. Look for the option "Contribution to the San Juan Bay Estuary Special Fund," located in line 1B of the "Refund" box of your form. Read more here.
The actions for the restoration and management of bodies of water within the San Juan Bay Estuary Watershed are possible thanks to the public. Donations to the San Juan Bay Estuary Program are deductible from Puerto Rico and US tax returns.
For more info, go to https://estuario.org/donate/.
Follow us on social media, where we share information on activities which will contribute to your knowledge and personal and professional development. If you have any doubts or questions, please contact us through [email protected].
Register as a volunteer, HERE.