Through our weekly update, we share opportunities for collaboration, volunteering, and work; through initiatives and actions programmed for the benefit of the ecosystems and communities of the San Juan Bay estuary. These activities, tips and information are for everyone's benefit.
This past Tuesday, March 22, we celebrated World Water Day. This official United Nations Day has been celebrated every year since 1993. Its purpose is to highlight the importance of water as a resource and the mission of providing safe and equal access to it. Read more on estuario.org.
Community Meeting — Friends of the Lagoon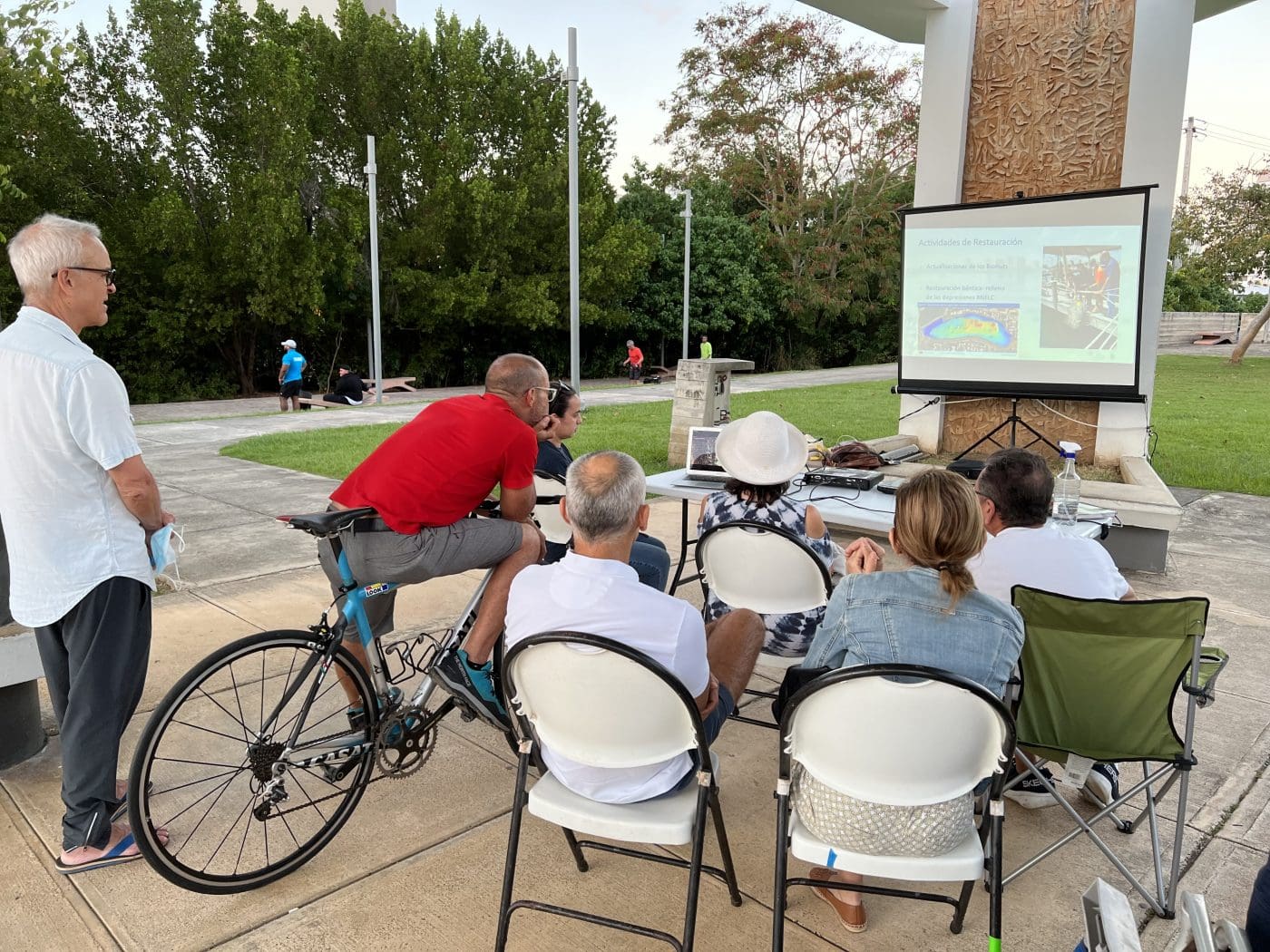 On Wednesday, March 23, 2022, we held the most recent meeting of the community group Amigos de la Laguna. The meeting was held in a hybrid way, integrating a virtual space with face-to-face attendees in the Jaime Benítez Park of the Condado Lagoon Estuarine Reserve. We thank all the citizens, neighbors, collaborators, educators, and students who were part of this conversation.
Workshop: The San Juan Bay Estuary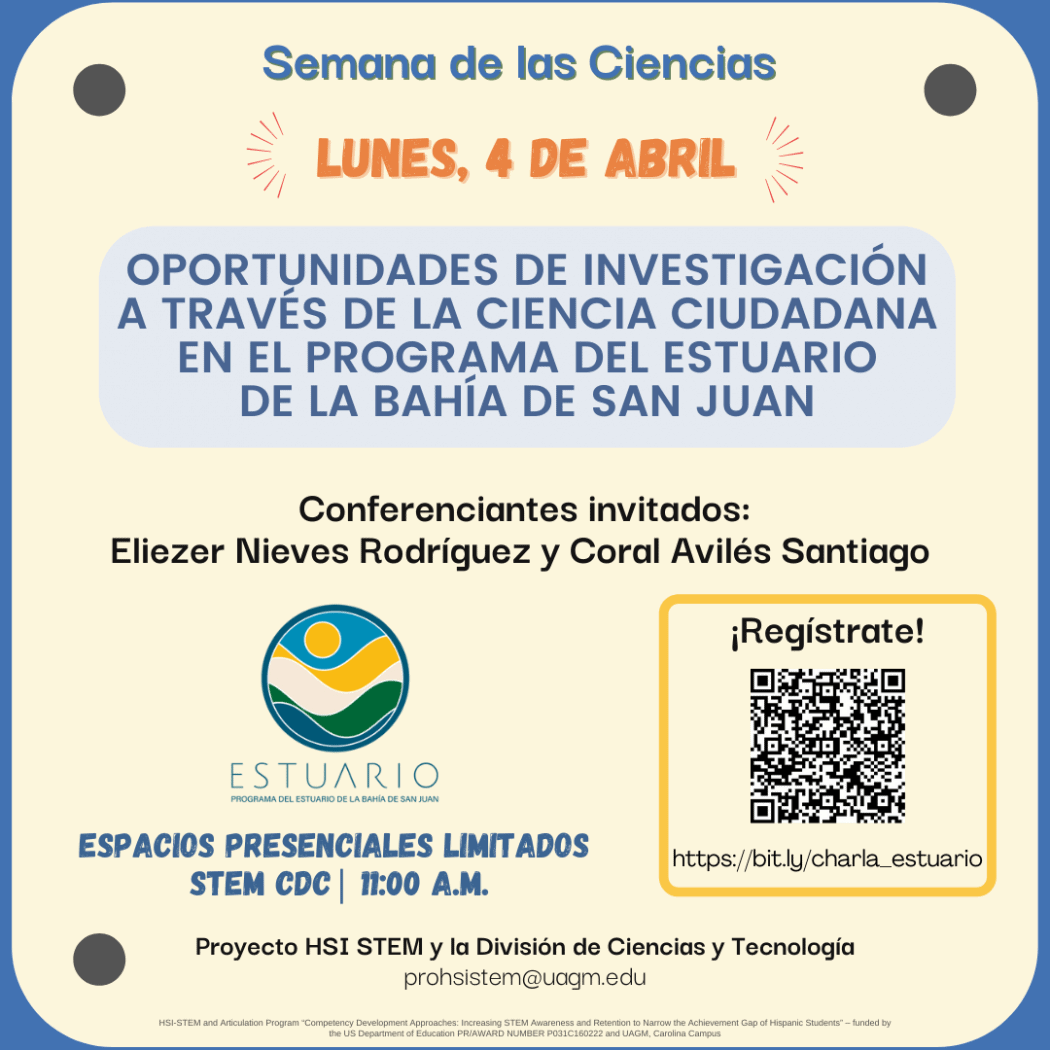 Claim your space! Science Week 2022.
Estuario invites you to the Workshop: Research Opportunities through Citizen Science in the San Juan Bay Estuary Program. The activity will take place on Monday, April 4, 2022, at 11:00 am in the STEM CDC-1 classroom (central corridor, between corridor A and B). Face-to-face spaces are limited. You can also attend virtually through Teams. The resources will be Eliezer Nieves and Coral Avilés, manager and education coordinator of the Estuary.
Community Cinema in El Caño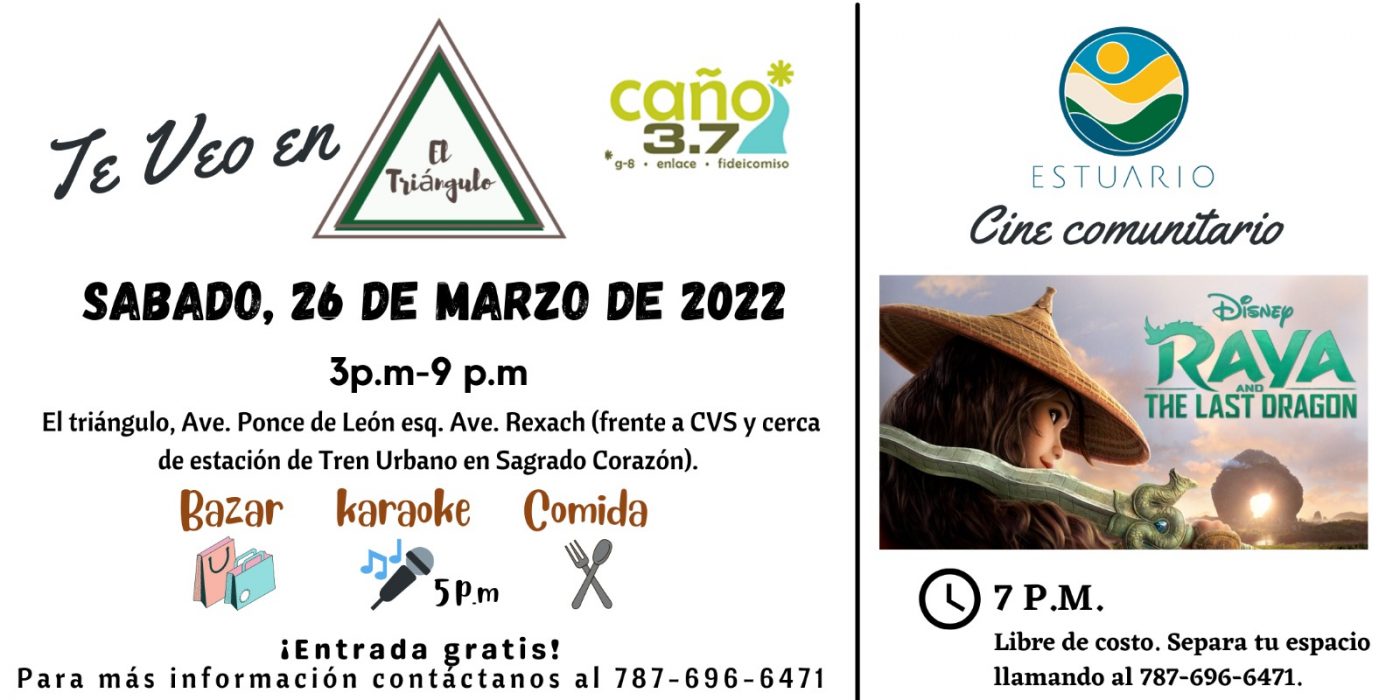 Enjoy the Community Cinema at Caño Martín Peña with family, with the screening of Raya and The Last Dragon; on Saturday, March 26, 2022, at 7PM at El Triángulo, Ave. Ponce de León, corner with Ave. Rexach. Separate your space by calling 787-696-6471. This event is free of charge.
Cine del Estuario presents: Cruella; on Saturday, April 2, 2022, at 7PM in the Jaime Benítez Park of the Condado Lagoon Estuarine Reserve. As usual, this event is free of charge. Bring your blanket or chair. See you there!
Weekly Water Quality Monitoring
Support us with your refund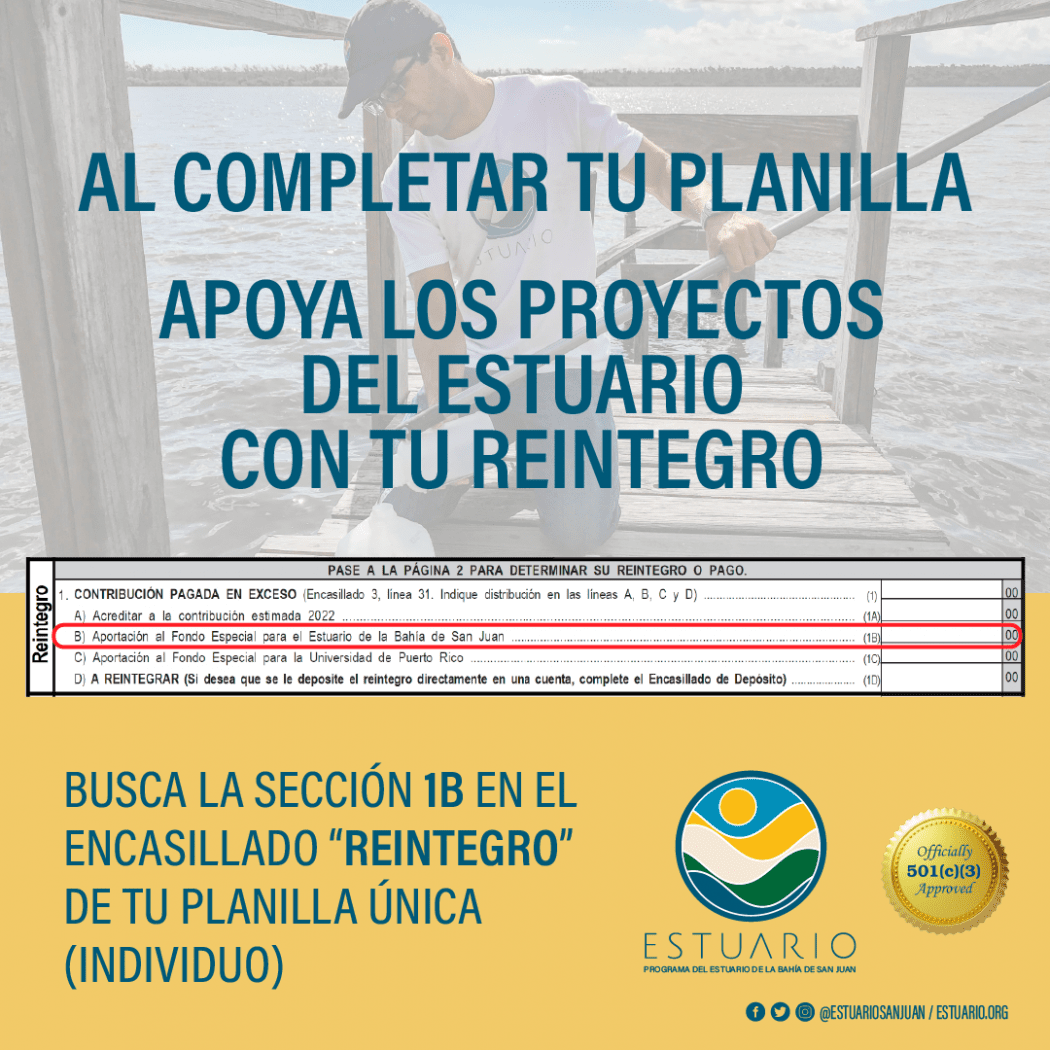 Support the Estuary with the reimbursement of your payroll. Look for the option "Contribution to the Special Fund for the Estuary of the Bay of San Juan", on line 1B of the "Reimbursement" box.  Read more here.
The actions for the restoration and management of bodies of water within the San Juan Bay Estuary Watershed are possible thanks to the public. Donations to the San Juan Bay Estuary Program are deductible from Puerto Rico and US tax returns.
For more info, go to https://estuario.org/donate/.
Follow us on social media, where we share information on activities which will contribute to your knowledge and personal and professional development. If you have any doubts or questions, please contact us through [email protected].
Register as a volunteer, HERE.