Estuary Cinema
Last week, Estuario showed its monthly Cine del Estuario projection through a Facebook Video Premiere on Saturday, September 5 2020 at 7PM. Continuing its ongoing collaboration with the Documentary Filmmakers Association of Puerto Rico, Estuario showed Autorretratos (Series 8 & 10), two compendiums of self-reflective short films created by youth from the communities of Loíza and the Martín Peña Channel. The Series are produced by filmmakers Llaima Sanfiorenzo and Margaret Mair. They are part of a larger project called Fábrica de autorretratos, through which the filmmakers have enabled the documentation of people's realities from communities all over the world. The broadcast had a peak of 25 viewers.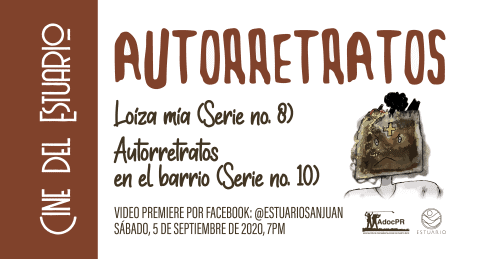 Weekly Water Quality Monitoring 
Monitoring performed on September 2, 2020. Results published every Friday at 3PM through our Facebook Page. Here are this week's results.
Listen to the new episode of Estuario Sonoro 
The sixth episode of Estuario Sonoro is about global warming. it features Estuario's Scientific Director Jorge Bauzá, Stakeholders & Aquatic Debris Projects Coordinator Cristina Ramírez, and a guest appearance by Biologist Edwin Hernández.
Listen to it here: https://estuario.org/podcasts
This week Estuario shared the benefits of incorporating raingardens into an urban environment. This and other Green Infrastructure techniques help us revitalize empty spaces, as well as improve our health and water quality.
Estuario encourages its watershed communities to fill out the Census 2020, with a social media campaign.