Water Quality Monitoring Day Update
On Thursday, August 20 2020 at 4PM, Estuario offered a fifth informative workshop for prospective participants of the Water Quality Monitoring Day of Puerto Rico, led by Water Quality Monitoring Day Coordinator Ricardo Quiñones, Water Quality Monitoring & Citizen Scientists Certification Coordinator Harold Manrique, and Stakeholders & Aquatic Debris Projects Coordinator Cristina Ramírez. The workshop involved an extended look into the E. coli bacteriological monitoring process, the materials and procedures recommended for performing water quality monitoring activities, and a discussion on updated security guidelines to follow during the event, based on physical distancing best practice measures and executive orders put in place due to the COVID-19 pandemic. 25 people attended.
Estuario has updated data gathering and submittal protocols for the event. Participants will now be able to perform their water quality monitoring activities and submit results through September 20, 2020. Gathered data can be relayed by mail or electronically, through https://estuario.org/formulario-dia-de-monitoreo.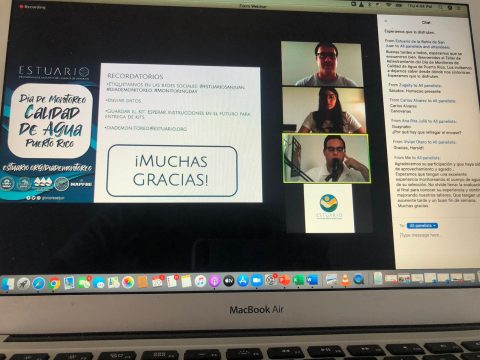 Weekly Water Quality Monitoring
Performed Thursday, August 20 2020. Here are the results. Also available every Friday at 3PM through our Facebook Page. 
Listen to the Latest Episode of Estuario Profundo
The fifth episode of Estuario Profundo features journalist Millie Gil interviewing María Luis Cortijo and her son Juan Pablo Vizcaíno, from El Ancón de Loíza, the historic site now accomodating Estuario's Green Infrastructure project, Vivero Estuario. 
Subscribe through your favorite podcasts app or listen to it here: https://estuario.org/podcasts