Transforming Glass Bottles: Great Artisan Marathon
Estuario's current resident artist, Michelle Malley, continues giving glass-working workshops on how to reuse used glass bottles at Taller Comunidad La Goyco. She returns to the site this Saturday, August 21 2021, from 10AM to 4PM. Limited amount of spaces will be available and other physical distancing measures will be enforced. People interested in attending can separate a space by emailing [email protected] or messaging the artist through her Instagram or Facebook accounts.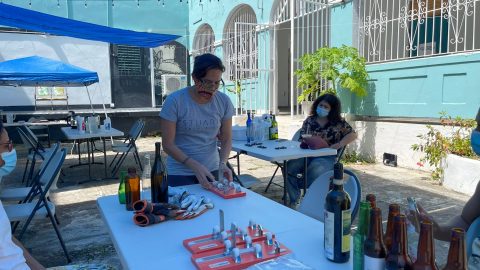 Weekly Water Quality Monitoring
Here are this week's results, performed Thursday, August 19, 2021. Published each Friday through our Facebook Page.
Water Quality Monitoring Day
The biggest citizen science event of the Island is approaching! The Water Quality Monitoring Day of Puerto Rico is next week, on Saturday, August 28 2021.
We continue distributing water quality monitoring kits to registered groups throughout the island. A distribution event took place on Saturday, August 14 2021. Registered group leaders were able to pick them up from one of 6 different points strategically located through 5 Island regions (north, south, east, west and Metropolitan). To date, 90 kits have been distributed.
Members of the public with any questions can send an email to: [email protected].
Citizen Scientists Certification
Our latest round of elective workshops for the Citizen Scientists Certification Program has ended. A total of 182 people attended the combined three workshops for the Water Quality Monitoring, Participatory Bird Census, and Characterization and Reduction of Microplastics modules.
The last workshop of the set, Microplastics: Investigations Through the Estuary's Watershed, attracted a total of 61 participants.
Prospective Citizen Scientists can access our portal at https://estuario.org/ccc/, where they'll find information on the certification process and requirements, as well as future scheduled workshops.
Condado Lagoon Estuarine Reserve Pilot Project
Learn about Estuario's ecosystem restoration and management efforts at the Condado Lagoon. Read the release note, access the final report and watch an informative video, HERE.
Preparing for the Hurricane Season
We're in the midst of the Atlantic hurricane season. As part of hazard mitigation efforts, Estuario is enacting a season-wide informative campaign, centered in the promotion of Estuario's Virtual Resilent Community Hub. The hub continues to be updated with essential information to the public regarding preparation and hazard mitigation management.
Follow us on social media for information on activities and capacity building opportunities. If you have any questions, feel free to write to [email protected].

The San Juan Bay Estuary Watershed's water quality management and restoration actions are possible thanks to our public. Donations to the San Juan Bay Estuary Program are deductible in Federal and Local tax returns. 
For more information and to make a donation, click here: https://estuario.org/donate/