Weekly Water Quality Monitoring
Here are this week's results, performed Thursday, May 27 2021. Published each Friday through our Facebook Page.
Work Plan Approved for FY 2021-2022
This week, the Management Conference for the Conservation of the San Juan Bay Estuary approved Estuario's 28th EPA Work Plan & Budget for Grant CE99206927.
Asset Identification Informative Video
Estuario has released a shortened version of its Asset Identification Workshop series, for the public that was not able to participate in the workshops provided during the month of May 2021. These videos aim to help the public in the process of asset identification within their communities, which they can still contribute through our Hazard Mitigation Portal.
Resident Artists
Oscar Meléndez continues working with memebers of the Barrio Obrero Marina community as part of his project Community Graphic Portfolio, a series or workshops incorporating the Caño Martín Peña's flora and fauna into distinct serigraphy techniques. These workshops aim to the creation of ecucational posters about solid waste management.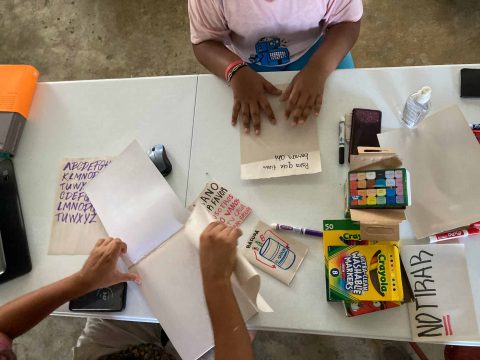 Similarly, Juan Climent and Zuleyka Alejandro continue their community workshops Creative Recycling at Falansterio. These workshops aim to teach mebers of the Falansterio community techniques for building a myriad of items utilizing recycled paper and cardboard. See the photo gallery for their first workshop, Paper Pulp and Cardboard Construction, here:
Follow us on social media for information on activities and capacity building opportunities. If you have any questions, feel free to write to [email protected].

The San Juan Bay Estuary Watershed's water quality management and restoration actions are possible thanks to our public. Donations to the San Juan Bay Estuary Program are deductible in Federal and Local tax returns. 
For more information and to make a donation, click here: https://estuario.org/donate/