Citizen Scientist Certification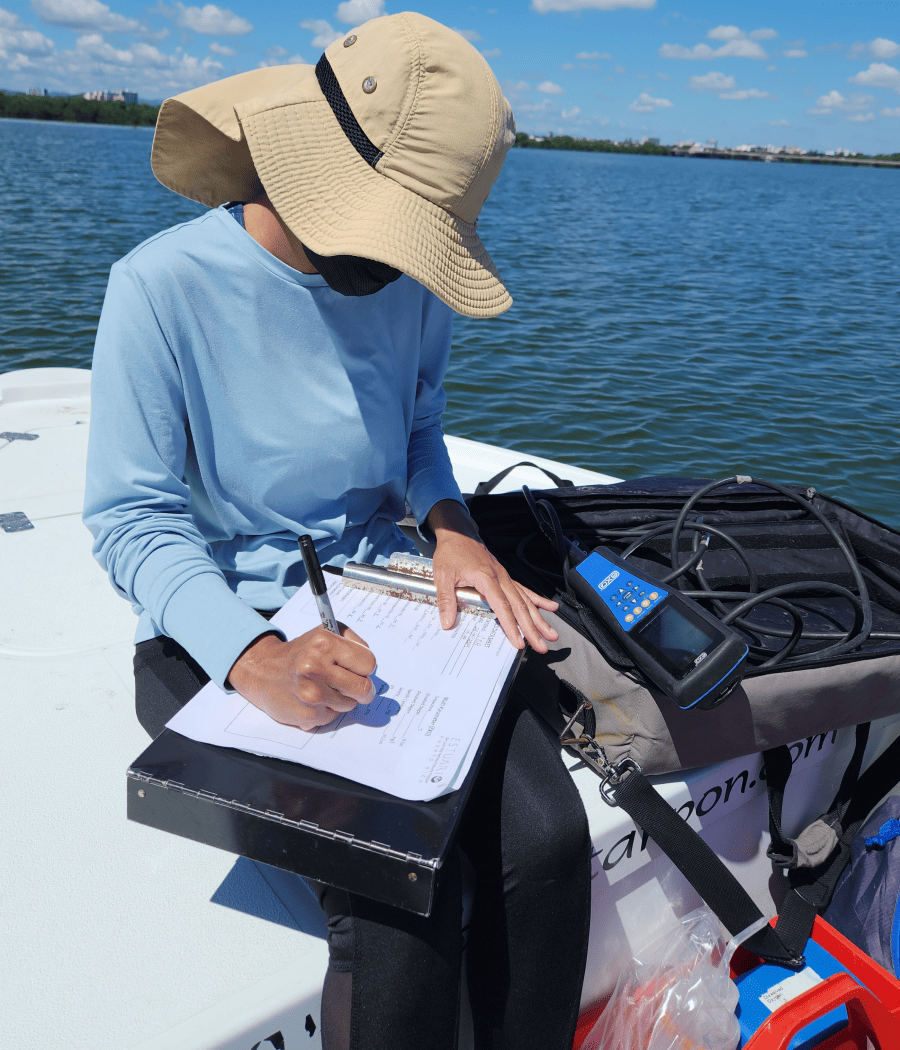 October 24 – Field Trip: Water Quality Monitoring; with Rebeca Rivera, 9:00 a.m. to 12:00 p.m. in San Juan Bay (boat trip)
October 25 – Field Trip: Water Quality Monitoring; with Rebeca Rivera, from 9:00 a.m. to 12:00 p.m. at Laguna San José (boat trip)
October 26 – Field Trip: Water Quality Monitoring; with Rebeca Rivera, from 9:00 a.m. to 12:00 p.m. at Laguna del Condado
October 27 – Field Trip: Water Quality Monitoring; with Rebeca Rivera, from 9:00 a.m. to 12:00 p.m. in Las Curías and Río Piedras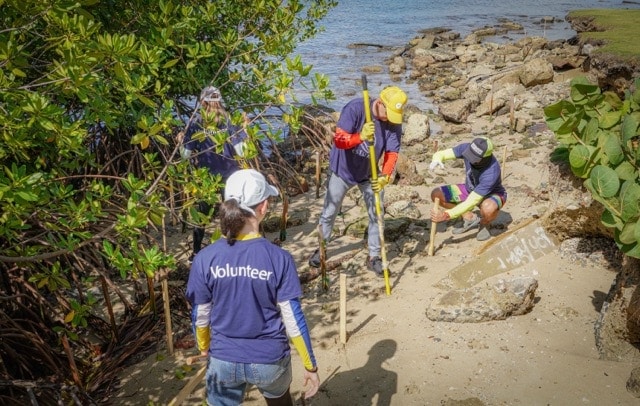 October 21 – Field Trip: Ecological Assessment of Seagrasses; with Daritzel Cintron, from 8:00 a.m. to 11:00 a.m. at Playita del Condado
October 21 – Field Trip: Seagrass Ecological Assessment [STUDENTS 9-12]; with Daritzel Cintron, 8:00 a.m. to 11:00 a.m. at Playita del Condado
October 24 – Introductory Workshop: Coastal Resilience; with Andreína Alexatos, from 7:00 p.m. to 8:00 p.m. via Zoom
October 26 – Field trip: seed collection; with Andreína Alexatos, from 8:30 a.m. to 11:30 a.m. at the Condado Lagoon Natural Estuarine Reserve
October 26 – Elective Workshop: Ecological Restoration of Mangroves; with Andreína Alexatos, from 7:00 p.m. to 8:00 p.m. via Zoom
October 29 – Field Trip: Seagrass Ecological Assessment [STUDENTS 9-12]; with Daritzel Cintron, 8:00 a.m. to 11:00 a.m. at the Playita del Condado
November 1 – Thematic Workshop: Ecological Assessment of Coral Communities; with Daritzel Cintrón, from 7:00 p.m. to 8:00 p.m. via Zoom
November 4 – Field trip: planting coastal vegetation with Andreína Alexatos, from 8:30 a.m. to 11:30 a.m. in the Northeast Ecological Corridor—San Miguel
November 11 – Field trip: planting coastal vegetation with Andreína Alexatos, from 8:30 a.m. to 11:30 a.m. in the Northeast Ecological Corridor—San Miguel
Activities with El Puente Puerto Rico—Latino Climate Action Liaison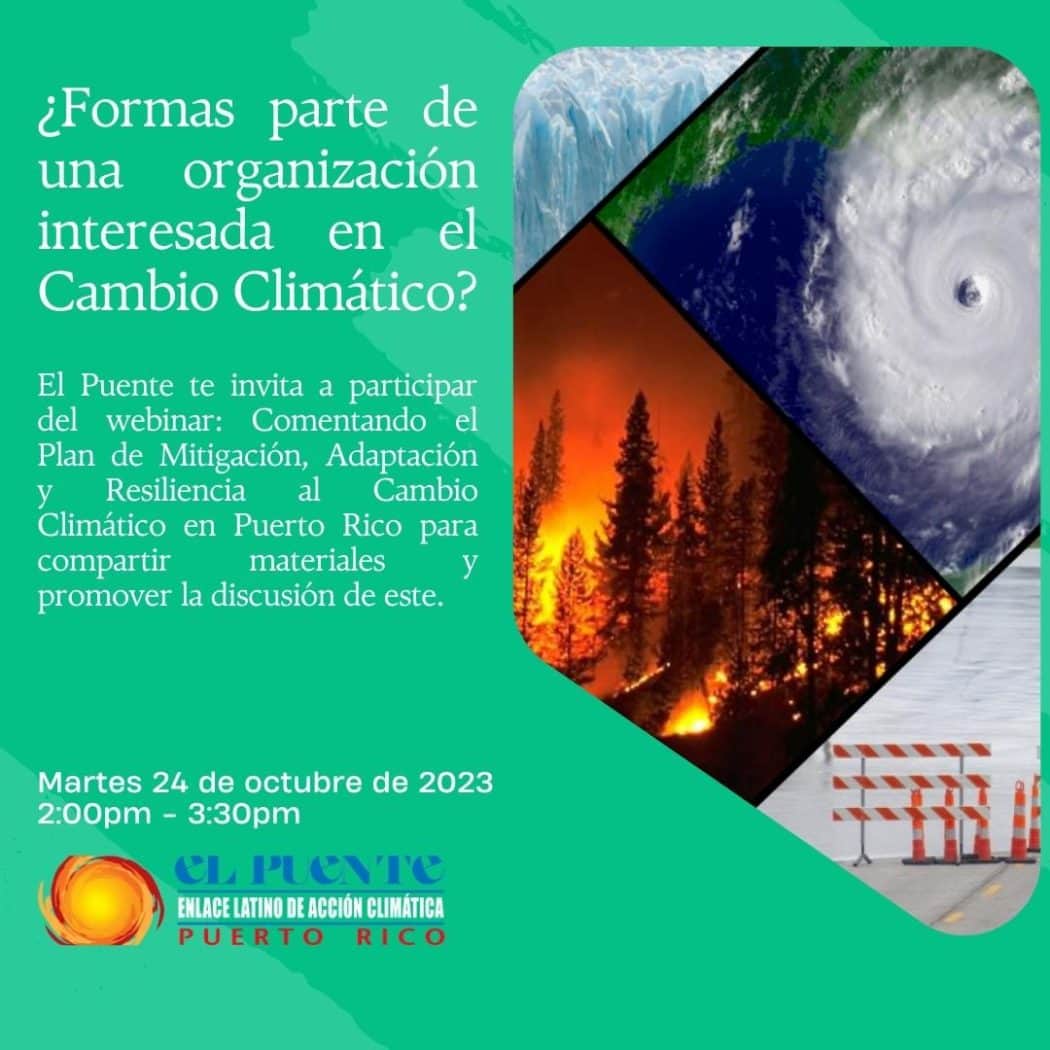 El Puente Puerto Rico invites entities invested in the mitigation of the effects of climate change to participate in the Webinar: Commenting on the Climate Change Mitigation, Adaptation and Resilience Plan, on Tuesday, October 24, at 2:00 p.m. via Zoom.
Materials for citizen participation such as a participation guide and a feedback template will be shared and facilitated. In addition, common approaches with other organizations will be discussed and outlined, as well as coordination of tasks and tasks to promote the greatest possible citizen participation.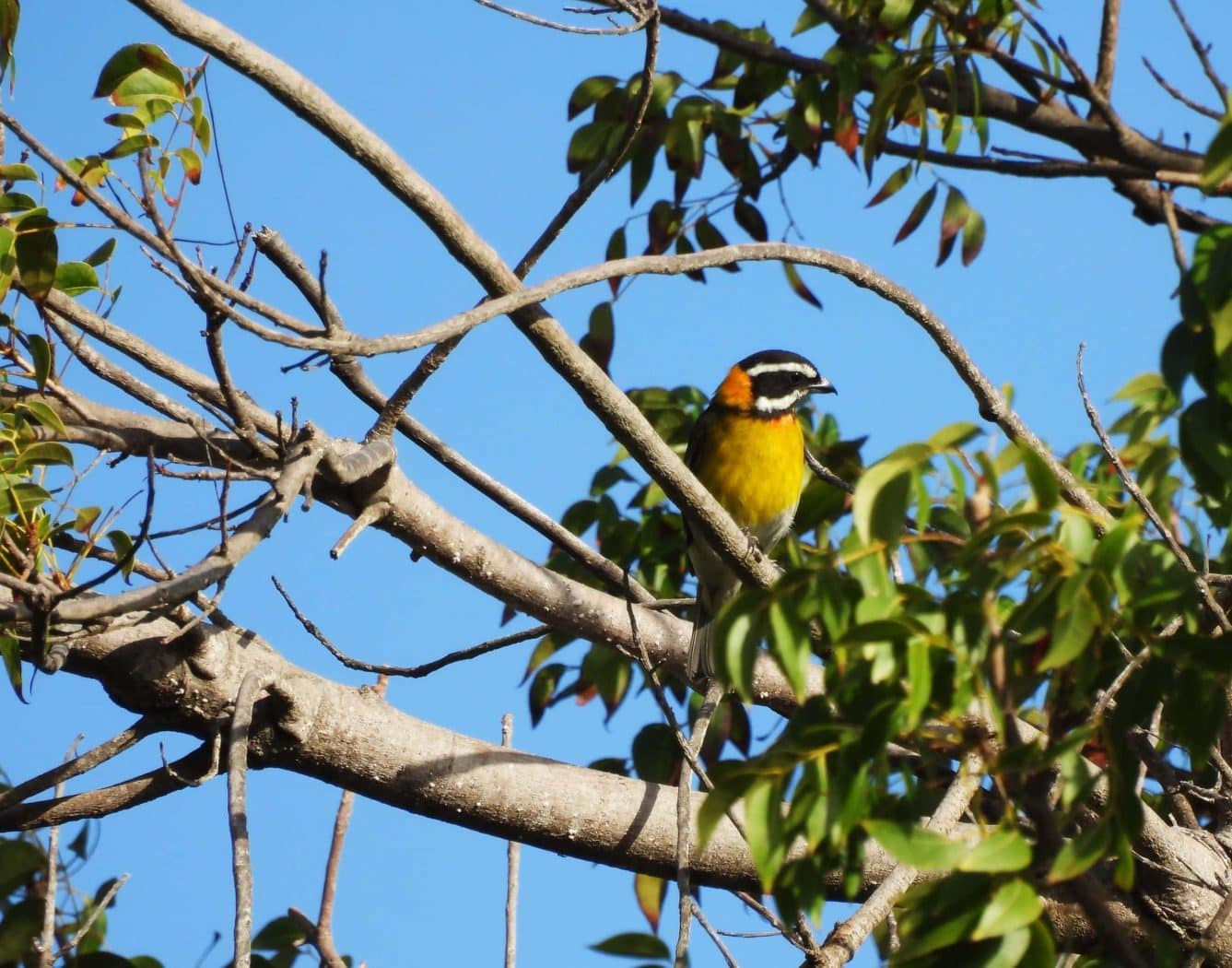 Estuario and El Puente invite you to participate in a birdwatching trail, as a preamble to Puerto Rico's Walk in the Face of Climate Change, on Saturday, October 28, at 7:30 a.m. in Luis Muñoz Rivera Park.
Join Eliezer Nieves, one of our estuarine birders, to walk, see, hear, and reflect on these winged organisms, their urban ecosystems, and how they are impacted by the effects of climate change.
Message from your Virtual Community Hub
Take advantage of our information platform, the Estuario Virtual Community Hub, where you will find vital information to prepare with your family and community.
To learn about risk mitigation strategies at Estuario and identify the risks, conditions and assets in your community, go to: https://estuario.org/mitigacion/
Weekly water quality monitoring
Evaluation carried out on Wednesday, October 18, 2023. We have a RED flag for the Condado Lagoon Natural Estuarine Reserve. We recommend avoiding the areas that exceeded the Beach Action Value water quality standard of 70 CFU/100 ML. Have a good weekend!