El Plato Ilustre (2019) was a project focused on education, water conservation, art, and culinary traditions. The purpose of this project was to recognize and celebrate the wisdom in the gastronomic tradition of previous generations, and together with visual art, to spread awareness to the environmental impact of practices that affect water quality. The project's mission was to educate the community about healthy cooking options and proper disposal of frying oil—aiming to reduce illegal discharges, prevent water pollution and conserve the vital elements of our ecosystem. The artists Omar Torres Calvo and Samantha López Muñiz carried out this mission through the search, selection, recognition, and celebration of El Plato Ilustre in the communities of Caimito and Loíza.
The Illustrious Plate involves several generations. Through interviews, young students from the history class of Caimito's Inés María Mendoza School (EIMM) collected recipes and stories from adults. The perspective of artisan hands in traditional cuisine was also integrated, where Chef Eliel from La Cabaña del Chef Eliel and a native of Caimito, was integrated to prepare the chosen recipe. El Pom – Ancestral recipe for over 120 years "in danger of extinction," mainly based on viands which does not contain frying oil. This food was taken with black coffee and shared in the community. The result is reminiscent of bread, sponge cake and mashed viands. It has a sweet taste with hints of raisins and accentuated by cinnamon and clove spices. To honor the illustrious character and contributions of this recipe, a mural was made as an icon of the new culinary-environmental awareness, and a cultural activity was carried out in the Haydée Colón Agricultural Market. We also participated in the community resilience activity at the Caimito Cultural Center, to publicize the findings of the investigation and the recipe.
Through interviews, the 11U group from the history class of Loíza's Escuela Superior Vocacional Nueva (ESVN) collected recipes and stories from community elders. The perspective of artisan hands from Loiza's ancestral cuisine was also integrated with Aracelis Rivera Pizarro, a native of Loíza, preparing the chosen recipes. To honor the cultural character and contributions of the recipes, an artwork was created with the students as an symbol of their newfound culinary-environmental awareness. An educational exchange was carried out, as well as a closing activity in which the interview findings and options for safe oil management and water stewardship were discussed. As a result of this research, the following traditional burén recipes from Loíza were selected: Coconut and Corn Arepas, Casabe, and Empanadas de jueyes for their cultural and historical value, the amount of local ingredients, popularity in interviews, and positive value to the ecosystem, since they do not involve frying oil.
"When art projects are inserted in the community, highlighting its values, culture, and history, they facilitate the recognition of the importance of preserving and maintaining the health of our environment, in this case, that of the San Juan Bay Estuary Watershed. The opportunity to recognize historical and leadership contributions allows for the creation of an opening towards new ways of giving value and assuming responsibility to protect what is essential, clean water."– Omar A. Torres Calvo and Samantha López Muñiz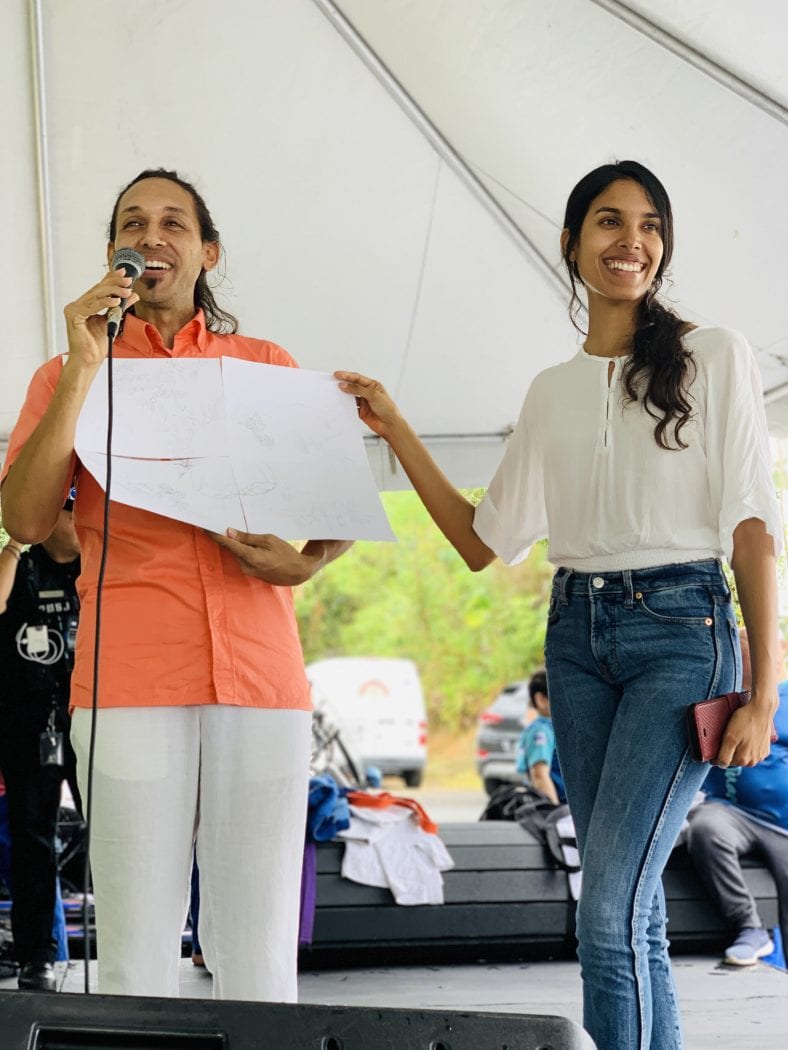 Omar A. Torres Calvo (1982) and Samantha López Muñiz (1989), in addition to being specialized in mural painting and design, are and healthy eating chefs and educators. Together, they have been promoting and practicing a naturist lifestyle for 10 years, based on the fresh fruits provided by the land and the Caribbean culinary traditions through their project Ama Pachana, where they dedicate themselves to supporting people in their transition to a healthy diet that endures—through classes, cooking courses, and personalized meal plans. Its mission is to inspire and educate people who want to eat healthier, to fall in love with healthy food and to introduce more vegetables and fruits to their diet in an easy, accessible, and delicious way, increasing the levels of nutrition and well-being of families in Puerto Rico.