Centro TAU, Loíza, PR
INTRODUCTION
The San Juan Bay Estuary Program hereinafter called "the Program", is a non-profit organization dedicated to the restoration and conservation of the water bodies and other habitats within its watershed. The Program is requesting proposals from qualified firms and/or individuals to design and install a community plant nursery to be located at one of our partner organizations' premises; the Ricky Martin Foundation's Centro Tau in the Loíza Municipality. A scope of work (Section IV) is included to assist interested firms, hereinafter called "the Contractor", in the preparation of a proposal. The Contractor must address all possible solutions and work products called for in this Request for Proposal (RFP) based on their experience. 

A Mandatory Informative Meeting and Project's Site Visit will take place in order to broaden the potential Contractor's understanding and knowledge on the Program's goals, project site and needs.
PROJECT DESCRIPTION
The Program wishes to develop a new green infrastructure nursery dedicated to propagate plant species apt for coastal environments as well as karst ecosystems. This site will become the place where species will be propagated and grown to supply plants for our green infrastructure initiatives and pilot projects. The plant nursery will also increase the potential for the space to serve as a site for socio-economic projects related to community gardens.
PROJECT LOCATION
The Puerto Rico Planning Board site locator provides the following coordinates in Nad 83 system:
X: 258253.5266, Y: 265695.9611
(Lat: 18.42609753, Lon: -65.88193816).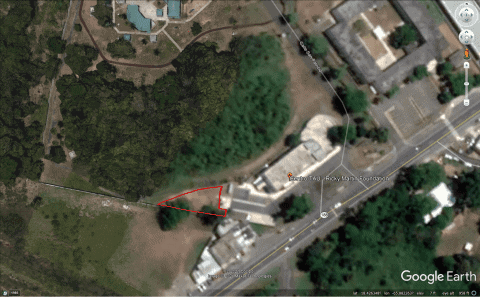 The project site is located within the property with cadaster number 065-000-005-18. This site according to Flood Map 72000C0395J (2009 revision, information must be corroborated by Contractor) is identified as Zone X with minimal flood risk. 
PROJECT SCOPE OF WORK
The Program requests proposals for the planning, design, construction, and installation of a new plant nursery in an area of approximately 500 square meters (please refer to Section III). To promote nursery's sustainability potential contractors must consider a rainwater harvesting system including its design and installation as an ancillary water supply system in their proposals. This rainwater harvesting system's design shall consider a catchment area of approximately 450 square meters, which includes the Centro Tau facility's roof. 
PROPOSAL REQUIREMENTS
The Project Proposal should address the following items in a concise and yet

complete manner and offer all the necessary information for the evaluation of your proposal:
Initial report including a detailed methodology, identification of all tasks to be completed by the Contractor.

Itinerary with expected start and finish dates for the project, as well as a detailed time

frame regarding reports, milestones and/or specific activities.

Detailed budget including materials, specifications, quantities, expenses, and other items.

Statement of Qualifications; Experience of the potential Contractor in similar work, facilities, senior personnel qualifications, number and qualification of junior personnel.

Copy of the Department of State certification to do business in Puerto Rico.

A certification of compliance with all federal and state laws to conduct business in Puerto Rico shall be included in your proposal.

Proposals will be evaluated by an advisory committee who will make the final decision.
SUBMITTAL REQUIREMENTS
Potential Contractors must submit their proposal via email to [email protected] no later than November 5, 2021at 4:00 p.m. Late proposals or proposals from entities that did not attend both the Mandatory Informative Meeting and Project's Site Visit will not be accepted. 

EVALUATION CRITERIA
Qualified potential Contractors will be short-listed and the final selection will be made by an advisory committee. The criteria that will be used to evaluate the Proposals will be:
Comprehensiveness, conciseness, clarity, thoroughness, and professional quality of presentation*.

The individual or firm's experience and history of performance on similar projects,

regarding such factors as quality of work, cost control, and ability to meet schedule.

Adequacy of technical staff, as demonstrated by experience, education, and potential

project role.

Proposed costs*.

The organization and scheduling of the project requirements and Project Manager accessibility.

Ability to complete project in a short period of time*.
* Criteria that will receive more attention during the evaluation.
The Contractor will be selected based on responses to this RFP through assistance to the Mandatory Informative Meeting, Project's Site Visit, and the proposal document. The SJBE Program's Staff, will be involved in the project but the Contractor will have lead responsibility for the detailed functions and serve as a resource on scientific/technical issues. The project award will consider the contractors' capacity to design and construct in compliance with the regulatory agencies and acceptable engineering practices as required by local and federal guidelines and as required by construction codes. Contractor shall attend necessary meetings with the SJBE Program's Staff to approve final design
CALENDAR OF EVENTS
The Program anticipates that the process for nominating and selecting a vendor, and awarding

the contract, will be according to the following tentative schedule:
RFP Release: October 15, 2021
Informative, Final Scope, Deliverable Meeting and Project's Site Visit: October 22, 2021
Proposal Due Date: November 5, 2021
Award Notification: November 10, 2021
Contract sign: November 17, 2021
Interested entities should call (787) 725-8165 to confirm participation in the Informative Meeting and/or send email to [email protected].
SPECIAL CONDITIONS
Reservations
This RFP does not commit the Program to award a contract, to defray any costs incurred in the preparation of a Proposal pursuant to this RFP, or to procure or contract for work, and request additional information and/or clarifications.
Public Records
All Proposals submitted in response to this RFP become the property of the Program and public records, and as such may be subject to public review.
Right to Cancel
The Program, at its sole discretion, reserves the right to cancel this RFP for any or no reason, in part or in its entirety, including but not limited to: selection schedule, submittal date, and submittal requirements. If the Program cancels or revises the RFP, all potential Contractors will be notified in writing by the Program.
Public Information
Selection announcements, contract awards, and all data provided by the Program shall be protected from public disclosure. Consultants desiring to release information to the public must receive prior written approval from the Program. The Program, at its sole discretion, shall determine the release and disclosure of information related to this RFP and any final work products as a result of this.