On Wednesday, December 16, 2020, Estuario began the delivery of awards to those participating businesses on Calle Loíza who are willing and committed to the environment and water resources. These are part of the project Que no toque el piso ni llegue al agua; an initiative to improve the management of solid waste organized in close collaboration with Taller Comunidad La Goyco and Comité Machuchal Limpio.  
This recognition highlights actions in favor of the environment in the daily management of shops located throughout Calle Loíza. Among them, there's education to the public, filtered water, diversion and/or handling of materials, does not use disposable materials, use of crockery and/or compostable materials, oil recycling, and use of eco-friendly products and responsible cleaning.
Estuario thanks the artist and neighbor Yolanda Velazquez, for the art and visual design of this campaign, and the neighbor, cultural manager and community liaison for the project, Iliana García, for her commitment and performance in the community of Machuchal and Calle Loíza. We also thank the following businesses for their support in hosting this initiative:
To all our neighbors, collaborators, and visitors, we invite you to seek these awards in the participating establishments.
We take this opportunity to thank additional collaborators through Calle Loíza, including the security guards of La Goyco (Nilda, Carmen and Wanda), the neighbor and collaborator keeping the streets and sewers clean and free of solid waste (Shorty), the neighbor and collaborator in the initiative of diversion and correct management of used cooking oil in Ferretería Madrid (Benny Benítez) and the Segarra Boerman Foundation for their support in this project.
We will continue making deliveries during this week. We invite you to follow our updates on this page and on social networks, to meet the participating and environmentally responsible merchants.
On Thursday, December 17, 2020, we continued our awards tour through Calle Loíza. We visited the following shops:
Juguería Curativa

Sin Prisa
We continue to receive positive, welcoming responses and eagerness to continue adopting actions that help improve the environmental management of each business. This commitment will form a more environmentally conscious, responsible, and committed sector.
On Friday, December 18, 2020, we visited two more businesses as part of our tour on Calle Loíza:
We recognize Tostado for undertaking the seven actions described in this initiative:
Educación al público

Agua filtrada

Desvío y/o buen manejo de materiales

Desvío de materiales desechables

Utilización de materiales compostables

Reciclaje de aceite usado

Utilización de productos eco-amigables y limpieza responsable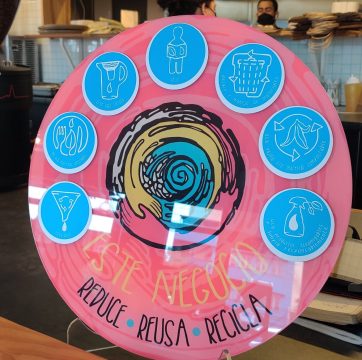 We're continuing the delivery of awards to participants of the campaign Que no toque el piso ni llegue al agua!
On Wednesday, February 3, 2021, we visited the Piso Viejo store on Calle Loíza.
We thank the administration of this establishment for its interest in supporting and continuing the efforts in favor of the environment and its community. With this business, we've reached the total of 16 establishments integrated into this initiative.