June 1, 2022—At the start of a new hurricane season, Estuario shares the following tools:

Estuario's Risk Mitigation Portal unifies information from available training workshops, links to informational materials, and research results aimed at developing the San Juan Bay Estuary Watershed Risk Mitigation Plan.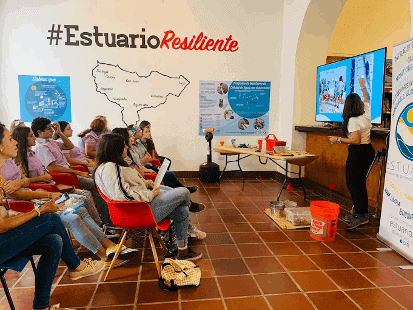 The Virtual Community Hub is an interactive platform where you can exchange and share information and resources of benefit to your community. These include essential contact information during emergencies, natural disaster preparedness guides, and opportunities for collaboration and citizen participation.
What else can I do to help mitigate risks within the estuary and its communities?
Join the workshop, Coral Reefs: Resilience of Coastal Ecosystems; on Thursday, June 9, 2022, from 5PM-7pm at Estuario's Visitor Center (Old San Juan) and virtually by Zoom. This workshop is part of our Scientific Citizen Certification Program and addresses the Coastal Resilience Thematic Module, which seeks to train citizens in the strengthening and protection of coastal ecosystems and communities. Learn more about the Coastal Resilience Module, the topics it covers, the certification process and dates of available workshops at the Certification for Citizen Scientists Portal.