Sustainability Merit Badge Workshop for Puerto Rico Scouts
In collaboration with Distrito Guaitiao, Estuario invites all Puerto Rico Scouts to its Sustainability Merit Badge Workshop. The workshop is free, and registered Scouts must be authorized by their Scoutmaster. 
The workshop will take place through two Zoom sessions, on Saturdays of November 7 and 14 2020, 10AM to 12PM. A third individual session will be coordinated by each unit for a final dialogue, evaluation and conclusion. 
For more information, Scouts are directed to contact Agustín "Tino" Guadalupe Castro, District Training Chairman, at [email protected] or 787-518-0079. They can also contact Eliezer Nieves or Coral Avilés, through [email protected].
Registration link HERE.
Quebrada Josefina Recovers!
Estuario has developed a robust illicit discharge detection and correction strategy, through its Monitoring & Compliance Program led by Dr. Gustavo Martínez. The strategy has proven fruitful, as shown by the transformation of Quebrada Josefina. This stream flows through the highly urbanized areas of neighborhoods Gobernador Piñero and Monacillo Urbano of San Juan. It was classified at a critical impact level as a result of antrhropogenic activities, including solid waste discharges. The identification and elimination of these discharges allowed for the stream's reclassification of moderate to good (diluted phosphorus levels between 0.917mg/L and 0.119mg/L). There's still work to do for the restoration of the waters bodies within the watershed, but the reclassification of Quebrada Josefina is a step in the right direction.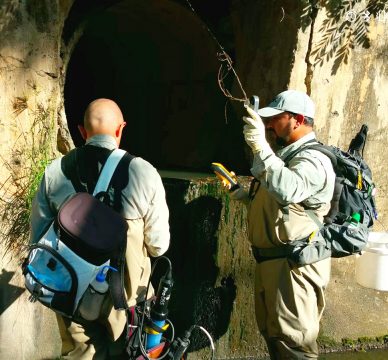 Weekly Water Quality Monitoring 
Here are the results for this week, performed Thursday, October 29 2020. Published each Friday at 3PM through our Facebook Page.
Participatory Cartography Workshop with Amigos de la Laguna
In its most recent meeting with Amigos de la Laguna del Condado, Estuario performed a participatory catrography workshop, with the inclusion of business owners and Municipality of San Juan personnel. The virtual workshop took full advantage of multiple online interactive tools and was used to identify areas in need of reforestation around the Condado Lagoon.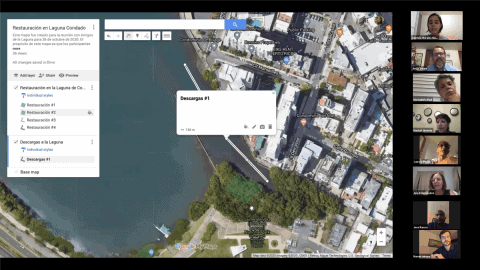 Que No Toque el Piso ni Llegue al Agua
On Thursday, October 29 2020, and with the help of Machuchal Limpio and Taller Comunidad La Goyco, Estuario took water samples from several locations throughout the water sewer system of the Calle Loíza neighborhood of San Juan. The monitoring is part of the project Que no toque el piso ni llegue al agua, which aims to reduce pollutants reaching the sewer system, including solid waste (trash) and liquids (used oil). 
Estuario calls for the reduction of solid waste, and the reuse and recycling of materials such as cooking oil. The reduction and elimination of these pollutants will help with the conservation of out water management infrastructure, as well as the water bodies they're connected to.
Migratory Birds and Urban Forests
Migratory bird species arrive at Puerto Rico through the month of October and seek refuge in our urban forests. These species serve as bioindicators of our green areas' environmental health. Estuario shares ways in which individuals can help maintain these areas. 
Estuario Participates in CDBG-MIT Grant Public Hearings
On Wednesday, October 28 2020, Estuario participated in the fifth public hearing for the management of CDBG-MIT Mitigation Grants assigned to the Housing Department of Puerto Rico. The Housing Department will share the presentations submitted by individuals from throughout the Island, where they share their plans for the usage of the $8.2 Billion assigned by HUD.
Listen to the presentation submitted by Estuario's Executive Director, Brenda Torres Barreto: