Cine del Estuario: Isla Chatarra
On Saturday August 1 2020,
Cine del Estuario
presented the Puerto Rican documentary film
Isla Chatarra,
in collaboration with the Puerto Rico Documentary Filmmakers Association. In continuation with the trend of previous months due to the global Coronavirus pandemic, the film was broadcasted to the general public through Facebook. It had a peak count of 80 viewers.
After the documentary, Estuario Executive Director Brenda Torres hosted a panel with Isla Chatarra Director Karen Rossi and University of Puerto Rico's Geography Department Professor Carlos Guilbe. Broadcasted live through Facebook as well, the panel retained the documentary's audience numbers, with a peak of 80 viewers.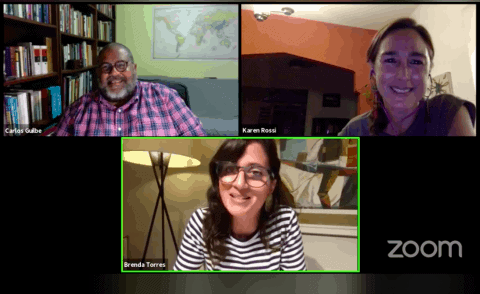 Estuarine Workshops for Citizen Scientists  
Estuario held its fourth Water Quality Monitoring Day Training Workshop on Wednesday August 29 2020, at 11AM. The workshop was provided by Water Quality Monitoring Day Coordinator Ricardo Quiñones, Water Quality Monitoring & Citizen Science Certification Coordinator Harold Manrique, and Stakeholders & Aquatic Debris Projects Coordinator Cristina Ramírez. It impacted a total of 58 people.
Listen to Estuario Sonoro's latest episode
The fourth episode of Estuario Sonoro, Arte y Resiliencia was published on Monday, July 27 2020. Subscribe through your favorite podcasts app or listen to it here: https://estuario.org/podcasts
Media Coverage & Publications
In continuation with public education efforts on self-care and dealing with social distancing measures within the resilient communities of the Watershed, Estuario released techniques for helping develop fine motor skills for little ones from home. 
Tropical Storm Isaias passed through Puerto Rico on Thursday, July 30 2020. In preparation, Estuario published a list for main emergency telephone lines, an infographic on the principal materials to include in an emergency backpack and a call to create an emergency contingency plan with family and neighbors.
This past week was Press Week, and Estuario thanks and congratulates the press for its continuous support towards water conservation efforts within the San Juan Bay Estuary Watershed. The work journalists do is vital to communicate Estuario's efforts and educate the public. 
Weekly Water Quality Monitoring
Here are this week's results, released every Friday at 3PM through our Facebook page: