National Estuaries Week 2021
Estuario is celebrating this year's National Estuaries Week with a series of educational and public involvement events that range from the demonstration of environmental restoration and management projects to a trail through the Condado Lagoon Natural Estuarine Reserve. Members of the public are invited to visit the coasts, lagoons, rivers and urban forests throughout the watershed and enjoy the benefits of these natural spaces. See more information and the scheduled events at https://estuario.org/new2021/.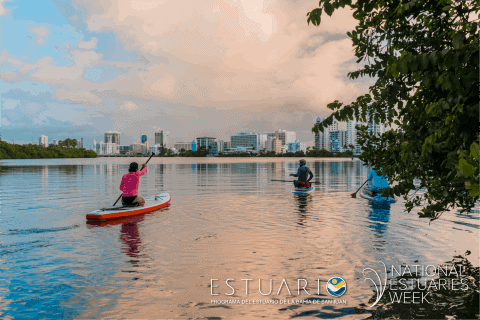 International Coast Cleanup 2021
The National Estuaries Week of 2021 begins with Estuario's participation in this year's International Coast Cleanup, led nationally by the Scuba Dogs Society. Estuario will, once again, help these efforts from the Condado Lagoon, where we will meet with volunteers at its Southeast shore. Interested volunteers can register at https://estuario.org/icc/. Social distancing protocols will apply.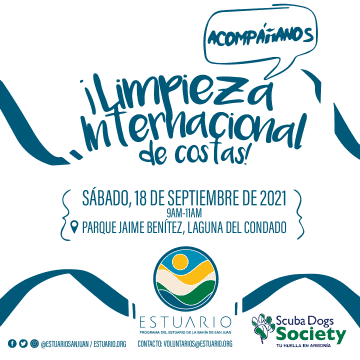 Weekly Water Quality Monitoring
Here are this week's results, performed Thursday, September 16, 2021. Published each Friday through our Facebook Page.
Estuario Resident Artist: Watch the Short Film
We share the short documentary, filmed and edited by Estuario Resident Artist Michelle Malley; depicting her glass works workshops with the community of Machuchal at Calle Loíza in San Juan. The short film documents the end of her tenure.
Preparing for the Hurricane Season
We're in the midst of the Atlantic hurricane season. As part of hazard mitigation efforts, Estuario is enacting a season-wide informative campaign, centered in the promotion of Estuario's Virtual Resilent Community Hub. The hub continues to be updated with essential information to the public regarding preparation and hazard mitigation management.
Follow us on social media for information on activities and capacity building opportunities. If you have any questions, feel free to write to [email protected].

The San Juan Bay Estuary Watershed's water quality management and restoration actions are possible thanks to our public. Donations to the San Juan Bay Estuary Program are deductible in Federal and Local tax returns. 
For more information and to make a donation, click here: https://estuario.org/donate/