Capacities Identification Workshops
As part of the development of Estuario's Hazard Mitigation Plan for the communities of the San Juan Bay Estuary Watershed, a new series of workshops begins Tuesday, September 7, 2021. As the name implies, the Capacities Identification Workshops focus on the identification and documentation of the abilities, resources, attributes and strengths that help communities better manage and face natural disasters.
The workshops have been divided by municipality, and serve the communities of Bayamón, Canóvanas, Carolina, Cataño, Guaynabo, Loíza, San Juan, Toa Baja and Trujillo Alto. Members of the public interested in taking part in Estuario's Hazard Mitigation Plan development can register through https://estuario.org/capacidades/.
Resident Artist End of Tenure Celebration
This Sunday, September 5 2021, Estuario's Resident Artist, Michelle Malley, celebrats the end of her tenure by showcasing a short film at Taller Comunidad La Goyco in the community of Calle Loíza in San Juan. The film, titled Al rescate del vidrio, documents the glass bottle reutilization workshops Malley imparted in the community of Machuchal. After the showcase, Malley will lead a conversation on sustainability.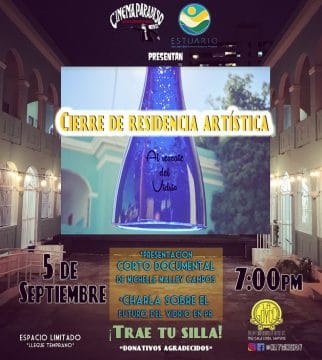 Engraving With Foam Tutorial
As part of Estuario's Resident Artists Program, enjoy this short tutorial on how to create your own engravings by re-using foam.
La Goyco Community Fair
Estuario invites you to the reopening of Taller Comunidad La Goyco's Community Fair, this Saturday September 4, 2021, from 10AM to 4PM. The Fair will feature many environmentally-conscious, community-oriented workshops for the whole family. Physical distancing restrictions will apply and proof of vaccination/negative COVID test (from within 24 hours) are required.
Weekly Water Quality Monitoring
Here are this week's results, performed Thursday, September 2, 2021. Published each Friday through our Facebook Page.
Preparing for the Hurricane Season
We're in the midst of the Atlantic hurricane season. As part of hazard mitigation efforts, Estuario is enacting a season-wide informative campaign, centered in the promotion of Estuario's Virtual Resilent Community Hub. The hub continues to be updated with essential information to the public regarding preparation and hazard mitigation management.
Follow us on social media for information on activities and capacity building opportunities. If you have any questions, feel free to write to [email protected].

The San Juan Bay Estuary Watershed's water quality management and restoration actions are possible thanks to our public. Donations to the San Juan Bay Estuary Program are deductible in Federal and Local tax returns. 
For more information and to make a donation, click here: https://estuario.org/donate/