Developed for—and in conjunction with—the Barrio Obrero-Marina community, and with the support of the Caño Martín Peña Land Trust, the ENLACE project and the G8. It consists of developing an artistic workspace in one of the schools closed by the Puerto Rico Department of Education (Colegio Santiago Iglesias Pantín), now managed by the community, to support the reactivation of this space as one for community and educational use.
The general objective of this project is to establish a creative, collective, and collaborative workspace in which, together with the Barrio Obrero-Marina community and surrounding communities, we can develop creative projects for the future that meet the needs and interests of the community. This, in turn, will allow the space to serve as a meeting hub for the creative work of the artists and the community.
The project was able to support the rehabilitation of two classrooms within the Santiago Iglesias Pantín school—granted by the community board through a collaborative agreement—as a creative workshop space focused on graphic design, engraving and screen printing. It also serves as a meeting space between artists and the community, allowing the co-developing of projects between them. Within this space, workshops were offered every Saturday, mostly to young people from the community. As a result of these workshops, conservationist call-to-action signs were created, using the stencil and serigraphy techniques.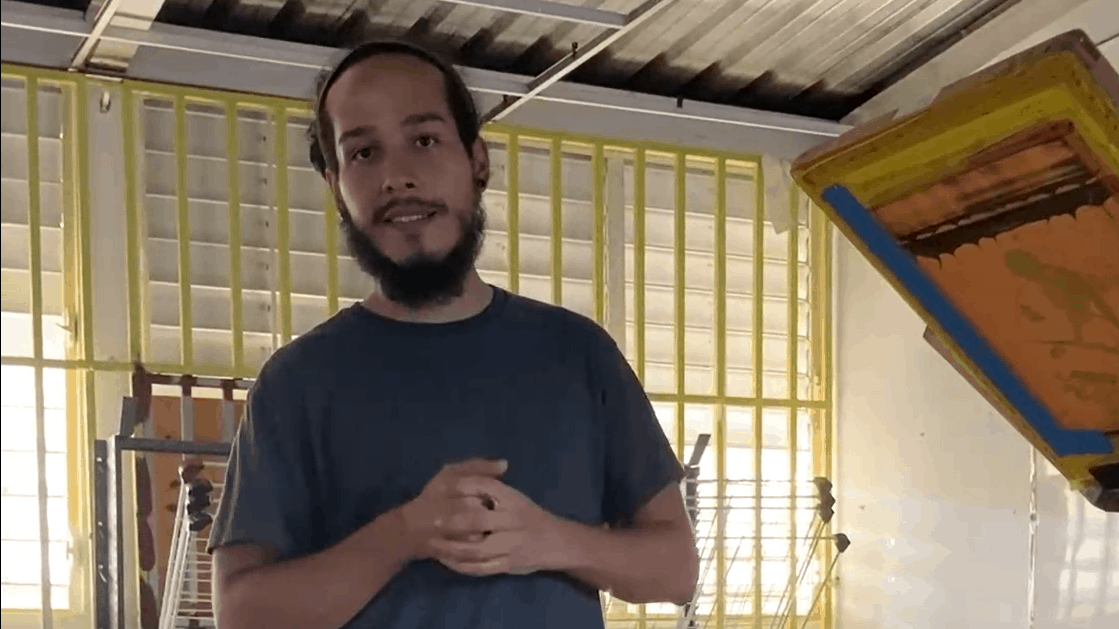 Oscar Meléndez-Rivera (Bayamón – Puerto Rico, 1993), is a multidisciplinary artist. He has developed his practice around the means of engraving—especially screen printing—and graphic design, as well as the use and development of the image in and for the public space. His work is inspired by issues linked to the colonial Puerto Rican social reality. He has a bachelor's degree in Humanities and a concentration in Fine Arts from the University of Puerto Rico-Rio Piedras. He was part of the first generation of the Independent Studies Program (PEI) of the Museum of Contemporary Art of Puerto Rico (MACPR). He also has preparation in the development and entrepreneurship of creative industries of La CEPA en Nuestro Barrio, Sagrado Corazón University.