This project was carried out remotely in the community of Machuchal with the support of El Taller Comunidad la Goyco from October 2020 to January 2021. The artist Adriana García, through workshops via Facebook live, Zoom, and open house, presented the following topics to the community:
Human beings are part of, and therefore responsible for, the estuarine ecosystems.
The impact of waste in the city, in our community and in the estuary, in particular the grease in the sanitary and storm sewers.
Communities as a driver of change.
Accessibility to works of art in the context of the pandemic, from home.
The artist performed five workshops as part of this series, starting with the process of drawing two species found in the estuary: the Brown Pelican and the Red Mangrove. Then followed how to use free-to-download tools to digitize the images and create a basic augmented reality filter. The series ended with the comprehensive workshop for communities, Creating Content for Community Organizations, which uses free tools to create an effective visual image.
Additionally, during her residency, the artist created seven augmented reality filters using the "Spark AR" tool, collaborating closely with the Machuchal community and Estuario staff. These filters can be found on Estuario's Instagram and Facebook (@estuariosanjuan) accounts.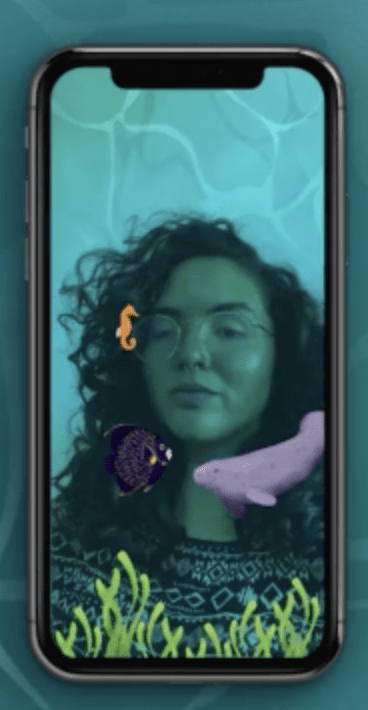 Adriana García Soto is an artist, graphic designer, illustrator and branding specialist based in San Juan, Puerto Rico. She has a bachelor's degree in Humanities, with a concentration in Fine Arts and a specialty in Drawing, with a second concentration in Advertising and Public Relations from the University of Puerto Rico Río Piedras Campus, and a Master's Degree in Digital Design with a Specialty in Branding from the European Design Institute in Madrid. She works in branding, book design and layout, UI/UX, Augmented Reality and illustration from her design studio, AGar Estudio. She has also developed other projects, like the creation of comics and zines such as Miscelánea Vols. I, II and III. She has been a speaker at initiatives such as Technological and professional sessions at Atlantic University College, a guest artist at the Bayamón Museum of Art, and has exhibited at events such as Santurce es Ley and other exhibitions. She is currently a member of the Les Insu collective.
Augmented Reality Filters