He is an educator par excellence. His passion for education has led him to create workshops and seminars for the benefit of children and youth in Puerto Rico. He has certifications of manager, planner, coach and interpretive guide from the National Association for Interpretation.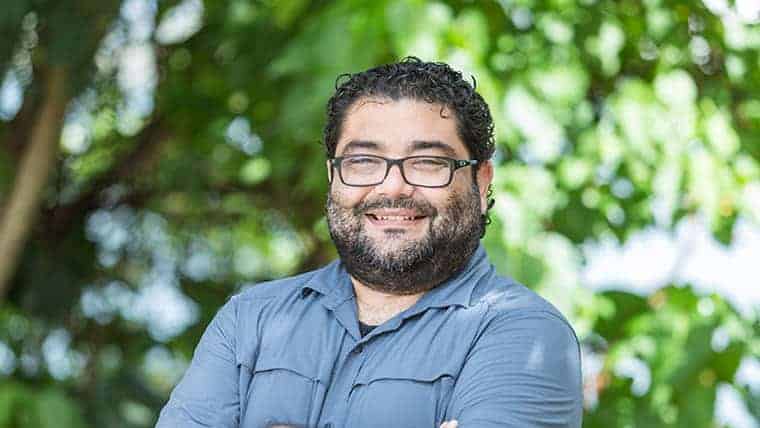 In the Estuary, Eliezer is in charge of developing and coordinating the Education Program, the coordination of the certification of estuarine scientific citizens, professional training workshops for teachers and heritage interpreters and coordinating the participatory bird censuses in the Estuary's different ecosystems.
Currently, he also works as a geography professor at the University of Puerto Rico, Río Piedras Campus and is also the coordinator for Puerto Rico of the "Learning Tree" Project, "Population Education" instructor and coordinator of NAI Region 3 "The Sunny Southeast" for Puerto Rico and the U.S. Virgin Islands. And he continues to collaborate with several community-based environmental groups in Ecotourism and heritage interpretation projects.
He worked as an interpreter for the U.S. National Park Service at the Denali National Park and Preserve, Alaska and Rocky Mountain National Park, Colorado. For more than 10 years he has been a guest instructor in the Management and Conservation of Natural Resources Certification, RESERVA Course, coordinated by Ducks Unlimited in México (DUMAC).
Eliezer holds a Bachelor's of Education degree in History and Geography from the University of Puerto Rico and a Master's of Geography with a specialty in Outdoor Education from the University of Akron in Ohio.
He is a member of the following entities: National Association for Interpretation (NAI), American Association of Geographers (AAG), Project Learning Tree, Population Connection and Birds Caribbean.
He received the highest Scouting honors — Eagle Scout and Order of the Arrow Vigil Honor — assigning him the name of: Allohakasin Schindikeu, which means, the one that instructs about the Forest, which he shows in each opportunity with the groups that he welcomes at the San Juan Bay Estuary.