The project consisted of the implementation of a creative recycling center in the Falansterio community in Puerta de Tierra, which does not have any official recycling service. The center was dubbed a creative recycling center, where the artists addressed the impact of our waste on our environment, showing how supposedly disposable and useless materials can acquire a new value, either artistic or utilitarian. In addition to a collection center for reusable materials, the space functioned as an artistic studio to provide community workshops in which residents learned how to create objects with said materials. The Creative Reuse Laboratory was a community project, where they collectively experienced the possibility of contributing positively to the preservation of the environment by putting their creativity into practice in everyday life.
The artistic creation workshops offered a place for socialization, building collaborative relationships and increasing a sense of community. We work as a team imagining the way in which we can improve the current problems in the environment. The artists reflected and discussed possible ways to reinterpret the concept of waste with the participants—the empowerment of communities through creative activity, active and incorporated education, where we share notions of aesthetics, rhythm, balance, and harmony of art. They provided concrete examples of the current solid and liquid waste problems in the bodies of water that connect the San Juan Bay Estuary, in which the community of Falansterio and surrounding neighbors live.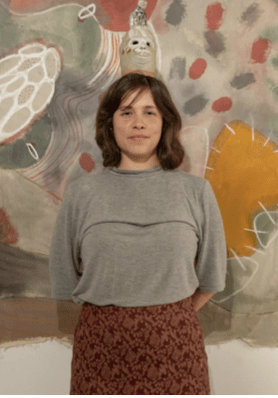 Zuleyka Alejandro (San Juan, 1988) is a Puerto Rican multidisciplinary artist. She is developed in the mediums of ceramics, painting, sculpture and performance. She has international art exhibitions and experience in the field of art education. As of 2021, Zuleyka is a doctoral student in Arts and Education at the University of Granada, Spain. Her artistic and educational work has an interest in making marginalized bodies visible and the agency of matter in the creative process.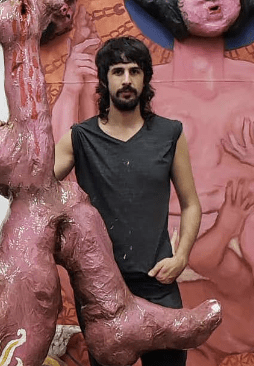 Juan Bautista is a Mexican plastic artist from Xochimilco, Mexico City, and the grandson of Spanish exiles, which has influenced his work with a particular convergence of indigenous and Christian symbols that are also the subject of his academic research. He studied painting at the School of Plastic Arts of Puerto Rico and completed a master's degree in drawing at the University of Granada, the same institution where he is currently developing his doctoral thesis on the plastic possibilities of Mexican popular art in cartonería (cardboard work). He has shown his work in numerous individual and collective exhibitions, in museums and alternative spaces, in the United States, Puerto Rico, Mexico, Spain and Italy.