On March 4, the Family Day Trip was held in the Laguna del Condado Estuarine Nature Reserve. It was a day full of fun and education for all participants. Thank you to everyone who gathered.
See the photo gallery here.
Educational activity on Water Quality, biodiversity and the Condado Lagoon Natural Estuarine Reserve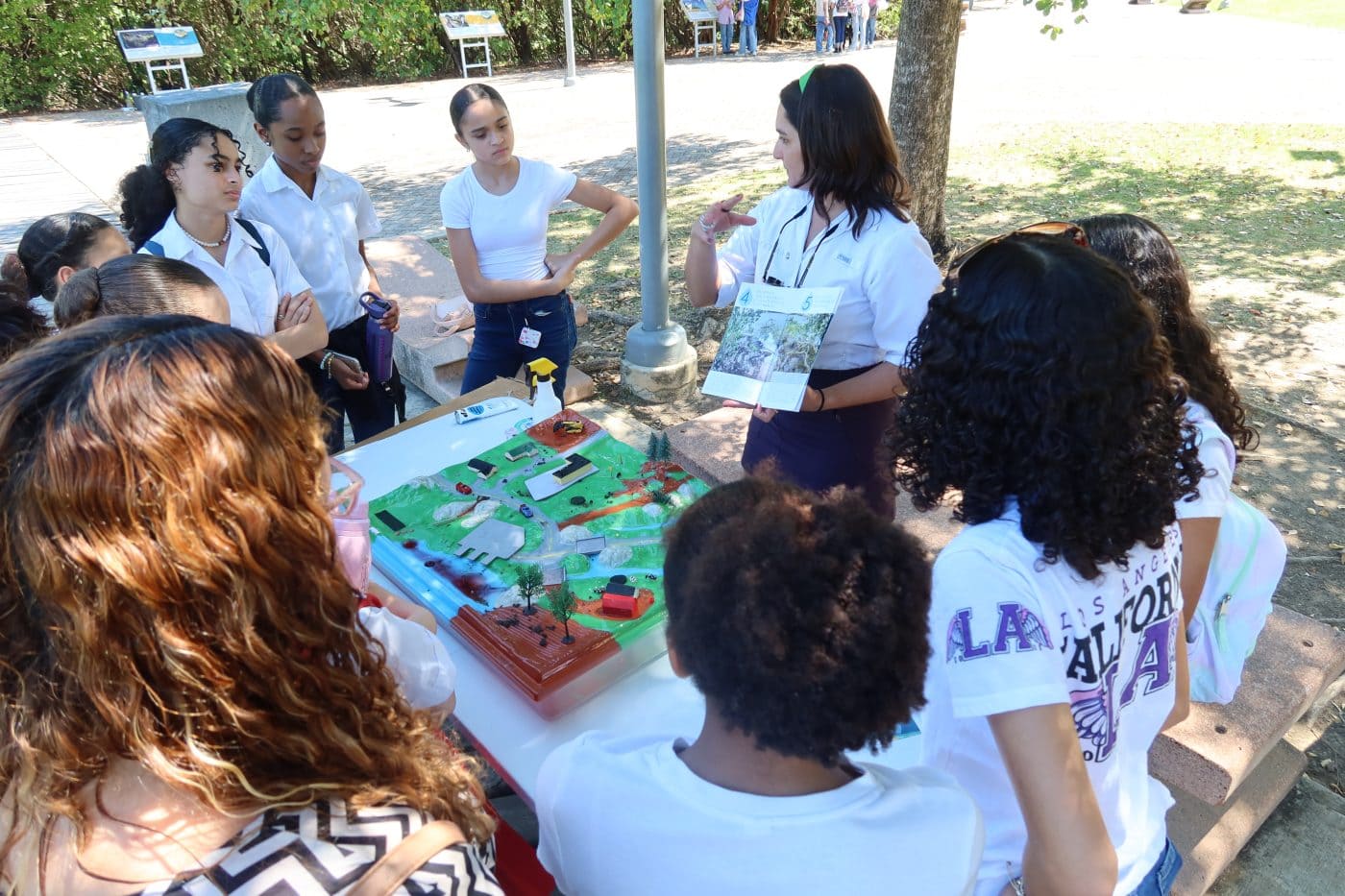 On March 8, we received a group of students from the Julián E. Blanco Specialized Ballet School to commemorate the role of women in science and in the conservation aspects of estuarine ecosystems. Our Manager of Aquatic Debris Projects, Cristina Ramírez, oversaw the water connections station between the city and the lagoon, while our Education Coordinator, Coral Avilés, managed the biodiversity station. We appreciate the interest of these students in learning about our reserve.
See the photo gallery here.
Field trips for the certification of citizen scientists
Estuario invites you to participate in the next field trip corresponding to the coastal resilience thematic module:
Mangrove planting – March 11, 2023, 8 a.m.-12 m., at Finca Nolla, Camuy
Sign up for https://estuario.org/eventos/.
Contracts/Employment Opportunities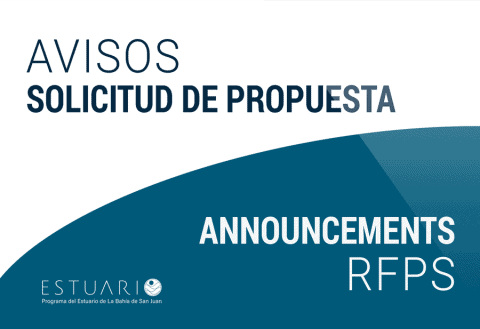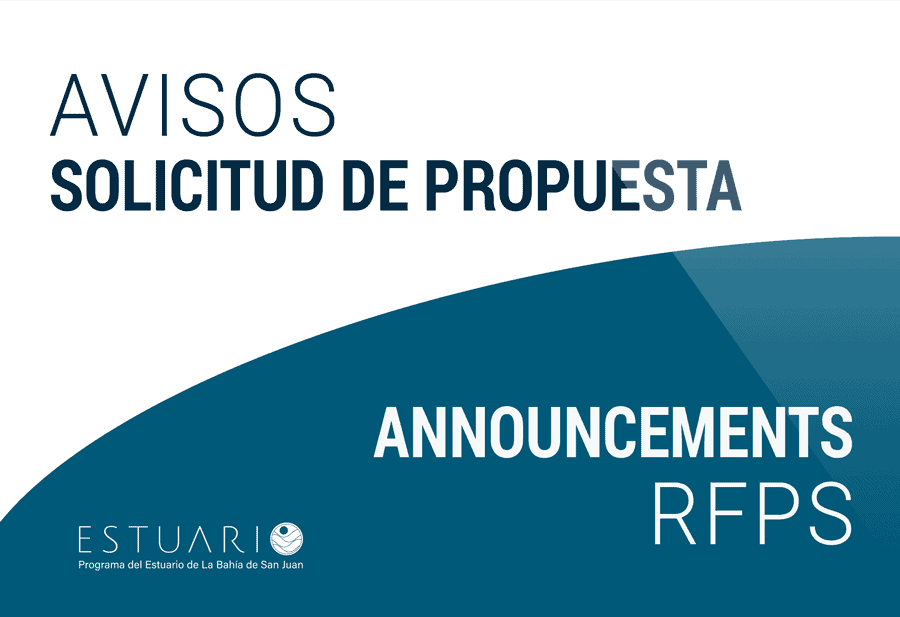 Estuario is currently undertaking a variety of restoration and conservation projects for the system and its watershed, especially coastal resilience, and blue/green infrastructure, which will require additional talent. Available opportunities include contracts, jobs, and requests for proposals for interested individuals and/or organizations include:
Reporting directly to the executive director, responsible for the efficiency of daily operations, ensuring the effective management and development of the team, the implementation of programs, and quality control and evaluation.
Responsible for supervising the effective management and operations of projects subsidized by the Bipartite Infrastructure Law, in compliance with all grant requirements. These projects include, but are not limited to, water quality restoration, blue/green infrastructure, and coastal and climate resilience.
Deadline: Sunday, March 12, 2023
Accepting proposals from artists to develop and implement an artistic project in collaboration with an estuarine community in order to, in a culturally competent manner, promote dialogue, increase environmental awareness, and facilitate positive change towards the restoration and conservation of  the estuarine ecosystem and a resilient watershed.
Deadline: Wednesday, March 15, 2023
Accepting proposals from individuals and expert organizations to develop and implement an economic valuation study to help determine the current economic value of the San Juan Bay Estuary. The results of the study will serve as an additional tool to advocate with public and private entities on the importance of restoring and conserving this ecosystem and achieving greater mobilization of resources for this purpose.
The fifteenth Water Quality Day will be on Saturday, April 1, 2023.  Have you already chosen your body of water? Registration is open! Create your group, choose your body of water and register it in:https://estuario.org/diadecalidaddeagua/.
This March 2023, we have scheduled face-to-face training workshops.  In these workshops we will inform you about the registration process, monitoring kit, data collection and everything you need to make your monitoring activity a success. The dates and locations of the workshops will be as follows:
Saturday, March 11, 9:00 a.m.-10:00 a.m.:
Inter-American University, Bayamón Campus
Saturday, March 18, 9:00 a.m. -10:00 a.m.
Inter-American University, Barranquitas Campus
Surfrider Rincon Foundation
La Plata Reservoir
Saturday, March 25, 9:00 a.m.-12:00 p.m.
Las Salinas Interpretive Center, Cabo Rojo
Department of Natural and Environmental Resources
Ponce Health Sciences University
Saturday, March 28, 9:00 a.m. -10:00 a.m.
College of Engineers and Surveyors of Puerto Rico
Weekly water quality monitoring
Evaluation conducted on Thursday, March 9, 2023.  We have a GREEN flag for the Condado Lagoon Natural Estuarine Reserve. The map identifies stations that exceeded the water quality parameter for enterococci (70 CFU/100mL). We recommend avoiding direct contact with these bodies of water during rainfall events (and at least 48 hours after rainfall).
The actions for the restoration and management of bodies of water within the San Juan Bay Estuary Watershed are possible thanks to the public. Donations to the San Juan Bay Estuary Program are deductible from Puerto Rico and US tax returns.
For more info, go to https://estuario.org/donate/.
Follow us on social media, where we share information on activities which will contribute to your knowledge and personal and professional development. If you have any doubts or questions, please contact us through [email protected].
Register as a volunteer, HERE.