Through our weekly update, we share opportunities for collaboration, volunteering, and work; through initiatives and actions programmed for the benefit of the ecosystems and communities of the San Juan Bay estuary. These activities, tips and information are for everyone's benefit.
Estuario shares the following photo galleries of recent bird censuses, courtesy of our education team.
Bird census carried out July 14, 2022, as part of the Certification for Citizen Scientists' Participatory Bird Census thematic module. Learn more about the Certification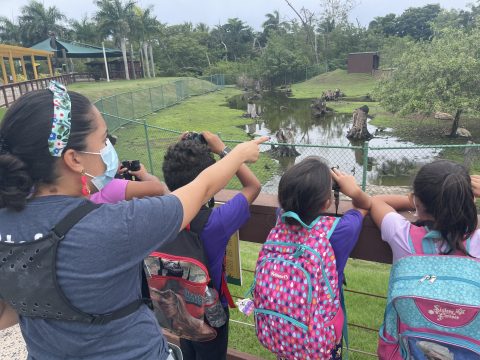 July 18, 2022—Estuario performs bird watching as a recreational activity to learn from our nature, in collaboration with the Children's Museum of Carolina, as part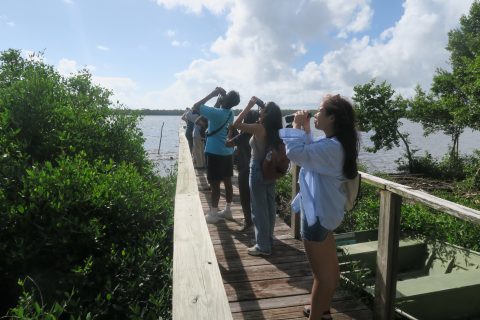 July 19, 2022—Participatory monitoring workshop A+A: Water and Birds in the Piñones State Forest; with the students of the Caribbean Studies course at the University
Sign-up: Water Quality Monitoring Day of Puerto Rico 2022
The moment has arrived! Create your group, choose a monitoring spot, and participate in the largest citizen science event on the Island: The Puerto Rico Water Quality Monitoring Day of Puerto Rico 2022 will be on Saturday, August 27, from 9:00AM-11:00AM.  How to participate?
Access our interactive portal, where you can read more information about the event, identify bodies of water that you can monitor around your preferred area and register to participate. Sign up now! https://estuario.org/diademonitoreo/
Join the scheduled training workshops. There are virtual and in-person options. Choose your workshop and register. The next workshop is saturday, July 23, 2022, from 9AM-10AM via Zoom.
Weekly Water Quality Monitoring
Evaluation conducted Thursday, July 21, 2022.  We have a red flag for the Condado Lagoon Natural Estuarine Reserve and other areas that did not pass quality standards—we recommend avoiding contact with these areas and being on the lookout for precipitation events.
Message from your Virtual Community Hub
This 2022 hurricane season, Estuario encourages you to download the Community Hurricane Preparedness Guide and apply its recommendations. The strength and resilience of your community starts at home. In this month of June, we continue to urge communities to recognize natural risks and stay informed.
Take advantage of our informative platform, the Virtual Community Hub, where you will find vital information to prepare your family and community. 
We remind you that to learn about our Hazard Mitigation Program and identify the risks, conditions and community assets available in your community:  https://estuario.org/hazard-mitigation/
The actions for the restoration and management of bodies of water within the San Juan Bay Estuary Watershed are possible thanks to the public. Donations to the San Juan Bay Estuary Program are deductible from Puerto Rico and US tax returns.
For more info, go to https://estuario.org/donate/.
Follow us on social media, where we share information on activities which will contribute to your knowledge and personal and professional development. If you have any doubts or questions, please contact us through [email protected].
Register as a volunteer, HERE.