Through our weekly update, we share opportunities for collaboration, volunteering, and work; through initiatives and actions programmed for the benefit of the ecosystems and communities of the San Juan Bay estuary. These activities, tips and information are for everyone's benefit.
Cine del Estuario presents Spiderman: No Way Home; tomorrow, Saturday, August 6, 2022, at 7PM in the Jaime Benítez Park of the Condado Lagoon Natural Estuarine Reserve. This event is free of charge. Bring your blanket or chair. See you there!
Certification for Citizen Scientists
A new round of elective workshops for the certification of citizen scientists with Estuario will begin: do not miss the corresponding workshops with the thematic modules of Coastal Resilience, Characterization and Reduction of Microplastics, Water Quality and Participatory Bird Censuses.
Sign up today, at https://estuario.org/certification-for-citizen-scientists/
Get certified quickly
Additionally, if you are interested in becoming certified in the Coastal Resilience module, we have a set of workshops/field trip set-up for tomorrow, Saturday, August 6, 2022, starting from 8:30-11:30AM with the workshop Coastal ecosystems: mangroves and sand dunes; which will count as an introductory and elective workshop, followed by a field trip of planting and monitoring of red mangroves, from 1:30-4:00PM. There will be a second field trip of planting and monitoring red mangroves on Sunday, August 7, from 8:30-11:30AM.
Gallery: Annual Professional Training Workshop for Interpreters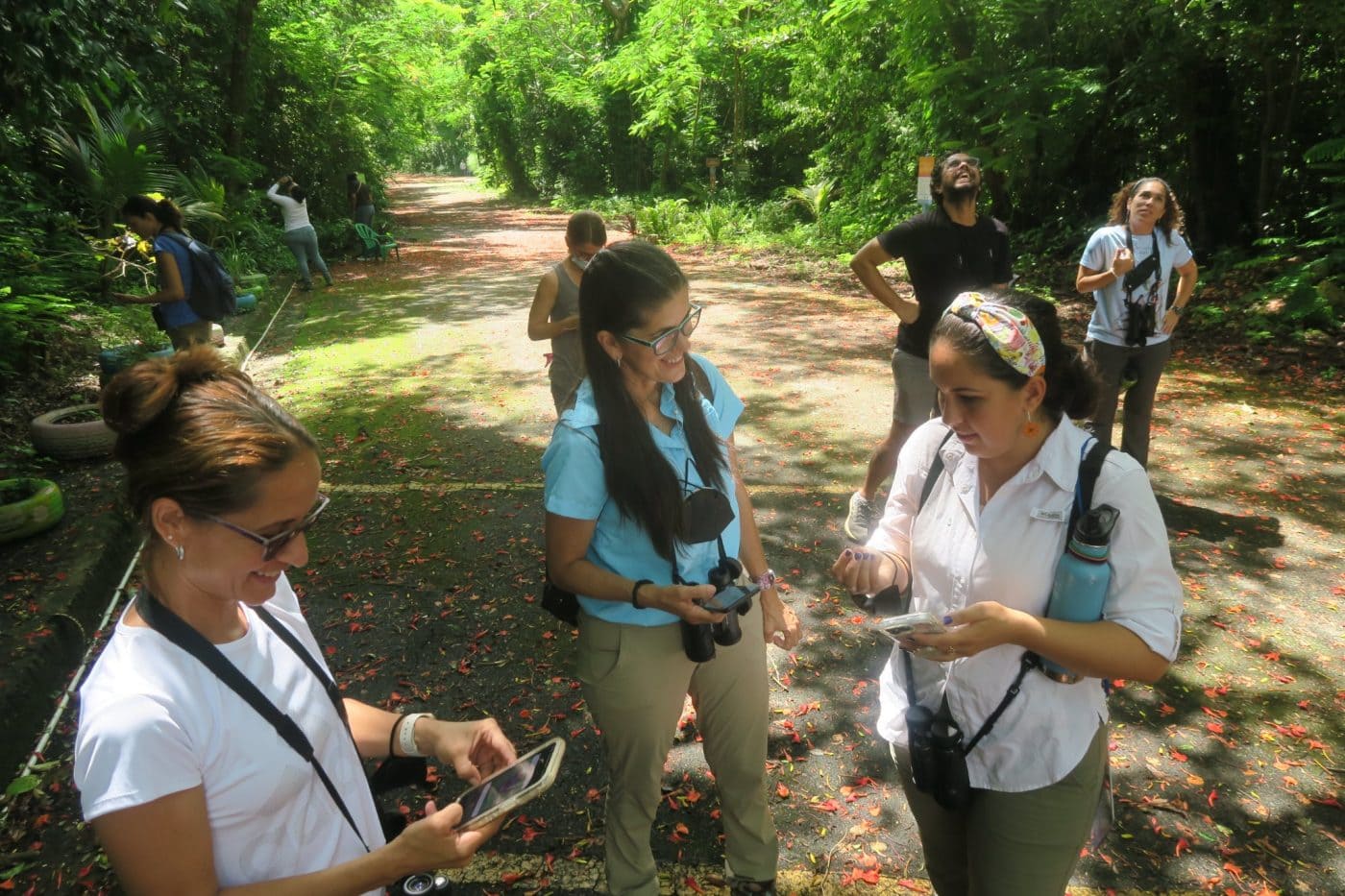 Saturday, July 23, 2022—Estuario held its annual professional training workshop for interpreters, with the theme: "From the Sidewalk: Activities, Dynamics and Technologies to Enrich Our Interpretive Tours." In a field trip through the San Patricio Forest, participants reviewed definitions and methodologies of interpretation, and practiced techniques and use of applications to strengthen their interpretive efforts.
Sign-up: Water Quality Monitoring Day of Puerto Rico 2022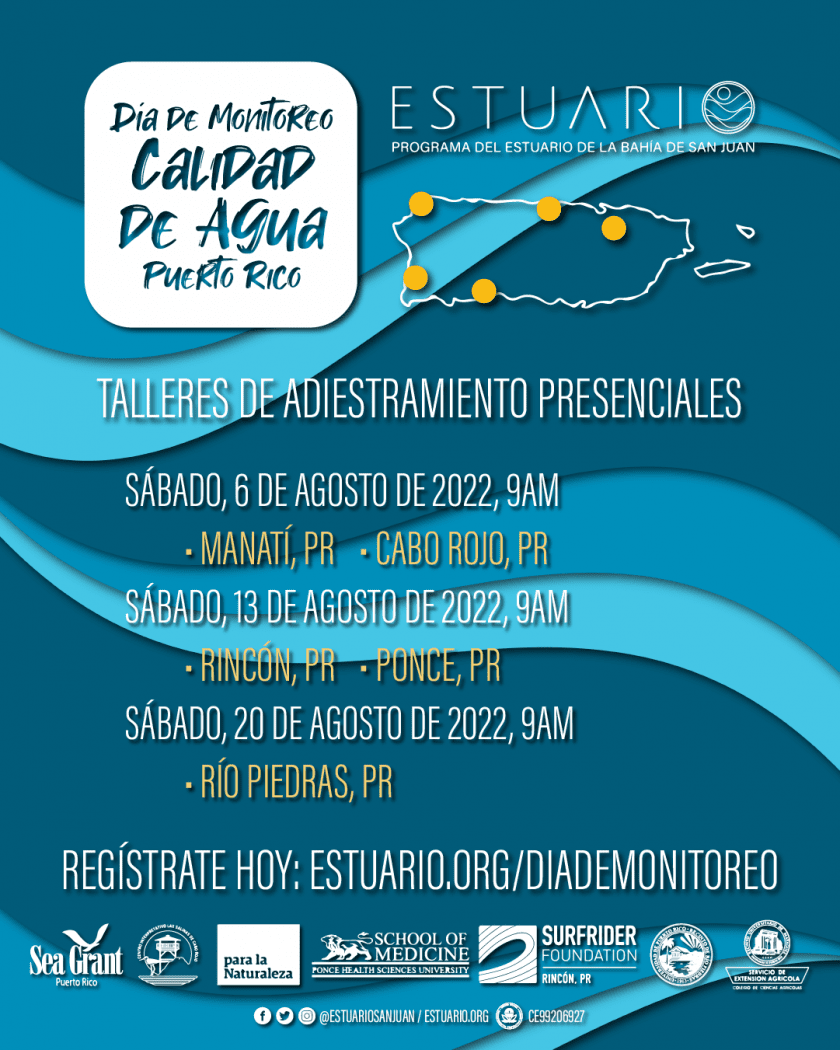 The time has come! Create your group, choose a monitoring spot and participate in the largest participatory science event on the Island: the Puerto Rico Water Monitoring Day 2022 will be on Saturday, August 27, from 9:00AM-11:00AM.
The next step is to take your training workshop, where you will learn how to use your monitoring kit (which we will provide you), the parameters you will be measuring and how to submit the information you collect during the event.
We have the following in-person workshops scheduled:
Saturday, August 6, 2022, 9AM-11AM
Manatí, PR, at Hacienda la Esperanza, with Para la Naturaleza
Cabo Rojo, PR, at the Centro Interpretativo Las Salinas, with SeaGrant
Saturday, August 13, 2022, 9AM-11AM
Rincón, PR, at the SurfRiders office
Ponce, PR, at the Ponce Health Sciences University
Saturday, August 20, 2022, 9AM-11AM
Río Piedras, PR, at the Servicio de Extensión Agrícola of Jardín Botánico de la UPR
Weekly Water Quality Monitoring
Evaluation conducted on Wednesday, August 3, 2022.  We have a red flag in the Condado Lagoon Natural Estuarine Reserve and another area on the coast that did not meet the quality standard.
Message from your Virtual Community Hub
This 2022 hurricane season, Estuario encourages you to download the Community Hurricane Preparedness Guide and apply its recommendations. The strength and resilience of your community starts at home. In this month of June, we continue to urge communities to recognize natural risks and stay informed.
Take advantage of our informative platform, the Virtual Community Hub, where you will find vital information to prepare your family and community. 
We remind you that to learn about our Hazard Mitigation Program and identify the risks, conditions and community assets available in your community:  https://estuario.org/hazard-mitigation/
The actions for the restoration and management of bodies of water within the San Juan Bay Estuary Watershed are possible thanks to the public. Donations to the San Juan Bay Estuary Program are deductible from Puerto Rico and US tax returns.
For more info, go to https://estuario.org/donate/.
Follow us on social media, where we share information on activities which will contribute to your knowledge and personal and professional development. If you have any doubts or questions, please contact us through [email protected].
Register as a volunteer, HERE.