Weekly Water Quality Monitoring
Here are this week's results, performed Thursday, May 13 2021. Published each Friday through our Facebook Page.
Elective Round of Citizen Scientist Certification Workshops 
This month, Estuario began a new round of elective workshops for its Citizen Scientist Certification Program. One hundred and three citizen scientists attended the Water Quality Module workshop: Water Quality: Bacteriological Analysis. The workshop was given Wednesday, May 12 2021, by Watter Quality Monitoring and Citizen Science Coordinator Harold Manrique Hernández.
Voces del Estuario Podcast
Listen to the fourth episode of Voces del Estuario, a historic compendium of the residents of the San Juan Bay Estuary Watershed.
In the fourth episode of Voces del Estuario, community leader Maricruz Rivera Clemente transports us to her childhood in Piñones, and shares the cultural heritage that instills the importance of sustainability and environmental conservation in the community.
Media Coverage & Publications
Torres Barreto, B. May 10, 2021. Laguna San José, frente para la equidad. Opinión. El Nuevo Día. p.29.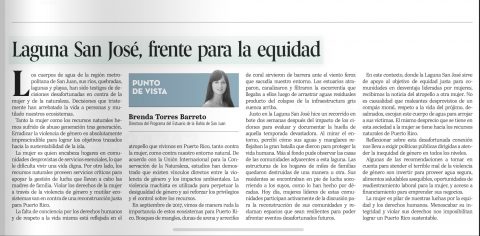 Follow us on social media for information on activities and capacity building opportunities. If you have any questions, feel free to write to [email protected].

The San Juan Bay Estuary Watershed's water quality management and restoration actions are possible thanks to our public. Donations to the San Juan Bay Estuary Program are deductible in Federal and Local tax returns. 
For more information and to make a donation, click here: https://estuario.org/donate/